Monday, August 28, 2017
U.S. U17 Team Wins Title
Future NCAA stars lead U.S. to third straight Five Nations win.
---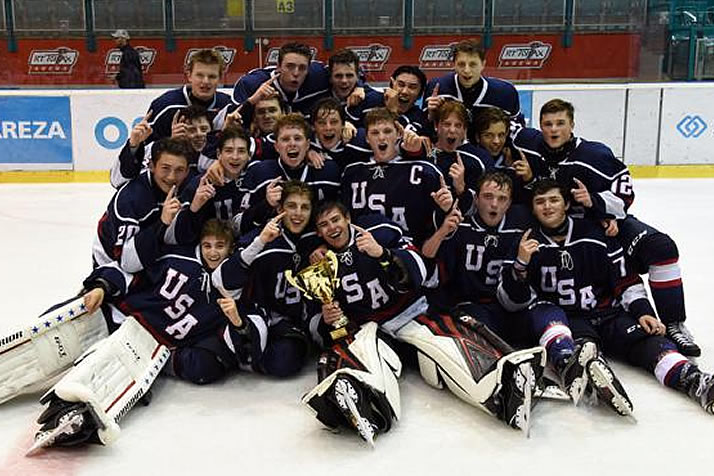 Twelve NCAA commits were among the 20-man roster on the U.S. Under-17 Select Team.
The U.S. Under-17 Select Team completed a 4-0-0 tournament and captured the Five Nations Tournament title with a 5-3 victory against the Czech Republic on Sunday in Ostrava, Czech Republic.
The 20-member team was filled with future NCAA stars, including 12 players who have already committed to schools. The championship marked the third straight for the United States in the event and the eighth in 10 years.
Former Western Michigan player and assistant coach Pat Ferschweiler served as head coach of the team, assisted by Merrimack head coach Mark Dennehy, Wisconsin director of hockey operations Shane Connelly and former Western Michigan player and longtime NCAA assistant coach Joe Bonnett. Former Boston University player and UMass Lowell assistant coach Kenny Rausch served as team manager.
"I am super proud and happy for this group," Ferschweiler said Sunday. "The character throughout the lineup is incredible; they are a bunch of hard-working kids who really care. Congrats to all the guys, it is a great win for USA Hockey."
The 12 commits on the roster represent nine schools; Boston University, Michigan and Minnesota each had a pair of recruits on the team.
Minnesota Duluth commit Jake Hale shared the team lead in scoring with uncommitted Josh Groll; both had six points in four games. Goaltender Ethan Haider, who made 47 saves Sunday, posted a .938 save percentage for the tournament.
2017 U.S. Under-17 Select Team
Player
NCAA Commitment
Goaltenders
Kyle Chauvette
Ethan Haider
Defensemen
Jake Boltmann
Minnesota
Ryan Johnson
Mike Koster
Minnesota
Cole Mcward
Michigan
Mitch Miller
Miami
Cade Webber
Boston University
Forwards
Jeffrey Bertrand
Robert Christy
John Farinacci
Harvard
Robby Griffin
Northeastern
Josh Groll
Jake Hale
Minnesota Duluth
Arthur Kaliyev
Robert Mastrosimone
Boston University
Josh Nodler
Michigan State
Grant Silianoff
Notre Dame
Lukas Svejkovsky
Dylan Wendt
Michigan