Tuesday, September 26, 2017
Leagues Tab Preseason Favorites
Coach, media preseason polls released as 2017-18 season nears.
---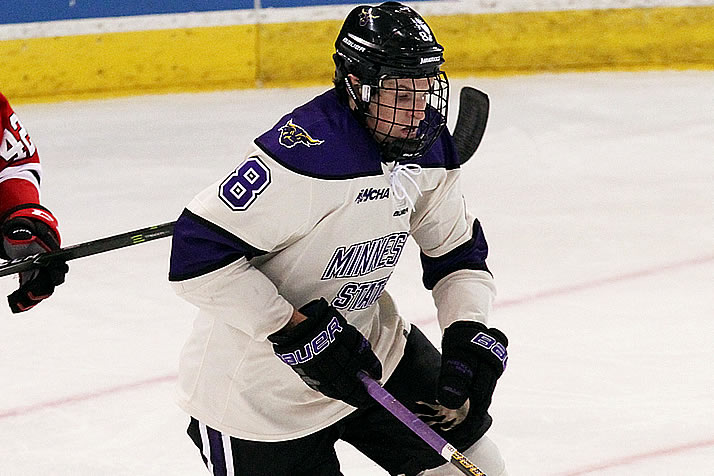 Led by junior defenseman Daniel Brickley, Minnesota State is the preseason favorite in the WCHA.
The six NCAA conferences have released preseason coaches' and/or media polls, pegging the favorites to claim conference titles in 2017-18.
Defending regular-season champions are favored in four conferences: the Big Ten (Minnesota), ECAC Hockey (Harvard), Hockey East (Boston University) and the NCHC (Denver). Atlantic Hockey coaches tabbed defending tournament champion Air Force as the favorite, while Minnesota State was favored by coaches and media in the WCHA.
Defending NCAA champion Denver was the lone unanimous choice as favorite among the conferences that released voting totals (the Big Ten did not).
The closest race in the polls came in Hockey East, where the 11 first-place votes were divided among five schools. UMass Lowell, picked second in the poll, had five first-place votes to lead all teams.
Scroll down for each conference's preseason poll:
---
Atlantic Hockey
Coaches' Poll
1.
Air Force (8)
97 pts.
2.
Robert Morris (2)
87
3.
Army West Point
76
4.
RIT
70
5.
Canisius (1)
65
6.
Holy Cross
58
7.
Mercyhurst
52
8.
Bentley
38
9.
AIC
27
10.
Sacred Heart
20
11.
Niagara
15
---
Big Ten
Coaches' Poll
1.
Minnesota
2.
Notre Dame
3.
Wisconsin
4.
Penn State
5.
Ohio State
6.
Michigan
7.
Michigan State
---
ECAC Hockey
Coaches' Poll
1.
Harvard (9)
119 pts.
2.
Quinnipiac (1)
106
3.
Cornell (1)
95
4.
Clarkson (1)
91
5.
Princeton
80
6.
Union
72
7.
St. Lawrence
69
8.
Yale
54
9.
Dartmouth
33
10.
Rensselaer
32
11.
Colgate
23
12.
Brown
18

Media Poll
1.
Harvard (25)
342 pts.
2.
Quinnipiac (3)
324
3.
Cornell (1)
272
4.
Princeton
246
5.
Clarkson
231
6.
Union (1)
195
Yale
195
8.
St. Lawrence
188
9.
Dartmouth
110
10.
Rensselaer
82
11.
Brown
76
12.
Colgate
68
---
Hockey East
Coaches' Poll
1.
Boston University (2)
90 pts.
2.
UMass Lowell (5)
88
3.
Providence (2)
83
4.
Boston College (1)
75
5.
Northeastern (1)
72
6.
Vermont
54
7.
Connecticut
39
8.
New Hampshire
37
9.
Merrimack
29
t-10.
Maine
19
t-10.
Massachusetts
19
---
NCHC
Media Poll
1.
Denver (30)
240 pts.
2.
St. Cloud State
187
3.
North Dakota
172
4.
Minnesota Duluth
160
5.
Miami
104
6.
Western Michigan
102
7.
Omaha
83
8.
Colorado College
32
---
WCHA
Coaches' Poll
1.
Minnesota State (8)
90 pts.
2.
Bemidji State (1)
81
3.
Michigan Tech
70
4.
Bowling Green
67
5.
Ferris State
59
6.
Lake Superior State
51
7.
Northern Michigan
40
8.
Alaska
35
9.
Alabama Huntsville
29
10.
Alaska Anchorage
18

Media Poll
1.
Minnesota State (12)
137 pts.
2.
Bemidji State
115
3.
Michigan Tech (1)
110
4.
Bowling Green (1)
108
5.
Ferris State
81
6.
Lake Superior State
62
7.
Northern Michigan
59
8.
Alaska
43
9.
Alabama Huntsville
36
10.
Alaska Anchorage
19