Wednesday, September 20, 2017
NHLers Enjoy Return to Campus
Penguins, Sabres bask in Pegula Ice Arena atmosphere.
---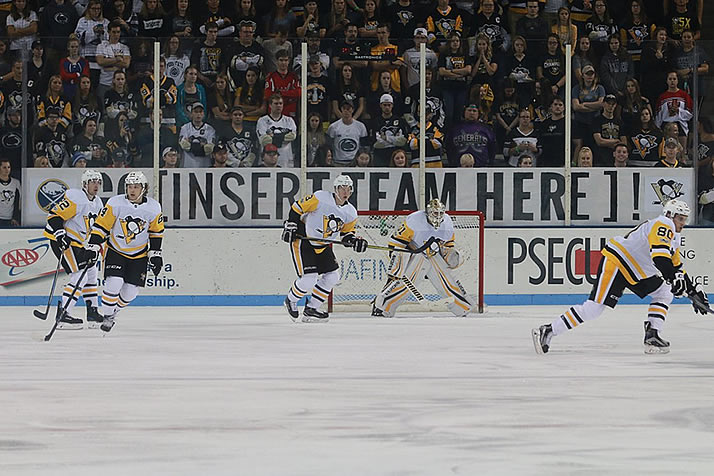 Penn State's student section – the Roar Zone – found itself torn between the local Penguins and Terry Pegula's Buffalo Sabres Wednesday night.
Buffalo's 4-3 overtime victory in preseason action Wednesday night provided plenty of entertainment for the 6,222 fans at Penn State's Pegula Ice Arena.
It was also a special night for the former college players in both lineups, as they got a chance to return to campus and experience a small taste of an NCAA atmosphere again.
"It was a great experience," said Penguins head coach Mike Sullivan, who played at Boston University. "This is a really neat environment here. Penn State's got a beautiful facility. I think the building, the fans are on top of you so I think it's a unique environment from that standpoint. It has the college feel that I thought was great for our players."
Another former Terrier, Jack Eichel, scored the overtime goal to lift his Sabres past Sullivan's Penguins in the game. The crowd – while obviously partial to Sabres owner Terry Pegula – largely favored the in-state Penguins.
"It was awesome," Penguin Bryan Rust said. "It kind of felt like a home college game for us, and that brings back a lot of memories for me."
Pittsburgh – which featured a record 15 former NCAA players in the Stanley Cup Final – actually scaled back its alumni presence for this game, dressing 11 former collegians. Those in the lineup were savoring the experience.
"I'm excited," Rust said after the morning skate. "I heard a lot of really good things about the rink. The rink looks beautiful, and being a college hockey guy it's always fun to go back and play at those rinks."
While a similar setting, an NHL preseason game at a college rink isn't exactly like an NCAA game. Some of the Penguins tried to explain what it will be like when the Nittany Lions take the ice in front of the home crowd.
"It's a fun experience," said Penguins defenseman Matt Hunwick, a Michigan alum. "To have the interaction with the fan base, as strong as it is with a lot of these colleges, that's what really makes it special."
"It's hostile," said Carl Hagelin, another Michigan alum. "I remember playing at Miami (Ohio). Even in warmups, they would make fun of our goalie as soon as he let a goal in. Those were fun games to play in, those were some good memories back then."