Monday, October 16, 2017
Oakland to Explore Hockey
Michigan university to undertake feasibility study funded by NHL, NHLPA.
---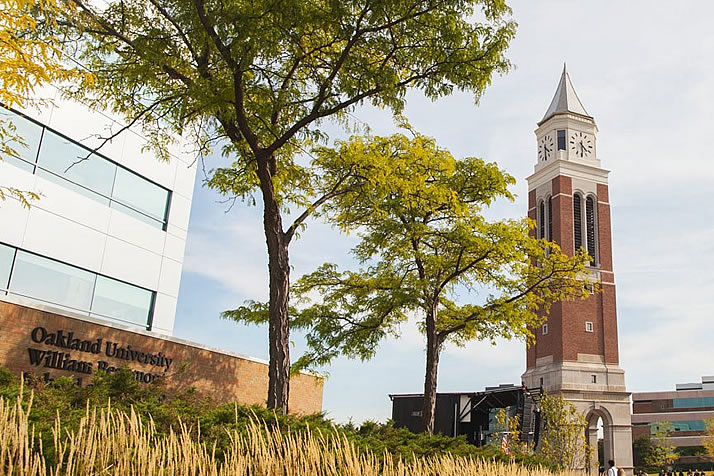 Oakland University is a school of more than 20,000 students in Rochester, Mich., that currently offers 16 Division I sports.
Oakland University is the latest school to explore adding Division I hockey through the NHL and NHLPA feasibility study initiative introduced in June, the school announced today at Little Caesars Arena in Detroit.
Oakland will explore adding Division I men's and women's hockey, joining the University of Illinois as the second school to publicly announce plans to conduct a feasibility study funded by the NHL and NHLPA.
Oakland announcement | NHL-NHLPA June announcement
We, at Oakland University, are very appreciative of being selected to take part in a feasibility study for the sport of intercollegiate hockey," Golden Grizzlies athletic director Jeff Konya said. "We want to extend our gratitude to the organizations that made this possible, namely the NHL, the NHLPA, College Hockey Inc., and of course, the Detroit Red Wings who will be an invaluable resource as we review this potential opportunity."
NHL vice president of business development and international affairs Kevin Westgarth, who played at Princeton, joined Konya at the announcement along with Detroit Red Wings general manager Ken Holland.
Oakland is a school of more than 20,000 located in Rochester, Mich., that currently offers 16 Division I sports.
There are currently 60 Division I men's hockey programs nationwide, including seven in Michigan, and 36 Division I women's programs nationwide. No Michigan school currently offers Division I women's hockey.
---
'Fantastic Addition'
"Oakland would be an exciting addition to the college hockey landscape," said College Hockey Inc. Executive Director Mike Snee. "The state of Michigan has proven to be a thriving environment for men's college hockey, and there is a distinct need for a Division I women's program in the state. We are confident that NCAA hockey would thrive at Oakland and look forward to the results of the feasibility study."
This feasibility study will analyze the many factors necessary for Oakland to start and maintain a hockey program, including, but not limited to, one-time and annual expenses, funding opportunities, facility needs, Title IX considerations and Oakland student and community support. Any decisions on the possible addition of hockey will be made at the conclusion of the feasibility study. No deadline has been set for the completion of the study.
"We are thrilled to be included in this feasibility study because we recognize the myriad benefits that will accrue to Oakland University, our student-athletes, our entire student population and our region, should we move forward as a NCAA Division I hockey team," said Oakland University President Dr. Ora Pescovitz. "Strong athletic programs help keep students actively engaged in campus life, which in turn helps ensure that they will complete their studies and go on to find great victories in the game of life. We are grateful to all of the feasibility study partners for helping to provide our students every advantage possible."
---
Michigan Reaction
The seven Division I men's programs currently in Michigan trail only Massachusetts and New York (10 each) for the most in any state. There are 156 men from Michigan playing Division I hockey this season, trailing only Minnesota among any state, and 35 women from the state playing Division I.
"Oakland University's desire to add NCAA Division I hockey is very exciting for all of us in the Michigan hockey community," said Kim Durka, executive vice president of the Michigan Amateur Hockey Association (MAHA). "It's a reflection of just how important and successful the sport is in our state, from Hockeytown to Houghton. I know there is still work to be done and money to be raised, but hopefully sooner than later young hockey players throughout Michigan will have another NCAA team inspiring them."
The addition of a Division I women's program would be especially exciting for the state.
"It is welcome news to hear that Oakland University is considering bringing NCAA Division I women's hockey to Michigan," said Jean Laxton, MAHA's vice president of girls and women's hockey. "Each year more than 30 young women from Michigan play Division I hockey, but none of them are able to do so here in Michigan. Finally having a home team to root for should make a significant impact on the growth of girls and women's hockey in all of Michigan."
---
NHL & NHLPA Support
The announcement by Oakland is the latest example of the NHL and NHLPA's support of the growth of college hockey. The two organizations announced the feasibility study project in June at the NHL Draft, and Illinois's plans to undertake a feasibility study that is currently underway.
"The feasibility study project is working exactly as we hoped it would, attracting interest from schools around the country," Snee said. "Oakland contacted us in the days following that initial announcement and we are excited to work with them as they explore this possibility."
---