Wednesday, November 8, 2017
Notes: No. 1 Visits Defending Champs
Niagara's leader has returned from a fractured skull, plus much more.
---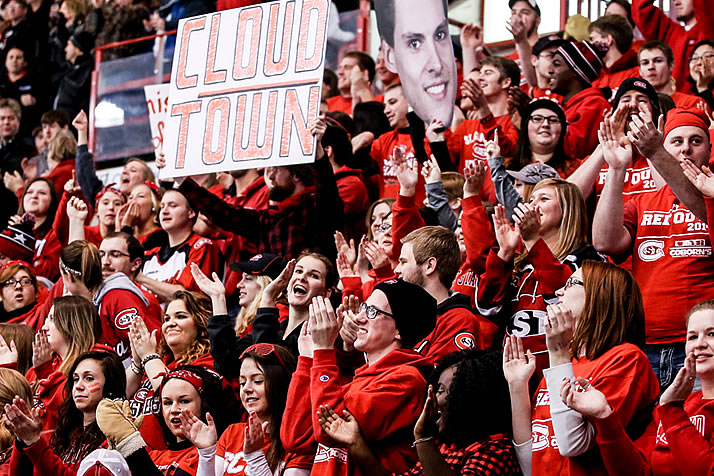 St. Cloud State has outscored opponents 33-13 in its first seven games.
By Nate Ewell
It's No. 1 at No. 3 this weekend as 7-0-0 St. Cloud State visits defending national champion Denver, which surrendered the top ranking this week after two losses at Western Michigan. One reason for the Huskies' fast start: a team save percentage of .937, which ranks third nationally, after they posted an .897 (45th nationally) last year. Sophomore Jeff Smith (Maple Ridge, B.C./Powell River-BCHL) and freshman David Hrenak (Povazska Bystrica, Slovakia/Green Bay-USHL) have split duties in net in the first seven games. | Friday's game is on Altitude; Saturday's is on Altitude2
Best Team Save Percentage
.947 – Clarkson (6-3-1)
.941 – Colgate (4-2-4)
.937 – St. Cloud State (7-0-0)
.936 – Cornell (4-0-0)
.936 – New Hampshire (6-1-1)
---
Must Read/See/Hear Material
St. Cloud Times: Schuldt leaps to new heights for SCSU
Duluth News Tribune: UMD's Tufte muscling way onto scoresheet and, perhaps, U.S. jr team
Colorado Springs Gazette: Haak honors, emulates grandfather as team hosts Army
Grand Forks Herald: Mismash brings family ties together at UND
The Flight Path: 30 hours with the Air Force hockey team
TheMackReport.com: Bales hopes his development continues
Podcast: College Hockey Today
---
Five More Storylines No One Should Be Without
Always a Michigan Man – Michigan is averaging 3.50 goals per game entering its series with Minnesota, up nearly a full goal per game from last season. Leading the way is junior Cooper Marody (Brighton, Mich./Sioux Falls-USHL/PHI), whose 12 points are five more than any other player. Marody – a lifelong Wolverine fan and talented, self-taught guitar player – wrote a terrific first-person account of his journey on MiHockeyNow.com prior to the season. | Saturday's game is on BTN
PP leads Cornell – The only perfect record outside of St. Cloud State resides in Ithaca, where Cornell is 4-0-0 entering home games against Dartmouth and ECAC Hockey favorite Harvard. The Big Red have scored 7 of their 15 goals on the power play, converting at an NCAA-leading 33% rate. Senior Trevor Yates (Beaconsfield, Quebec/Deerfield Academy) – who scored 8 of his 12 goals on the power play last year – has three with the man advantage and four goals total on just seven shots. Yates has seen significant improvement offensively each season and seems poised for a big senior year at Cornell.
Best Power Play
33.3% – Cornell
32.6% – Mercyhurst
32.4% – St. Cloud State
32.0% – Omaha
31.4% – Lake Superior State
Rauhauser rolling – Bowling Green carries a five-game unbeaten streak (3-0-2) into a home series with Lake Superior State, and freshmen account for three of the Falcons' top four scorers. The "veteran" in that group is sophomore defenseman Alec Rauhauser (Bismarck, N.D./Des Moines-USHL), who has seven points through nine games. A WCHA All-Rookie Team selection last year, Rauhauser certainly boasts offensive talents. His 22 points last year ranked eighth among freshmen defensemen nationally. He spent some time at forward on his high school team and even scored a viral lacrosse-style goal from behind the net.
BC's experienced D – Boston College has won three in a row and is 4-1-0 in Hockey East despite a 1-5-1 start to the season. A relatively experienced defense has helped key their success – the seven defensemen the Eagles have used have played an average of 53.4 career games; only one BC forward has that much experience. Leading the way are junior captains Casey Fitzgerald (N. Reading, Mass./U.S. NTDP/BUF), who shares the team lead in scoring, and Michael Kim (Toronto, Ont./Jr. Bruins-USPHL), who scored the winning goal Tuesday night.
Bruns assumes No. 1 role for Army – The top two teams in Atlantic Hockey meet this weekend as Army West Point travels to Niagara after its weekend sweep of rival Air Force. Senior Cole Bruns (Prairie Grove, Ill./Omaha-USHL) has adeptly filled the crease vacated by the graduated Parker Gahagen, posting his second career shutout Saturday night. While limited to 21 games playing behind Gahagen prior to this year, Bruns has a track record of success, including a USHL-record run of five consecutive shutouts in 2013-14.
---
NHL Note of the Week
NHL Network analyst Brian Lawton shared a look at how (and why) former NCAA stars are filling the ranks of top NHL rookies: https://twitter.com/NHLNetwork/status/928316202903937024
---
Fries at the Bottom of the Bag
Penn State (38 goals scored) and Notre Dame (36) rank 1-2 in the nation in that category (Wisconsin is tied with Notre Dame). They meet in South Bend this weekend (7:30 p.m. ET Friday; 5:30 p.m. ET Saturday on NBCSN) … Bemidji State will be without defenseman Zach Whitecloud (Brandon, Man./Virden-MJHL) this weekend while he represents Canada at the Karjala Cup. Northeastern's Dylan Sikura (Aurora, Ont./Aurora-OJHL) was also named to the team but will miss the tournament due to injury … Only three non-conference games are on the docket this weekend: Bentley at Merrimack and a two-game Ohio State at UConn series.