Wednesday, November 1, 2017
Notes: Plouffe Back from Injury
Niagara's leader has returned from a fractured skull, plus much more.
---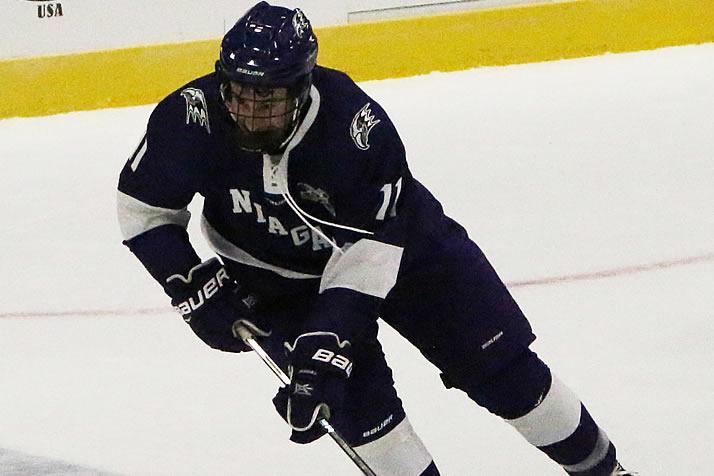 Derian Plouffe has a point in every game this year, including four points last weekend (Photo by Niagara Athletic Communications).
By Nate Ewell
First-year head coach Jason Lammers and Niagara have already exceeded the Purple Eagles' 2016-17 regular season win total at 4-2-0. A big reason is the health of senior Derian Plouffe (Shawville, Quebec/Smiths Falls-CCHL), who leads the team with four goals and eight points through six games. Plouffe has returned from a fractured skull he suffered in practice last November; the senior, who led Niagara in scoring as a sophomore, suffered the scariest of a slew of injuries that plagued his team last season. | Niagara Gazette: Plouffe strong in return from scary injury
---
Must Read/See/Hear Material
WCHA.com: Parayko's journey shines light on student-athletes
The Athletic: Sikura, Terry top collegiate Olympic candidates
Duluth News Tribune: Wolff now seasoned vet, leader among young defensemen
Pucks & Rec: Rappleyea extra charged as UAH defenseman, pitcher
Daily Mining Gazette: From humble beginnings: Auk has come a long way
Mankato Free Press: Coatta is part of Mankato sports legacy
Mankato Free Press: WCHA travel isn't easy, but one fan is up to the challenge
Boston Herald: Prized recruit Makar has UMass thinking big
SLUHockey.org: Arthur Brey
Wisconsin State Journal: U.S. sled hockey training camp coincides with Coach Sauer Foundation kickoff | Related: Online auction
---
Five More Storylines No One Should Be Without
Big names, B1G debut – Notre Dame lost two first-team All-Hockey East players to NHL contracts (Anders Bjork, Cal Petersen), but there is no shortage of star power in South Bend. Two of the nation's top four career scorers are seniors Jake Evans (Toronto, Ont./St. Michael's-OJHL/MTL) and Jordan Gross (Maple Grove, Minn./Green Bay-USHL), who combined for 11 points last weekend. The Fighting Irish make their Big Ten debut this weekend with a series at Ohio State, also their first two road games of the season.
Most Career Points, Active Players
125 – Brady Ferguson, Robert Morris
107 – Jake Evans, Notre Dame (MTL)
106 – Dylan Sikura, Northeastern (CHI)
102 – Jordan Gross, Notre Dame
100 – Landon Smith, Quinnipiac
Utah import leads CC – Colorado College has raced to a 5-3-0 start, including a split with North Dakota last weekend, thanks in large part to a dynamic first line. Right wing Nick Halloran (Draper, Utah/Trail-BCHL) had a pair of two-point games on the weekend and ranks fourth nationally (and first among undrafted players) with 12 points. One of seven Utah natives in Division I, Halloran played midget hockey in CC's backyard, with the Colorado Rampage.
Brotherly battle – Ferris State and Michigan are no longer conference rivals since the formation of the Big Ten in 2013, but strong ties between the programs remain. That year brothers C.J. (FSU) and Tyler Motte (UM) faced off; this Thursday and Friday another set of brothers will meet as freshmen on the two teams. Coale Norris (Oxford, Mich./Youngstown-USHL) has a goal through seven games with the Bulldogs, while his brother, Josh (Oxford, Mich./U.S. NTDP/SJ), has two goals and five points for the Wolverines. The Norris brothers' father, Dwayne, played at Michigan State and in the NHL during a 15-year professional career.
Sophomore star at PC – No. 6 Providence has had a lot of contributors to its 5-2-0 start, but Providence Journal writer Mark Divver singles out Jacob Bryson (London, Ont./Omaha-USHL/BUF) as " PC's best player through seven games." A smaller defenseman at 5-foot-9, Bryson went undrafted his first year of eligibility, but Buffalo grabbed him in the fourth round last June after an impressive freshman campaign. He's made even more strides as a sophomore. "The best thing about him is he brings a great level of poise to our bench and to our team," head coach Nate Leaman told Divver. "He's a guy that we're going to have to put a letter on his jersey because that's what he means to our team, even though he's a sophomore."
Fast start for Crimson – Harvard was the last team to start its season but did so in style, beating Dartmouth Sunday night, 5-0. The Crimson were led by two goals from reigning Ivy League Player of the Year Ryan Donato (Boston, Mass./Dexter School/BOS), who also had three goals and two assists in the team's exhibition game against USA Hockey's National Team Development Program. Donato – who could play for USA Hockey in February at the Olympics – has moved to center this season after starting his college career on the wing.
---
NHL Note of the Week
Forty-three schools have had alumni appear in the NHL in the first month of the season.
---
Fries at the Bottom of the Bag
The second episode of College Hockey Nation debuts Nov. 1 on ESPN On Demand, including features on Northeastern's high-scoring forward duo and Western Michigan's Andy Murray … For the third year in a row, Harvard opened its regular season with a Merrick Madsen (Acton, Calif./Minot-NAHL/ARI) shutout … Collectively, teams are converting on 19.6% of power plays through October, compared to 16.4% at this time last season.