Tuesday, December 5, 2017
24 Invited to Junior Camp
U.S. preliminary roster features players from 13 NCAA schools.
---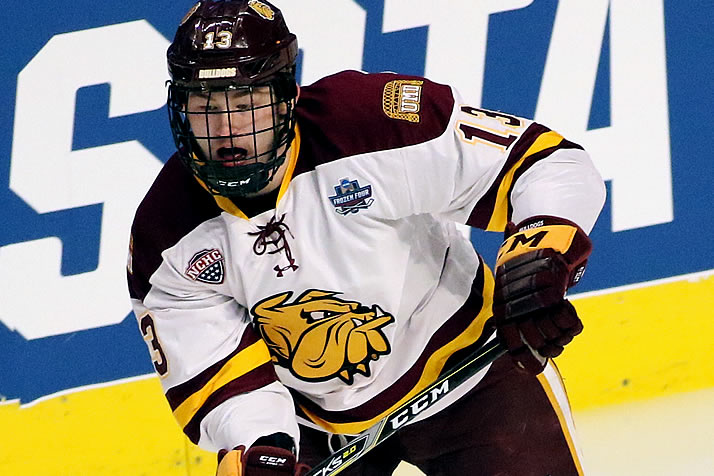 Joey Anderson is one of five UMD Bulldogs on the roster and one of seven returnees from last year's team (Photo by Larry Radloff).
Twenty-four current college players have been named to the preliminary roster for the 2018 U.S. National Junior Team, USA Hockey announced Tuesday on NHL Network.
The 28-player roster will be reduced to 23 for the 2018 IIHF World Junior Championship, which will take place Dec. 26 through Jan. 5 in Buffalo, N.Y.
Thirteen schools have players on the preliminary roster, which will attend training camp in Columbus, Ohio, from Dec. 15-19. Minnesota Duluth leads all schools with five representatives, while Boston University, Harvard and Michigan have three each.
Seven players on the roster are returnees from the team that won gold in the World Junior Championship in 2017: Goaltenders Jake Oettinger (Boston University) and Joseph Woll (Boston College); defensemen Adam Fox (Harvard) and Ryan Lindgren; and forwards Joey Anderson (Minnesota Duluth), Kieffer Bellows (formerly Boston University) and Patrick Harper (Boston University).
The U.S. coaching staff returns intact from last season, comprised entirely of college coaches. The head coach is St. Cloud State's Bob Motzko, with assistance from Greg Brown (Boston College), Grant Potulny (Northern Michigan), Kris Mayotte (Providence) and Steve Miller (Ohio State).
"This is an accomplished, versatile group of players that has experience winning across all levels of hockey and intends to do so this year on home ice," said Jim Johansson, USA Hockey's assistant executive director of hockey operations and the general manager of the 2018 U.S. National Junior Team. "There is a specific style of play Coach Motzko and his staff intend to utilize, and while there are still some difficult decisions to make, our staff is excited to begin identifying a roster that can ultimately win a gold medal in Buffalo."
2018 U.S. National Junior Team Preliminary Roster
Goaltenders
Jake Oettinger
Boston University
Jeremy Swayman
Maine
Joseph Woll
Boston College

Defensemen
Mikey Anderson
Minnesota Duluth
Adam Fox
Harvard
Quinn Hughes
Michigan
Cole Hults
Penn State
Phil Kemp
Yale
Ryan Lindgren
Minnesota
Andrew Peeke
Notre Dame
Scott Perunovich
Minnesota Duluth
Dylan Samberg
Minnesota Duluth
Reilly Walsh
Harvard

Forwards
Joey Anderson
Minnesota Duluth
Jack Badini
Harvard
Kieffer Bellows
Portland (WHL)
Logan Brown
Windsor (OHL)
Trent Frederic
Wisconsin
Patrick Harper
Boston University
Max Jones
London (OHL)
Will Lockwood
Michigan
Hugh McGing
Western Michigan
Casey Mittelstadt
Minnesota
Josh Norris
Michigan
Ryan Poehling
St. Cloud State
Brady Tkachuk
Boston University
Riley Tufte
Minnesota Duluth
Kailer Yamamoto
Spokane (WHL)