Tuesday, January 23, 2018
Behind the Bench at Dartmouth
Bob Gaudet is closing in on 300 wins at his alma mater.
---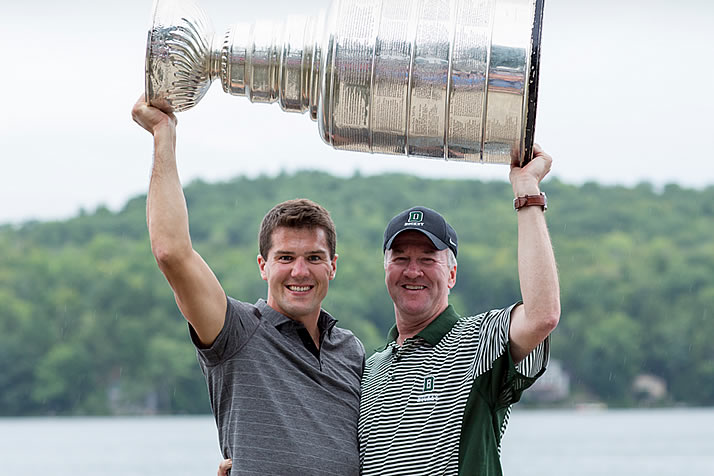 Dartmouth alum Ben Lovejoy (left) brought the Stanley Cup to Hanover in 2016 and hoisted it with Bob Gaudet.
By David Kolb
David Kolb is the Publisher/Managing Editor of The Fischler Report; a version of this story will also appear there.
This wasn't a normal Friday in Hanover, New Hampshire. Temperatures, typically in single-digits or negative numbers, soared to the mid-fifties, while a driving rain replaced the norm: snow, ice and frost.
Another reversal of usual happenings came when longtime Dartmouth hockey coach, Bob Gaudet, granted me a day-of-game interview, something he rarely does, according to Pat Salvas, the school's Associate Director of Varsity Athletics Communications. Luckily, my one-on-one didn't jinx the Big Green, as sophomore Will Graber scored with 9.9 seconds left to give Dartmouth a 4-3 win in their January 12 game against visiting Quinnipiac. It was Gaudet's 295th win as the Big Green's head coach.
Gaudet's gameday traditions or superstitions came from his playing days as a goalie.
During his childhood, he played on the ponds in the winter, and enjoyed street hockey during the remaining months of the year.
"I grew up in the Bobby Orr, Phil Esposito, kinda big-bad Bruins era, and goalie Gerry Cheevers was an idol," Gaudet reflected with a smile. "Cheevers was just a character, he skated out with the puck, and whacked people."
In his adolescence, back in his hometown of Saugus, Mass., he skated for his high school, Saugus High School. There, he played for two of his future coaching mentors, Paul O'Brien and Chris Serino (who eventually became the coach at Merrimack College).
"I was lucky," Gaudet recalled. "I had some real good mentors, who just had passion for the game – and stoked that in me."
Three colleges heavily recruited him, including Boston College – where he was offered a scholarship – Cornell and Dartmouth.
"I visited all three schools, but when I came up here (Dartmouth), I just fell in love with it," said Gaudet. "The game has been great to me, because honestly I would never have gotten into Dartmouth without it, and it opened so many doors for me."
He played four years for the Big Green, and one of his career highlights came towards the end of the 1979 season, when Dartmouth faced Boston University in the ECAC semifinals at the old Boston Garden.
"This was 1979, the year before the Olympics in 1980, and (BU) had Dave Silk, Jack O'Callahan and Jim Craig was their goalie," Gaudet proudly reminisced. "We were a small college and kinda a no-name team, and we went into Boston in front of 14,000-plus and beat a really, really good BU team. To be a small part of that was fun, but historically, with those guys on that team, extraordinary!"
After graduating, Gaudet signed with the Winnipeg Jets and had a short stint with the Fort Wayne Comets (IHL) before suffering a knee injury, which eventually ended his pro career. Gaudet had a tough time giving up on hockey, while working in the Boston area for six or seven months.
"I really had struggled," Gaudet recollected. "I suffered from withdrawal from hockey. I wasn't involved with it, hardly at all. I did a little coaching with a friend, Peter Doherty, who was a legendary coach at Reading High School. That was my start, and I got my appetite whet a little, but I thought that would be something I would do on the side. Then my old coach (at Dartmouth), George Crowe, needed an assistant coach in a pinch, and it was a little of a last-minute type thing, and my wife had a good job in the Boston area. We talked about it, and she quit her job, and we came up to Dartmouth where I was an assistant coach. Out of the blue."
Gaudet was pretty young to coach, only two years removed from playing for the Big Green.
"I was young enough that I had played with some of the kids that I was now coaching," said the two-time ECAC Coach of the Year. "And there was only one assistant coach in those days. I got to coach the JV team, I got to assist George with the varsity team, and that was my indoctrination into coaching. So I got thrown right into it with recruiting, with coaching and trying to learn the game that you think you know as a player, but you are sadly mistaken!"
In 1988 Gaudet was offered the head-coaching job at Brown University, and left Hanover to resurrect Brown's lagging hockey program in Providence, R.I. In his first season he finished 1-25 (the only win coming vs. Dartmouth), however by the 1992-93 campaign Brown was a winning program again, making it all the way to the NCAA Tournament with a 16-12-3 record.
In 1997 he returned to Dartmouth as head coach, and has been there ever since.
"I was very happy at Brown, but I owed this program so much, it was just a great opportunity; I met my wife, Lynne here," said Gaudet of his return to Hanover.
His greatest experience while coaching Dartmouth has been coaching both of his sons Jim (2012) and Joe (2010).
"On a family level that was just mind blowing, to think that Lynne and I met in college, and we were in the same class (1981), and x-number of years later, we are back in Hanover, our kids are at school, and I had a chance to coach the boys," he said. "On a personal level, that was one of my fondest memories. You don't know it when it's happening, but now in retrospect it was incredible."
Along the way Gaudet coached many players that he became close with, including some household NHL names including Lee Stempniak, T.J. Galiardi, Tanner Glass and Ben Lovejoy.
Lovejoy, who currently plays for the New Jersey Devils, reached the ultimate goal, winning the Stanley Cup with the Pittsburgh Penguins in 2016, but his roots remain strongest in Hanover.
"I moved up to Hanover, to the Upper Valley, when I was in third grade," said Lovejoy after a recent Devils practice in Newark. "I grew up going to the games, and other than watching the Bruins on TV, which wasn't as common as it is now, Dartmouth hockey was the biggest influence in my life. My calendar revolved around games being played on Friday and Saturday."
Growing up, Lovejoy knew Coach Gaudet through his kids, as they spent time on the ice at hockey camp during the summer, after the Gaudets moved back from Brown.
"I had a great relationship with him and his kids, as my dad coached his kids, but as I grew up, I wanted to go away," said the Devils blueliner. "Nothing against Dartmouth at the time, I just was ready to leave. I went to Boston College. It did not work out for me there, and I wanted nothing more than to go home. We did everything properly, went through the proper channels, and when I was allowed to speak with Gaudet, he was very supportive."
"It was an interesting thing," Gaudet harkened back. "When he left BC, he initiated the talk with Dartmouth through the admissions office. It wasn't like we were going to go to BC and recruit him. I didn't know until it was well into the process. He initiated it."
But once Gaudet knew, he was all-in.
"He bent over backwards to help me come to Dartmouth," Lovejoy said. "I owe my – almost my whole hockey career to Bob Gaudet, because he gave me a second chance, when I absolutely needed one. I was in a dark spot in my hockey career and he revived it. He's just the best guy ever. I owe him so much. I check the (Dartmouth) box scores, even 11 years later."
Lovejoy, who still lives in Hanover in the off-season, continued: "I think college hockey players develop a very different relationship with their coach. I think when you are a pro, you develop relationships with coaches, but I think that those college coaches are almost father figures for players. He was that for everybody. He is one of the best human beings ever, and he's a guy you really wanted to play really hard for. I still regularly email and text with him. I'm so proud that I played there, and for him."
Like so many Dartmouth alumni, Lovejoy was able to "give back" to the prestigious Ivy League school, when he became the first NHLer to win and bring the Stanley Cup back to Hanover.
"It was the best. It was something that I thought about in my mind since I was a pro," Lovejoy said, proudly. "When you are going through dark days, when you are playing hockey in February, when you are working out in the summer; that was always a motivating factor for me. What would I do if I won the Cup?"
Lovejoy held a huge event at Thompson Arena on campus, but also spent time alone with Coach Gaudet during his 30 hours with the Stanley Cup.
Not only does Gaudet have the admiration of his players, his assistant coaches think the world of him as well.
"I've had the good fortune to work with Coach Gaudet on three separate occasions," said Dartmouth alum and former assistant coach, Brian McCloskey. "I was lucky enough to be part of his staff when he coached at Brown University and also when he first took over in Hanover.
"Coach Gaudet has many qualities that you would expect to see in a successful collegiate coach, but the one trait that stands out to me is how he treats each of his athletes as valuable individuals regardless of their success on the ice. His respect for each of the athletes that wear the Dartmouth jersey never wavers. His ability to make each of our athletes feel that they are truly valued is just innate to his coaching style and philosophy. I know a lot of coaches pay lip service to valuing their individual athletes, but I have watched Coach Gaudet truly make this one of his core coaching principles."
McCloskey's sentiments are echoed by 2002-03 ECAC Rookie of the Year Hugh Jessiman.
"I've never met a coach who truly cared more about his players," said the 2003 first-round draft pick of the New York Rangers. "Your performance off the ice was just as important to him, if not more, than yours on the ice. (Gaudet) played there during some really special years for the program, and it shows in his passion for the school and program. I'm very fortunate to have played for him and now call him a friend."
In his 21st season as head coach, Gaudet, already synonymous with Dartmouth hockey, is chasing two huge milestones: his 300th win and coach Eddie Jeremiah's school record of 308 wins.
But even with all of his wins, Gaudet remains down-to-earth.
"This is way bigger than strictly winning," he said. "Winning is important to all of us – the players, the coaches – but I do have perspective that there is life outside of hockey."