Wednesday, January 24, 2018
Notes: Family Affair for Mercyhurst
Riley brothers carry five-game unbeaten streak into game against father and Army West Point.
---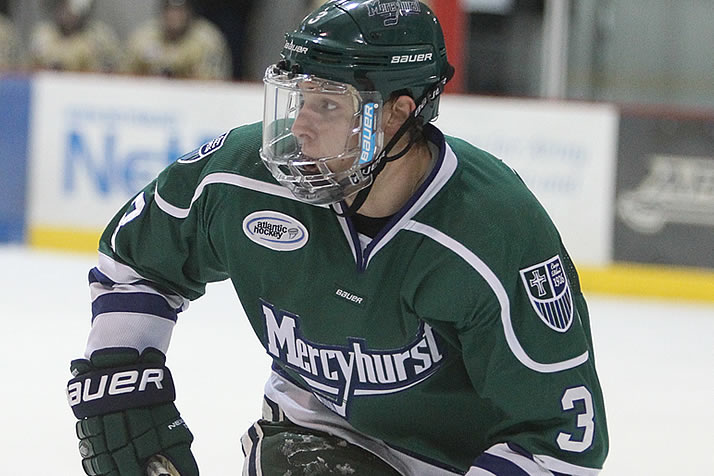 Jack Riley is 9-3-1 in 13 career games against Army West Point.
By Nate Ewell
Mercyhurst carries a five-game unbeaten streak into a weekend series at Army West Point, the final scheduled meeting between Laker leading goal scorer Jack Riley (West Point, N.Y./Jersey-EJHL) and his father, Black Knights head coach Brian Riley. Jack has 10 goals as a senior and 89 points in his career. This weekend could mark the first time Brian coaches against both Jack and his brother, Laker sophomore Brendan Riley (West Point, N.Y./PAL Islanders-USPHL). Brendan's 12 career games include each of the last seven, a stretch in which he has a two-goal game against Niagara and a two-assist game Saturday vs. AIC.
---
Must Read/See/Hear Material
The Athletic: Avery Peterson and UMD's bond with special hockey runs deep
The Athletic: Lindgren a leader beyond his years for Gophers
Union Leader: Strong skating a family affair for Sato
Watertown Daily Times: SLU's Laidley bounces back from long-term injury
Boston Herald: Northeastern trio providing Husky production
WCHA.com: Rutkowski embodies student-athlete ideal
The Pipeline Show: Wisconsin's Tony Granato
The death of USA Hockey's Jim Johannson shook the hockey community as "JJ" was such a passionate advocate for the sport. The former Wisconsin Badger was a friend to the college hockey community and has been remembered in several terrific stories, including the following: USA Today | The Athletic | ESPN.com
---
Five More Storylines No One Should Be Without
Greenway move boosts BU – Boston University is on its best run of the year at 3-0-1 entering a visit to Arizona State and the Terriers have been bolstered by junior Jordan Greenway (Canton, N.Y./U.S. NTDP/MIN) moving from wing to center. The 6-foot-5, 230-pound Greenway will represent the U.S. at the Olympics and is expected to play in the middle there as well. Greenway has 10 points in the last seven games and his production has been key to BU's success – when he records a point the Terriers are 9-4-1 (2-7-1 when he doesn't).
Baker has Big Green rolling – Dartmouth boasts wins at Denver and Clarkson in a recent 6-2-1 stretch and has found an offensive weapon in freshman Matt Baker (Midhurst, Ont./Wenatchee-BCHL). Baker has six goals since Christmas, including a pair Saturday as the Big Green handed Clarkson its first loss since October. He leads all freshmen in goals in that time and only one – Bowling Green's Brandon Kruse (Saline, Mich./Brookings-NAHL) – has more points (9 to Baker's 8). The Big Green host Colgate and No. 2 Cornell this weekend.
Bemidji's big weapon – The defending WCHA regular-season champions are climbing the standings again as Bemidji State is unbeaten in 11 straight WCHA games after a 2-4-1 conference start. Junior Jay Dickman (Shoreview, Minn./Austin-NAHL) leads the team in goals (13), and the 6-foot-6, 233-pounder is one of only four players nationally with multiple hat tricks this season. Dickman's offensive numbers have surpassed his totals from his freshman and sophomore years combined, which came on the heels of a redshirt year in 2014-15. The NHL free agent grew up attending Bemidji State games to watch his cousins, twin brother Bill and Bryce Methven, play from 2000-04.
Players with two hat tricks, 2017-18
Wade Allison, Western Michigan (PHI)
Jay Dickman, Bemidji State
Ryan Donato, Harvard (BOS)
Nolan Stevens, Northeastern (STL)
Wolanin leads North Dakota – The two most recent NCAA champions meet this weekend as North Dakota hosts Denver, and junior defenseman Christian Wolanin will look to lead the Fighting Hawks to a bounce-back weekend after being swept by Minnesota Duluth. Wolanin – one of seven defensemen nationwide to lead his team in scoring – is a point off his career high, set last year, and is following in the footsteps of former teammates and NHLers Troy Stecher and Tucker Poolman as the next top North Dakota defenseman. The son of NHLer Craig Wolanin, Christian is tied for eighth among defensemen nationally with 21 points and tied for third with 79 shots. | Friday's game is on CBSSN
Defensemen Leading Teams in Scoring
AIC: Brennan Kapcheck (Fr., 19 pts. in 26 GP)
Alaska: Zach Frye (Sr., 21 pts. in 25 GP)
Arizona State: Brinson Pasichnuk (So., 19 pts. in 26 GP)
Bowling Green: Alec Rauhauser (So., 28 pts. in 28 GP)
Michigan Tech: Mitch Reinke (So., 20 pts. in 27 GP)
Minnesota Duluth: Scott Perunovich (Fr., 23 pts. in 23 GP)
North Dakota: Christian Wolanin (Jr., 21 pts. in 26 GP)
Gates stars for U – Minnesota junior Brent Gates Jr. (Grand Rapids, Mich./Green Bay-USHL/ANA) had a pair of multiple-point games in the Gophers' sweep of Michigan State, giving him nine points in his last nine games. Gates is part of a balanced Minnesota offense that features five players within three points of the team scoring lead, and his 19 points are just two shy of his career high set last season. Gates's father, Brent, was the Big Ten Player of the Year in baseball for Minnesota and enjoyed a seven-year MLB career, while his mother, Tiffannie, played volleyball at Arizona State. | Friday's game is on ESPN2 & TSN2; Saturday's is on FOX Sports North+
---
NHL Note of the Week
Brock Boeser's NHL rookie-leading goal pace (0.53 goals per game) is slightly ahead of his goals per game the last two seasons at North Dakota (0.51).
---
Fries at the Bottom of the Bag
Seventeen active players have recorded at least 100 career points, and two U.S. Olympians are among those closing in on that mark: Denver's Troy Terry (Denver, Colo./U.S. NTDP/ANA) with 96 points and Harvard's Ryan Donato (Boston, Mass./Dexter School/BOS) with 90 … Alabama Huntsville will celebrate its 1997-98 Division II NCAA championship team this weekend during its series against rival Bemidji State … With the Super Bowl in Minneapolis and the Frozen Four in St. Paul, this marks the first year those two events are in the same metropolitan area.