Wednesday, May 9, 2018
Commits Battle for Clark Cup
Fargo and Youngstown meet as each pursues first USHL championship.
---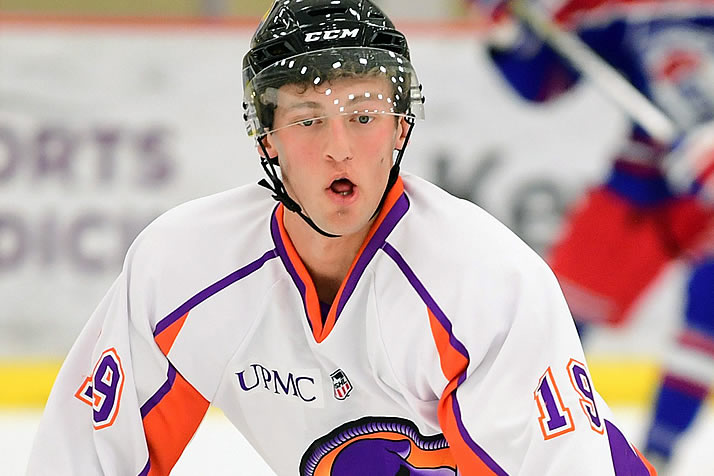 Merrimack commit Chase Gresock shares the USHL playoff scoring lead entering the Clark Cup Final (Photo by Hickling Images).
The USHL's Clark Cup Final gets underway Friday, with the Fargo Force and Youngstown Phantoms featuring 38 NCAA recruits who are headed to 26 Division I schools.
Both teams are pursuing their first Clark Cup in the best-of-five series that opens in Fargo Friday and Saturday. They both reached the final series with 3-1 series victories in the conference finals against the top seed in their respective conferences, with Youngstown beating Team USA and Fargo winning three straight against Waterloo.
Clark Cup Playoffs Hub | Watch on HockeyTV
The 26 schools with commits in the final represent nearly half of the 60 teams in Division I and include teams from all six conferences (plus Arizona State).
Maine, Merrimack, Michigan and Omaha all have three commits in the final, and each will have future college teammates facing off against each other. Western Michigan also has commits on both teams, while Cornell, Minnesota and North Dakota all have two future college teammates playing together in the final.
Youngstown's Chase Gresock (Merrimack) and Matthew Barry (Holy Cross) share the Clark Cup playoff scoring lead entering the final with 12 points apiece. Jacob Schmidt-Svejstrup (Maine) leads Fargo with 10 points through 10 games, while teammate Robbie Stucker (Minnesota) is the top-scoring defenseman in the final with seven points in the playoffs.
Schmidt-Svejstrup and teammate Ty Farmer (Massachusetts) were second-team All-USHL selections. Barry and Fargo goaltender Strauss Mann (Michigan) were third-team honorees.
Each game in the Clark Cup Final will be broadcast on HockeyTV.
---
Clark Cup Final Schedule
Game 1: Friday, May 11, 7:05 p.m. CT in Fargo
Game 2: Saturday, May 12, 7:05 p.m. CT in Fargo
Game 3: Friday, May 18, 7:05 p.m. ET in Youngstown
Game 4 (if necessary): Saturday, May 19, 7:05 p.m. ET in Youngstown
Game 5 (if necessary): Wednesday, May 23, 7:05 p.m. CT in Fargo
---
Clark Cup Final Rosters
Fargo Force
Evan Bell
D
Penn State
Ryan Bischel
G
Clarkson
Bartek Bison
F
A.J. Drobot
F
Maine
Ty Farmer
D
Massachusetts
William Fallstrom
F
Quinnipiac
Xan Gurney
D
Western Michigan
Grant Hebert
F
Robert Morris
Griffin Loughran
F
Northern Michigan
Strauss Mann
G
Michigan
Jonathan McDonald
D
UMass Lowell
Spencer Meier
D
St. Cloud State
Ben Meyers
F
Minnesota
Ross Mitton
F
Northeastern
Calvin Pokorny
F
Carter Randklev
F
North Dakota
Jacob Schmidt-Svejstrup
F
Maine
John Schuldt
D
Omaha
Mark Senden
F
North Dakota
Jordan Seyfert
F
Merrimack
Sammy Steele
F
Arizona State
Robbie Stucker
D
Minnesota
Garrett Van Wyhe
F
Michigan

Youngstown Phantoms
Joey Abate
F
Omaha
Matthew Barry
F
Holy Cross
Michael Callahan
D
Providence
Nicholas Cardelli
F
Bemidji State
Liam Dennison
D
Merrimack
Max Ellis
F
Notre Dame
Eric Esposito
F
New Hampshire
Jake Gingell
D
Michigan
Chase Gresock
F
Merrimack
Curtis Hall
F
Yale
Steve Holtz
D
Michael Joyaux
D
Western Michigan
John Larkin
D
Ohio State
Jack Malone
F
Cornell
Dalton Messina
F
Craig Needham
F
Maine
Tommy Parrottino
F
Michigan Tech
Wouter Peeters
G
Ivan Prosvetov
G
Mike Regush
F
Cornell
Samuel Salonen
F
Jason Smallidge
D
Omaha
All players who have appeared in the 2018 Clark Cup Playoffs listed