Friday, May 4, 2018
NCAA Well Represented at Worlds
Eleven teams at the World Championship feature NCAA representatives.
---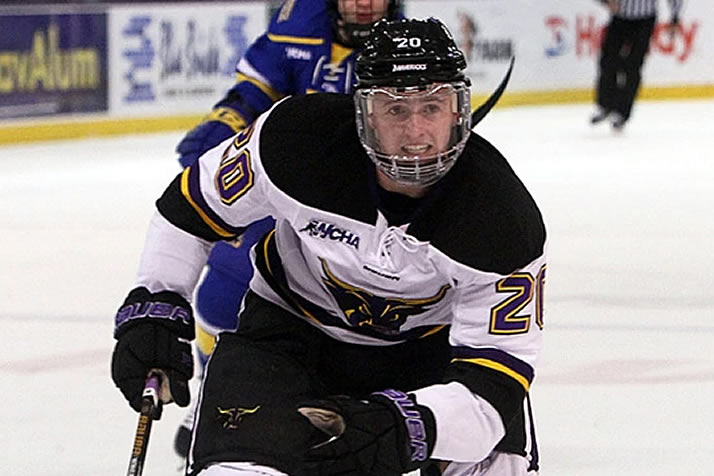 Two-time first-team All-WCHA selection Marc Michaelis is one of three current NCAA players at the IIHF World Championship.
Thirty-SIX current or former NCAA players are competing in the 2018 IIHF World Championships that begin Friday in Denmark.
Eleven of the 16 teams in the tournament feature at least one NCAA representative, led by the United States entry with 17 college players. All U.S. games, beginning with Friday's opening game against Canada (10 a.m. ET), will be televised on NHL Network.
The gold- and bronze-medal games are set for Sunday, May 20, in Copenhagen.
Twenty-one schools are represented in the tournament, led by Boston College with five players (all on the U.S.). Players by NCAA team:
5 – Boston College
3 – Michigan, St. Cloud State
2 – Colorado College, Maine, Miami, North Dakota, Notre Dame, Western Michigan
1 – Alaska, Bemidji State, Bowling Green, Connecticut, Denver, UMass Lowell, Merrimack, Minnesota Duluth, Minnesota State, SUNY-Plattsburgh, Union
Three of the participants played college hockey this season.
First-round NHL Draft prospect Quinn Hughes (Orlando, Fla./U.S. NTDP) of Michigan is the lone current college player on the U.S. team after his second-team All-Big Ten freshman season.
Minnesota State sophomore Marc Michaelis (Mannheim, Germany/Green Bay-USHL) is the second Maverick in as many years to play in the tournament, following teammate Daniel Brickley last season. Michaelis is a two-time first-team All-WCHA selection.
North Dakota sophomore Ludvig Hoff (Oslo, Norway/Lincoln-USHL) represents his country for the second time this season after also appearing in the Olympics. Hoff had nine points in 25 games this year for the Fighting Hawks.
Colleges are also represented behind the benches, highlighted by former Ferris State goaltender and Western Michigan head coach Jeff Blashill leading the U.S. team. He is assisted by NCAA alumni Dan Bylsma (Bowling Green) and Don Granato (Wisconsin).
Swedish head coach Rickard Gronberg played at St. Cloud State, while UMass Lowell alum Laurent Meunier is an assistant with France.
NCAA Alumni at the IIHF World Championship
Austria
Brian Lebler
F
Michigan
Peter Schneider
F
Notre Dame

Canada
Tyson Jost
F
North Dakota
Curtis McElhinney
G
Colorado College
Colton Parayko
D
Alaska
Jaden Schwartz
F
Colorado College

Denmark
Nick Jensen
F
SUNY-Plattsburgh
Oliver Lauridsen
D
St. Cloud State
Patrick Russell
F
St. Cloud State

France
Stephane da Costa
F
Merrimack
Guillaume Leclerc
F
UMass Lowell

Germany
Marc Michaelis*
F
Minnesota State
Frederik Tiffels
F
Western Michigan

Korea
Matt Dalton
G
Bemidji State
Brock Radunske
F
Michigan State

Latvia
Ralfs Freibergs
D
Bowling Green

Norway
Ludvig Hoff*
F
North Dakota

Slovakia
David Bondra
F
Michigan State

Sweden
Gustav Nyquist
F
Maine

United States
Cam Atkinson
F
Boston College
Will Butcher
D
Denver
Blake Coleman
F
Miami
Scott Darling
G
Maine
Johnny Gaudreau
F
Boston College
Brian Gibbons
F
Boston College
Quinn Hughes*
D
Michigan
Nick Jensen
D
St. Cloud State
Keith Kinkaid
G
Union
Chris Kreider
F
Boston College
Dylan Larkin
F
Michigan
Anders Lee
F
Notre Dame
Alec Martinez
D
Miami
Jordan Oesterle
D
Western Michigan
Neal Pionk
D
Minnesota Duluth
Tage Thompson
F
Connecticut
Colin White
F
Boston College