Wednesday, October 24, 2018
Notes: Title Rematch Tops Big Weekend
Irish host Bulldogs as Ivies get underway and a rivalry visits Vegas.
---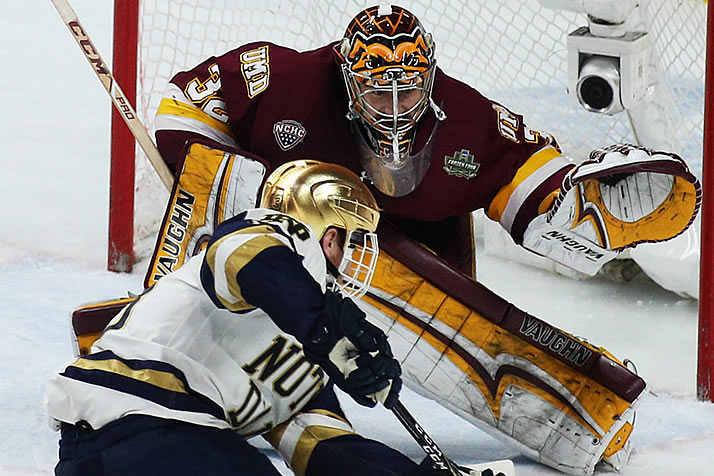 Minnesota Duluth posted a 2-1 win against Notre Dame in the 2018 national championship game (Photo by Larry Radloff).
By Nate Ewell
A national championship game rematch takes center stage in college hockey this weekend in South Bend, and it has the makings of a classic series. The runner-up from April, Notre Dame, is the new No. 1 in both polls, while defending champion Minnesota Duluth is No. 2 or 3. The nation's co-leading scorers are both defensemen in the Irish's Bobby Nardella (Rosemont, Ill./Tri-City-USHL) and the Bulldogs' Scott Perunovich (Hibbing, Minn./Cedar Rapids-USHL/STL). Goaltenders Cale Morris (Larkspur, Colo./Waterloo-USHL) and Hunter Shepard (Cohasset, Minn./Bismarck-NAHL) are two of the 27 players back who suited up in the national championship game. | Friday's game is on NBCSN
National Points Leaders (Full)
10 – Bobby Nardella, Notre Dame
10 – Scott Perunovich, Minnesota Duluth (STL)
9 – Cal Burke, Notre Dame
9 – Max Johnson, Bowling Green
9 – Brandon Kruse, Bowling Green (VGK)
---
Must Read/See/Hear Material
N.Y. Times: College hockey alumni rise in prominence in NHL
St. Cloud Times: Newell lets feet, hands talk for SCSU
Post-Gazette: Pavlychev developing into a real hit
The Athletic: Bittner is behind the Buckeyes' bench, right where he belongs
Top Preseason Storylines | CHI Media Kit (.pdf)
---
Five More Storylines No One Should be Without
Ivies get started – The six Ivy League schools – which boast the top two teams in the ECAC Hockey preseason polls and all six members of the preseason all-conference team – get officially underway this weekend. The Ivies feature four returning All-Americans between them and three of the nation's top four players in career points per game.
Weekend Schedule, Ivy League Teams
Fri.: Yale at Brown
Fri.: Princeton at Penn State
Fri.-Sat.: Michigan State at Cornell
Sat.: Harvard at Dartmouth
Sun.: Vermont at Brown
Rivalry heads to Vegas – One of the game's most storied rivalries visits a new locale Saturday as Las Vegas hosts Minnesota and North Dakota in the U.S. Hockey Hall of Fame Game. This marks just the fifth of 296 all-time meetings that will have taken place outside one of the schools' home states – the last of those, in Philadelphia at the 2014 Frozen Four, came down to a goal by Minnesota's Justin Holl with 0.6 seconds remaining. | Grand Forks Herald: UND fans from all over the U.S. to invade Vegas
Top rivalries, by games played (entering 2018-19):
Michigan vs. Michigan State – 319 games
Colorado College vs. Denver – 315 games
Minnesota vs. North Dakota – 295 games
Michigan vs. Minnesota – 282 games
Boston College vs. Boston University – 277 games
Brown, RIT rolling – RIT enters Atlantic Hockey play after a 6-1 win against Colgate Saturday fueled by a hat trick from Erik Brown (Keene, Ont./Kemptville-CCHL) in front of 10,556 at Blue Cross Arena. Brown, who leads all active players with three career hat tricks, helped the Tigers extend their unbeaten streak at the downtown arena to eight games. This weekend will mark the first college meetings for the Girduckis brothers – Abbott (Belleville, Ont./Wellington-OJHL) is a senior co-captain for RIT, while Aidan (Belleville, Ont./Carleton Place-CCHL) is a freshman at Robert Morris.
Most Goals Since Start of Last Season, Active Players
32 – Erik Brown, RIT
29 – Ryan Kuffner, Princeton
23 – Troy Loggins, Northern Michigan
23 – Mason Jobst, Ohio State
23 – Jarid Lukosevicius, Denver
BC, Northeastern welcome SCSU – St. Cloud State hasn't visited Massachusetts since the 2003 NCAA regional, and the No. 2/3 Huskies will face two hungry opponents this week in Boston. Boston College hosts SCSU Thursday after an 0-3-0 start that has included two shutouts. Saturday Northeastern welcomes St. Cloud State after opening Hockey East play at UMass Lowell the night before. | Thursday's game is on ESPN3; Saturday's is on NESN
Lake Superior starts strong – Lake Superior State has won both its games, plus two exhibitions, entering WCHA play at Alabama Huntsville this weekend. The Lakers' power play has been particularly effective (37.5% in the two games and 21% in the exhibitions), with senior Diego Cuglietta (Kamloops, B.C./Merritt-BCHL) producing two PPGs in the season opener at Merrimack. Cuglietta is a co-captain, along with Gage Torrel (Monticello, Minn./Langley-BCHL), on a Laker team that is relatively experienced compared to the last few seasons. | Both games are on FloHockey
Unbeaten, Untied Teams (with at least 1GP)
4-0-0 – Penn State
4-0-0 – St. Cloud State
3-0-0 – Quinnipiac
2-0-0 – Lake Superior State
---
NHL Note of the Week
Tuesday night Cooper Marody (Michigan) became the 20th player who played college hockey last season to make his NHL debut.
---
Fries at the Bottom of the Bag
Goal scoring has increased by 0.54 goals per game compared to this point last season … Massachusetts won at No. 1 Ohio State last Friday, the program's fifth win against a top-ranked team … ECAC Hockey and the WCHA play their first conference games this weekend … Two good local rivalries play home-and-homes: Bowling Green-Ohio State and Rensselaer-Union … Army West Point head coach Brian Riley faces his son, Brendan (West Point, N.Y./PAL Jr. Islanders-USPHL), a junior forward at Mercyhurst … Seven games on the weekend feature two teams in the USCHO.com top 20.