Thursday, November 8, 2018
Notes: Young Among Stars on D
UMass-Providence, Denver-SCSU among the big matchups this weekend.
---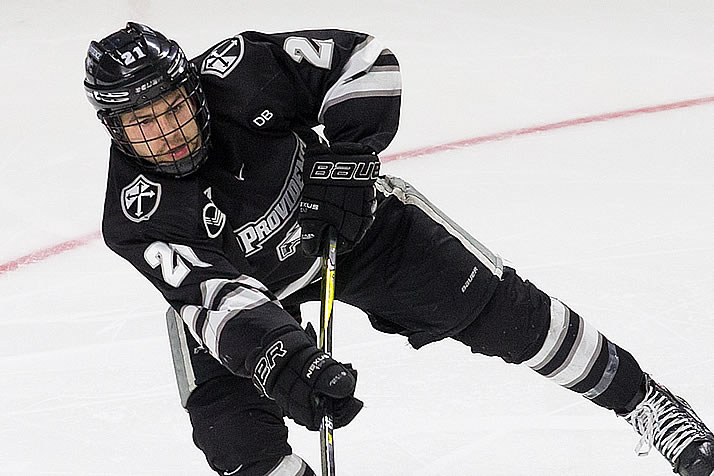 Spenser Young's four goals this year include one in each of the last two games.
By Nate Ewell
Two top-10 teams and a slew of talented defensemen highlight the home-and-home series between Providence and Massachusetts (Thurs. in Amherst, Sat. in Providence). Along with the seven drafted defensemen on the two teams is undrafted Friars junior Spenser Young (Brentwood, N.H./Dubuque-USHL), whose goals in back-to-back games give him a career high four already on the year. Young's two-way play and steady development has made him a valuable part of the Providence defense, and now he leads the team in goals as well.
Most Goals from Defensemen
10 – Quinnipiac
8 – Massachusetts
8 – Miami
8 – North Dakota
8 – Providence
---
Must Read/See/Hear Material
College Hockey Today: Johnny Walker and Other Unexpected Heroes
The Athletic: Jobst: 'It's a new year'
FloHockey: Ferris State duo reached Michigan from 9 time zones apart
The Trentonian: DeBoer making inroads at BU
Watertown Daily Times: Clarkson's Dunne just part of big-time hockey family
Courier Post: The argument for the college route
Top Preseason Storylines | CHI Media Kit (.pdf)
---
Five More Storylines No One Should be Without
New faces, familiar places – Last year's coaches have moved on, as have seven student-athletes who signed NHL contracts – but Denver and St. Cloud State meet in a familiar matchup, with both teams in the nation's top five and tied atop the NCHC standings. Denver, at 5-0-1, is the only team in the country without a loss. Combined the teams are 12-1-1, and despite so many new faces, seniors lead both clubs in goals: DU's Jarid Lukosevicius (Squamish, B.C./Powell River-BCHL) and SCSU's Patrick Newell (Thousand Oaks, Calif./Penticton-BCHL).
Most Goals, Seniors
7 – Jarid Lukosevicius, Denver
6 – Dylan Hollman, Arizona State
6 – Patrick Newell, St. Cloud State
6 – Chase Priskie, Quinnipiac (WSH)
The Vegas of Northern Minnesota – Bemidji State has raced to a 4-1-1 start and increased production from sophomore Brendan Harris (Henderson, Nev./Wenatchee-BCHL) has led the Beavers offensively (five points). It's another link in a string of connections between Las Vegas and the school on Lake Bemidji in Northern Minnesota. Another Vegas native, Cory Ward, starred for the Beavers from 2012-16, including an 18-goal season as a sophomore. Last year's coveted NHL free agent, Zach Whitecloud, signed with Vegas after two seasons at Bemidji State. Harris and the Beavers host Merrimack twice this weekend. | Both games are on FloHockey
RPI's offensive key – Rensselaer – picked to finish 10th in ECAC Hockey – holds an early lead in the conference standings, thanks in large part to junior forward Jacob Hayhurst (Mississauga, Ont./Cedar Rapids-USHL). Hayhurst shares the national lead in assists (10) and has a hand in 11 of the Engineers' 15 goals on the year. Hayhurst led RPI in goals a year ago (12) but his first 10 points this year were helpers; he lit the lamp for the first time with Saturday's game-winning goal vs. St. Lawrence.
Players with a Hand in the Most of their Team's Goals (min. 8 points)
80% – David Cotton, Boston College (8 points/10 team goals)
73% – Jacob Hayhurt, Rensselaer (11/15)
62% – Adam Fox, Harvard (8/13)
55% – Taro Hirose, Michigan State (12/22)
50% – Anthony Nellis, Lake Superior State (10/20)
50% – Dylan McLaughlin, Canisius (10/20)
Duszak on D – Mercyhurst junior Joseph Duszak (Franklin Square, N.Y./P.A.L. Jr. Islanders-USPHL) is the first Atlantic Hockey defenseman to hit double digits in points and ranks tied for fifth among defensemen in scoring nationally after posting three points last weekend. Duszak, a second-team all-conference honoree last year, is one of only seven defensemen nationally who are back in college hockey after surpassing 30 points a year ago (he had 31). He and the Lakers travel to St. Lawrence for a non-conference game Saturday.
Barratt's viral goal – It's been nearly 23 years since Mike Legg's famous goal for Michigan, but seeing the feat never gets old. Penn State's 19-year-old Evan Barratt (Bristol, Pa./U.S. NTDP/CHI) became the latest player to pull off the move, going viral Saturday with his goal against Arizona State. The Nittany Lions suffered their first loss of the season in that game, but Barratt continued his hot start; the Blackhawks' prospect shares the team lead with 10 points entering this weekend's home-and-home with in-state rival Robert Morris.
"You never know what you might see, but that is why you come, to say I was there when 'It' happened. On this night 'It' was Evan Barratt."

Arizona State Weekend Recap 👇 pic.twitter.com/hJVxkLptxj

— Penn State Men's Hockey (@PennStateMHKY) November 6, 2018
---
NHL Note of the Week
Sixteen schools have had former goaltenders appear in the NHL this season, led by Maine (three) and UMass Lowell (two).
---
Fries at the Bottom of the Bag
Dartmouth head coach Bob Gaudet, who posted his 400th career win on Saturday, is one win shy of Eddie Jeremiah's school record of 308 career wins. Gaudet faces Brown, where he began his coaching career, Friday … The national leaders in points per game are from Harvard (Adam Fox), Yale (Joe Snively) and Princeton (Ryan Kuffner); Harvard and Yale meet Friday … Seven games are on national or regional sports networks this weekend … After this weekend, Michigan State will be the only team (other than independent Arizona State) yet to play a conference game.