Monday, November 26, 2018
Thanksgiving in Belfast
A college hockey alum heads abroad to support his alma mater.
---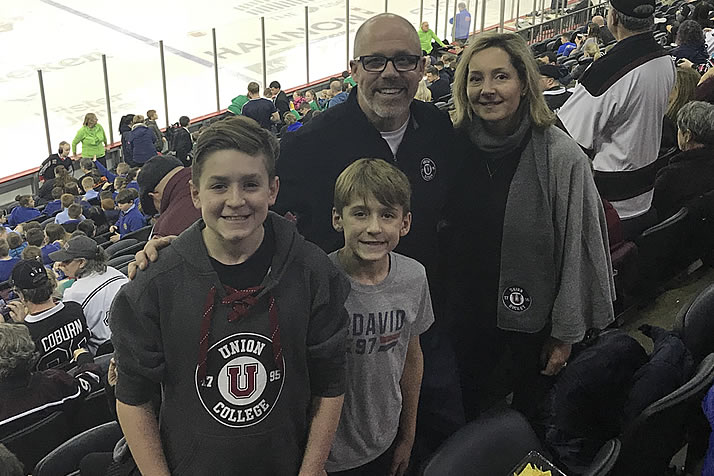 The Menhall family took in the Friendship Four at Belfast's SSE Arena.
By Dalton Menhall
"Let's have Thanksgiving in Belfast."
When it was announced that Union would play in the Friendship Four, I immediately said to my wife, Kristen, "Let's take the kids to Ireland," to which she replied "sure, when?"
I told her over Thanksgiving break and she wondered, why in November? Why not when it's warmer? After a knowing pause, she asked: "What's going on in Ireland over Thanksgiving?"
The jig was up … I told her about the Friendship Four and to my surprise she said let's do it! We reached out to our friends the Meighers and they also were planning to attend. This was great because our two boys Tripp (13) and Cam (10) would have a friend to hang out with in Connor (14).
I believe these days we are all very busy, sometimes too busy to stop and engage in the things we are enjoy most in life. For me, I have two passions: golf and college hockey … specifically Union hockey, dating to my days with the Dutchmen.
I was fortunate to play hockey for Union College from 1988-92 and was a member of the school's first Division I team my senior year. My hockey experience was as instrumental in my development as a person as my academic studies and degree.
The biggest takeaway for me was the depth and passion of the Union hockey community. I had experienced it as a player, yet there were so many levels to this community that you can experience as you engage more and more. As with many things in life, the older you get the more you realize how special certain things are.
We packed our bags and headed to the airport, we didn't know what to expect. We left Boston on a flight with the BU team and their fans … my son asked if I felt weird wearing my Union Hockey sweatshirt and I laughed and said no, we always support our Dutchmen – no matter who is on the plane.
The flight was rather quick and we landed in Dublin and had two days of sightseeing before heading to Belfast. To be honest we still didn't know what to expect – the kids were having trouble adjusting to the time change and all of the tours we were signed up for, but the best was yet to come.
Upon arrival in Belfast we were greeted by the Christmas Market at City Hall which was fantastic for the kids (and adults; our friend Jess couldn't get enough of the Baileys and hot chocolate). We then had a beautiful day at the Giants Causeway (Finn McKool is a legend that is tough to top), followed by a tour of the Titanic museum and Thanksgiving dinner in the private dining room.
What a sight: 300-400 people celebrating an American holiday in Belfast. It was fantastic, with servers were catering to our every need. The players and coaches were smiling and socializing with everyone. It was the largest Thanksgiving we have ever experienced (and probably ever will). How blessed we were for this opportunity. The college hockey community was on full display and the engagement with this family was very special. Everyone was talking about it, the players, the families, the fans, and our hosts … just wonderful people.
On to the hockey games, along with more than 5,000 locals. We had heard that the players had gone to primary schools throughout the greater Belfast area to speak to school children about ice hockey and college; what we didn't know was that all of these children were going to be attending the game. There had to be at least six-to-eight schools full of children cheering on the Union Dutchmen (the same on the other side for the Yale Bulldogs). It was electric. It was so loud and they were so excited. The children would start chants of "Let's Go Union" and make a U with their fingers. One boy even had a sign he and his classmates had made. Almost every child had never seen a hockey game before. At each hit in the game they would OOOOOHHH and AAAAHHHHH.
During the course of the week, I have had time to speak to Union players, coaches, staff, parents and fans and everyone seems to say the same thing: what an experience, we are truly blessed to have this opportunity.
Union captured the championship with a 2-1 win vs. Boston University. However, I think the big winner was college hockey. College hockey continues to develop young men and women who excel academically and as human beings. At the same time the sport creates communities of people who enjoy their company!
Whether it be in the rink, on campus, or in Belfast, this community is expanding and having an impact on more and more people every day. Thanks to the wonderful people of Ireland, to the Friendship Four and to the Union hockey program for letting the Menhall family share in this experience and add to our college hockey memories.