Wednesday, January 23, 2019
Notes: Schuldt Back for More
Third-year captain has No. 1 St. Cloud State seeking new heights.
---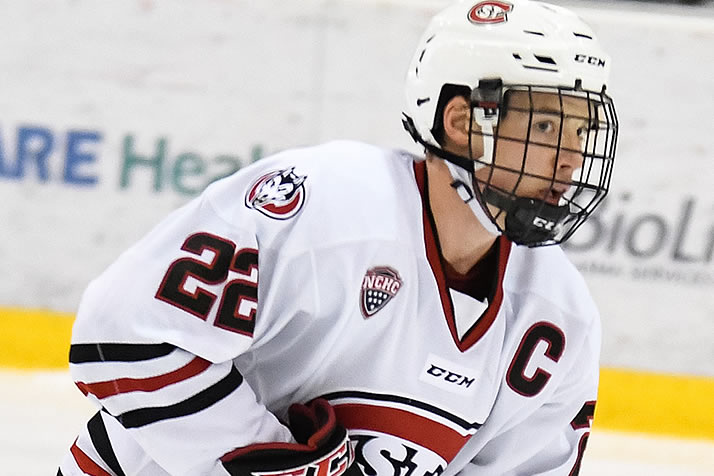 Jimmy Schuldt ranks second among active defensemen with 102 career points.
By Nate Ewell
With NHL offers, All-America honors and a new coach coming in, Jimmy Schuldt (Minnetonka, Minn./Omaha-USHL) seemed to have plenty of reasons to forgo his senior season last spring. Instead he returned to St. Cloud State and the third-year captain has the Huskies at No. 1 in the nation entering the last six series of the regular season. They visit North Dakota this weekend and are one of seven top-10 programs in pursuit of their first national title. | Jimmy Schuldt: In His Own Words | Friday's game is on CBSSN
Most Career Points, Defensemen
105 – Chase Priskie, Quinnipiac (WSH)
102 – Jimmy Schuldt, St. Cloud State
92 – Adam Fox, Harvard (CAR)
91 – Bobby Nardella, Notre Dame
87 – Lester Lancaster, Denver
---
Must Read/See/Hear Material
NHL.com: Montgomery, Quinn maintain bond with college players in NHL
Mankato Free Press: Mavericks' Dryden McKay living up to his name
Daily Hampshire Gazette: Murray has new mental edge in goal for UMass
Duluth News Tribune: Rising Richards shines in home state
Boston Herald: Hockey East banking on European union
Concord Monitor: Blackburn provides spark for UNH
Arizona Republic: From the beginning, Powers has been the 'only guy' to lead ASU
The Athletic: A conversation with Tyler Weiss
---
Five More Storylines No One Should be Without
Clarkson's Austin/Tri-City connection – The nation's longest active winning streak belongs to Clarkson (eight games), where two long-time teammates are leading the Golden Knights at each end of the ice. Goaltender Jake Kielly (Eden Prairie, Minn./Tri-City-USHL) and center Nico Sturm (Augsburg, Germany/Tri-City-USHL) have advanced together from the NAHL's Austin Bruins (2014-15) to the USHL's Tri-City Storm (2015-16, Clark Cup champions) and are now junior classmates in Potsdam. Sturm is among the nation's top 20 scorers and has points in each game of the winning streak, while Kielly's .955 save percentage during the run is the best in the nation in that time. | College Hockey News: Rising Sturm
Longest Active Unbeaten Streaks
8 – Clarkson (8-0-0)
8 – Denver (7-0-1)
7 – Cornell (6-0-1)
6 – Northern Michigan (6-0-0)
Epic offense at PSU – Penn State brings an offense that has produced at remarkable levels into its series vs. Michigan (Thursday in Ann Arbor, Saturday at Madison Square Garden). The Nittany Lions boast six double-digit goal scorers and have produced 4.67 goals per game – only Michigan's 2015-16 team (4.76) has topped that since 2000-01. | Saturday's game is on BTN
Most Double-Digit Goal Scorers
6 – Penn State
4 – St. Cloud State
3 – Bowling Green, Denver, Michigan State
Most Goals per Game, 2000-01 to Present
4.76 – Michigan, 2015-16
4.67 – Penn State, 2018-19
4.60 – New Hampshire, 2001-02
4.52 – Colorado College, 2002-03
4.48 – Ferris State, 2002-03
4.48 – Minnesota, 2001-02
Fabbro, BU rolling – Boston University enters a compelling series with No. 17 Arizona State on a 5-1-1 run. Junior Dante Fabbro (New Westminster, B.C./Penticton-BCHL/NSH) has seven of his team-leading 20 points in the last four games. Fabbro is one of 16 blueliners in this "year of the defenseman" to have 20-plus points and is one point shy of joining six others who are averaging a point per game. | Defensive Point Leaders
Freshmen fuel Sacred Heart – A three-point weekend against Air Force has Sacred Heart inching toward .500 in Atlantic Hockey despite leaning heavily on freshmen and sophomores. The Pioneers' top scorer is freshman Austin Magera (Suwanee, Ga./Lincoln-USHL), who had a hand in four of the team's five goals last weekend. At the other end of the ice, rookie goalie Josh Benson (Stillwater, Minn./Fairbanks-NAHL) has made 10 straight starts and allowed two goals or fewer in four in a row.
Summit meeting in WCHA – The WCHA's top team (Minnesota State) visits its hottest team (Northern Michigan) in the conference's marquee series this weekend. It's a matchup that features the conference's top offense and power play vs. its top defense and penalty kill.
WCHA Conference Statistics (Rank)
Category
Minn. St.
NMU
Win pct.
.778 (1)
.750 (2)
GF/GP
3.39 (1)
2.94 (3)
GA/GP
1.72 (2)
1.50 (1)
PP
23.3% (1)
17.6 (6)
PK
88.9% (2)
93.8% (1)
---
NHL Note of the Week
There 113 NCAA players and recruits listed in the NHL Central Scouting midterm rankings for the 2019 NHL Draft, a steady climb in the total number listed in the last four years. More than half of all Division I programs (33 of 60) have a player or recruit featured. | NHL Matchup Tool
NCAA Players and Recruits, NHL Central Scouting Midterm Rankings
2019: 113
2018: 110
2017: 97
2016: 88
---
Fries at the Bottom of the Bag
Eight NCAA alumni representing six schools are participating in this weekend's NHL All-Star festivities in San Jose … 32 players have a hat trick this season; no one has two to this point … Goal of the weekend? A Minnesota State student made $30,000 on an amazing shot from the far blue line in an intermission promotion.