Thursday, January 3, 2019
Notes: Tonge Leads RMU into Classic
Two ranked opponents among teams headed to Pittsburgh.
---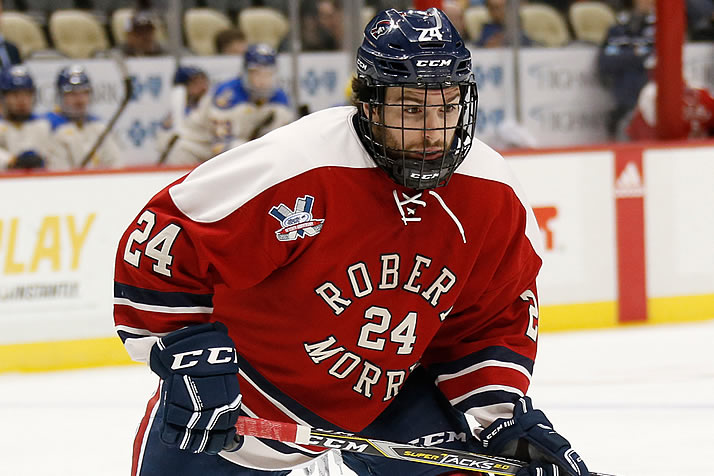 Alex Tonge's younger brother, Colin, is a sophomore at Princeton.
By Nate Ewell
Robert Morris welcomes Brown, No. 1 St. Cloud State and No. 14 Union to Pittsburgh for this weekend's Three Rivers Classic as college hockey fans enjoy a second weekend of holiday tournaments. Alex Tonge (Kingston, Ont./Kingston-OJHL) leads the Colonials with 18 points on the year and 117 in his career; only one Atlantic Hockey player (RIT's Erik Brown) scored more goals than Tonge's 20 in calendar year 2018. The Colonials will be looking to win their third Three Rivers Classic title in four years after falling to Providence in the title game last season.
Most Goals, 2018 Calendar Year
31 – Johnny Walker, Arizona State
30 – Ryan Kuffner, Princeton
25 – Erik Brown, RIT
24 – Jarid Lukosevicius, Denver
24 – Troy Loggins, Northern Michigan
23 – Mason Jobst, Ohio State
22 – Marc Michaelis, Minnesota State
20 – Alex Tonge, Robert Morris
20 – Joe Snively, Yale
---
Must Read/See/Hear Material
OhioStateBuckeyes.com: I'm playing with house money by Brendon Kearney
UNHWildcats.com: Boyd: Facing off against adversity
Canadian Press: Mitchell, Bowers balancing hockey and academics
The Gazette: What is Frank Serratore's secret? He always wants more
Arizona Republic: Austin Lemieux doesn't have to be Mario for ASU
Buffalo News: Samuelsson learning ropes in college hockey
NHL.com: Notre Dame a special place for Winter Classic
Boston Herald: Behind the scenes of Hockey East
Wisconsin State Journal: After retirement, Reinprecht's new role has origins with Badgers
---
Five More Storylines No One Should be Without
Kruse in control at BGSU – Bowling Green's seven-game unbeaten streak has moved the Falcons within a point of the WCHA lead entering a Thursday-Friday series with Bemidji State. Sophomore Brandon Kruse (Saline, Mich./Brookings-NAHL/VGK) has points in each of those games and only six players national have more points than his 12 in that time. Kruse had an impressive enough freshman season to become a fifth-round NHL draft pick in his second year of eligibility. As a sophomore he planned to shoot the puck more and it has worked – he's averaging 2.16 shots per game, up from 1.71 last year. | EP Rinkside: From the morning shift at the bakery to the Golden Knights
Longest Active Unbeaten Streaks
10 – St. Cloud State (8-0-2)
8 – Northeastern (8-0-0)
7 – Bowling Green (6-0-1)
6 – Western Michigan (5-0-1)
6 – Providence (4-0-2)
6 – Wisconsin (3-0-3)
Michigan, Notre Dame head outdoors – After Tuesday's impressive NHL Winter Classic at Notre Dame Stadium the Fighting Irish take their turn at the historic site, facing Michigan Saturday (3:30 p.m., NBCSN, TSN.ca). It will mark the 35th outdoor game of the modern era of college hockey and the first for any of the current players in this game. It will be the eighth outdoor game for Michigan, which faced Michigan State in the 2001 "Cold War" game at Spartan Stadium that was the first of the modern outdoor games.
Most Outdoor Games
8 – Michigan
5 – Michigan State
4 – Boston College
3 – Notre Dame and six others
Including Saturday's game
Huska and the Huskies – Junior goaltender Adam Huska (Zvolen, Slovakia/Green Bay-USHL/NYR) turned aside 39 shots Monday to help Connecticut snap a seven-game losing streak. Now Huska and the Huskies set their sights on Las Vegas, where they join Western Michigan, Air Force and St. Lawrence for the Ice Vegas Invitational. UConn's last in-season tournament appearance was also in the desert and the Huskies won, at the 2016-17 Desert Hockey Classic in Arizona. Before that UConn hadn't won an in-season tournament since 2003.
Denver's Golden State connection – Denver continues a stretch of six straight road games with a pair at Wisconsin this weekend. The Pioneers, who lost four all-league players to graduation or NHL contracts, have featured a lot of new faces, including sophomore goaltender Devin Cooley (Los Gatos, Calif./Springfield-NAHL). Cooley, who played a total of 20 minutes as a freshman, is 8-4-1 and ranks eighth nationally with a .930 save percentage. He is one of seven California natives on the Denver roster. | Saturday's game is on FOX Sports Wisconsin+
Kaldis, Big Red are rested – Cornell is coming off the longest midseason break in school history, perhaps a blessing for a team that was decimated by injuries entering the break. The Big Red were missing its top two centers, two top-four defensemen and goaltender Matthew Galadja (Aurora, Ont./Victoria-BCHL) in its last game, a 2-1 win at Harvard Dec. 1. One stalwart has been junior defenseman Yanni Kaldis (Montreal, Que./Nanaimo-BCHL), a two-time first-team All-Ivy League selection who has played in all 79 games since arriving on campus. Kaldis has four goals and five assists through 11 games entering this weekend's trip to Princeton and Quinnipiac. | Both games are on ESPN+
---
WJC Note of the Week
Eighteen current NCAA players are on the United States National Junior Team that will face Russia Friday at 4 p.m. ET at the 2019 World Junior Championship (NHL Network, TSN). St. Cloud State junior Ryan Poehling (Lakeville, Minn./Lincoln-USHL/MTL) shares the tournament lead in scoring and is the first player to represent the U.S. during his NCAA junior year since Al Montoya (Michigan) in 2005. The last non-goaltender to do so for the U.S. was Mike York (Michigan State) in 1998.
---
Fries at the Bottom of the Bag
No. 1 St. Cloud State will be visiting the site of the school's lone Frozen Four appearance (2013) at the Three Rivers Classic … In addition to the holiday tournaments this weekend features 12 other non-conference games … 10 active players have at least 100 career points, led by Ohio State's Mason Jobst (Speedway, Ind./Muskegon-USHL) with 144; 10 more players enter this weekend within five points of 100 … National and regional sports networks will carry 10 games this weekend, including seven on Saturday.