Wednesday, February 27, 2019
Notes: ASU Closes Surprise Regular Season
Fourth-year program is poised to reach NCAA Tournament as an independent.
---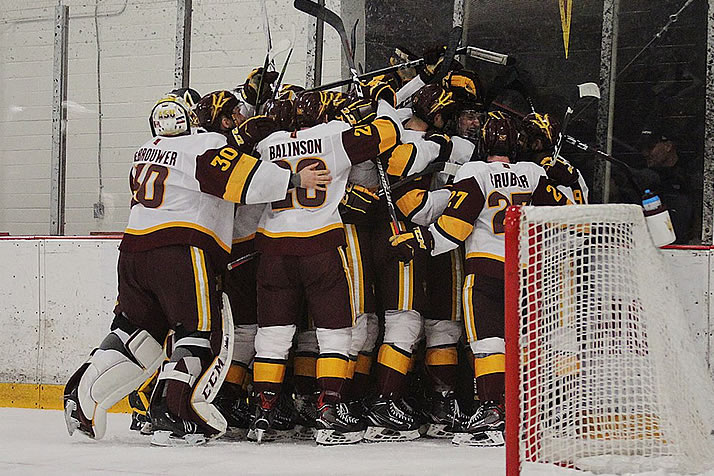 Arizona State's 21 wins equal their combined total from the program's first three seasons.
By Nate Ewell
Arizona State plays its final regular season series this weekend at Minnesota, but it looks highly likely that the Sun Devils' fourth season of Division I hockey will continue. At 21-10-1 the Sun Devils are all but assured of an NCAA Tournament berth, as the independent team has posted nine weekend sweeps on the year – including against at least one opponent from all six conferences. Leading the way are the nation's goal-scoring leader Johnny Walker (Phoenix, Ariz./Chicago-USHL), goalie wins leader Joey Daccord (Boston, Mass./Muskegon-USHL/OTT) and plus/minus leader Brinson Pasichnuk (Bonnyville, Alta./Bonnyville-AJHL). Freshman Demetrios Koumontzis (Edina, Minn./Edina HS/CGY), who heads to his home state this weekend, has a point per game since Jan. 1. | theScore: Inside Arizona State's stunning rise to college hockey prominence | Friday's game is on FSNorth, Saturday's is on FSNorth+, both are streaming on TSN
Independents to Make NCAA Tournament
Alaska Anchorage – 1990, '91, '92
Merrimack – 1988
St. Cloud State – 1989
Since formation of ECAC Hockey (1961-62)
---
Must Read/See/Hear Material

Boston Herald: Harvard's Fox has 'true mark of a great player'
The Rink Live: When Swaney tallies points, UMD wins
EP Rinkside: Lack of goals no concern for unselfish Poehling
Michigan Daily: Cecconi's lifelong competitive drive is paying off
Daily Collegian: Ferraro's defensive efforts leading UMass
Spartan All-Access: The KHL Line
College Hockey Inc.: State-by-State MVPs
---
Five More Storylines No One Should be Without
Clark making history at Dartmouth – Dartmouth is poised to host a first-round ECAC Hockey playoff series for the fourth time in five years thanks in part to a historic goaltending effort. Junior Adrian Clark (Toronto, Ont./South Shore-MHL) has five shutouts, all in conference play, and four coming in the last seven weeks. The five shutouts are tied for third nationally and the most by a Dartmouth goaltender in 99 years (Chester Gale, 1919-20).
National Shutout Leaders
7 – Joey Daccord, Arizona State (OTT)
7 – Hayden Hawkey, Providence (EDM)
5 – Adrian Clark, Dartmouth
5 – Jake Kielly, Clarkson
5 – Hunter Shepard, Minnesota Duluth
Fossier lights the lamp – Maine's Mitchell Fossier (Alpharetta, Ga./Sioux City-USHL) ranks tied for third nationally in assists (27), but his goal scoring touch has come alive in February. His sixth goal of the month – one off the national lead – gave the Black Bears an OT win vs. Boston College Saturday and stretched their unbeaten streak to five games (4-0-1). The Georgia native only had one goal through the first 25 games of the season, but was still producing at nearly a point-per-game clip (1g-22a). With two games remaining (at UMass, vs. BU), Fossier and the Black Bears could finish anywhere from second to eighth in Hockey East. | Saturday's game is on NESN+ and streaming on TSN
Top Scorers, February
13 pts. – Ryan Kuffner, Princeton (7g-6a)
12 – Mitchell Fossier, Maine (6-6)
12 – Jeremy Davies, Northeastern (3-9)
12 – Odeen Tufto, Quinnipiac (3-9)
Haak soars on, off ice – Air Force enters the final weekend of the regular season in line for a first-round bye and hopeful of hosting a quarterfinal series. The Falcons' top goal scorer, senior Kyle Haak (Okemos, Mich./Aberdeen-NAHL), has 9 goals and 17 points in the last 18 games and the team is 9-1-1 when he scores a goal. Even more impressive are Haak's accomplishments off the ice – the physics major with a minor in nuclear weapons and strategy is in the top one percent of his class at the academy. Last year he was honored as both the Air Force Association Cadet of the Year and the U.S. Air Force Cadet of the Year for 2018.
SCSU on historic pace – St. Cloud State clinched the NCHC's Penrose Cup and, despite a harrowing trip home, enters the final two weeks of the regular season with a shot at the best record in the conference's six-year history. The two best NCHC records before this season belong to teams that went on to win the NCAA title. The nation's No. 1 Huskies don't have a player among the top 50 scorers, but their balanced offense, which ranks second nationally at 3.87 goals per game, is reflected in the seven players with 20-plus points – only Penn State and Quinnipiac have more.
Best NCHC Winning Percentage, All-Time (since 2013-14)
.825 – St. Cloud State, 2018-19 (15-2-3-2)
.812 – North Dakota, 2015-16 (19-4-1-1)
.812 – Denver, 2016-17 (18-3-3-2)
.750 – St. Cloud State, 2017-18 (16-4-4-1)
Most 20-Point Scorers
11 – Penn State
8 – Quinnipiac
7 – Lake Superior State, Mercyhurst, Minnesota State, St. Cloud State
6 – Arizona State, Bowling Green, Northeastern, Providence, Western Michigan
Martinsson, Alaska post upset – Junior Anton Martinsson (Klippan, Sweden/Amarillo-NAHL) stopped all 32 shots he faced to lift Alaska to a 1-0 win against No. 4 Minnesota State Saturday night, his first shutout of the season. Martinsson and the Nanooks close out the regular season this weekend against in-state rival Alaska Anchorage and will face the to-be-determined second-place WCHA team in the conference tournament. The goaltending of Martinsson, who has a .936 save percentage in 2019, could help make the Nanooks candidates to pull an upset in the postseason. | Both weekend games are on FloHockey
---
NHL Note of the Week
Monday Jonny Brodzinski (St. Cloud State/Los Angeles Kings) became the 300th NCAA alumnus to play in the NHL this season (scoring a goal in the process). This marks the fifth time 300-plus alumni have played in an NHL season, hitting that milestone more than a month earlier than ever before (the 300th alum played on March 31 of last year). | NHL Matchup Tool
Most NCAA Alumni in the NHL, by Season
314 – 2016-17
310 – 2017-18
305 – 2013-14
301 – 2018-19, 2011-12
---
Fries at the Bottom of the Bag
Conferences are in either their final week (Atlantic Hockey, Big Ten, ECAC Hockey, WCHA) or next-to-last week (Hockey East, NCHC) in their regular seasons … Here's a rundown of conference tournament formats … Providence's Josh Wilkins (Raleigh, N.C./Sioux City-USHL) became the 38th player to record a hat trick this year on Tuesday night; no player has two hat tricks … Seven games Friday are on national or regional sports networks.