Thursday, February 14, 2019
Notes: Last Two Champs Meet
Rising star Finlay leads Denver into series with Minnesota Duluth.
---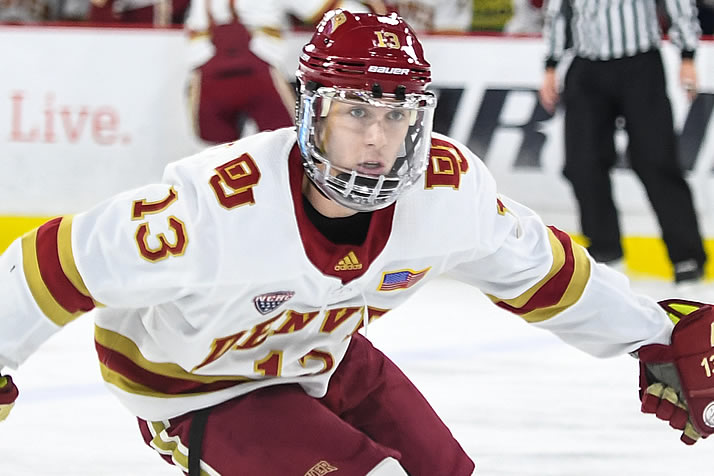 Liam Finlay has 26 points this year, 11 more than all of last season.
By Nate Ewell
Denver enters this weekend's meeting of the last two national champions at Minnesota Duluth at No. 7 nationally despite losing five players from last season to NHL contracts. An impressive freshman group has bolstered the Pioneers, as has a spike in production from leading scorer Liam Finlay (Kelowna, B.C./Vernon-BCHL). A junior, Finlay has a career-high 26 points after finishing ninth and eighth on the team in scoring in his first two seasons. At 5-foot-7, 154 pounds, the smallest Pioneer regular has come up big with 12 goals on the year. | Friday's game is on CBSSN
---
Must Read/See/Hear Material
Sportsnet: Princeton's Neil Doef
New Haven Register: Priskie taking care of unfinished business
The Rink Live: Schuldt is living in the moment with SCSU
Cronkite Sports: ASU hockey beginning to cash in during program-best season
Niagara Gazette: Mills brothers bring built-in chemistry to Niagara
The Gazette: Formerly pass-first, Bradley chipping in goals for CC
The Rink Live: Bold move makes Gophers' power play among best in country
The Athletic: The next Karlsson? The next Hobey winner? Makar might be both
FloHockey: Makar stands out this season
Wisconsin State Journal: Physical game picks up for Emberson
Podcast: Drafting the Undrafted Free Agents
---
Five More Storylines No One Should be Without
Loggins a hit for NMU – Northern Michigan senior Troy Loggins (Huntington Beach, Calif./Sioux Falls-USHL) has goals in five of the last seven games and helped elevate the Wildcats to a tie for second in the WCHA standings. Loggins, who was one of the nation's most improved players last season, has 73 points since the start of 2017-18 – tied with Minnesota State's Marc Michaelis (Mannheim, Germany/Green Bay-USHL) for the most in the WCHA. Loggins was also at his best in the second half last year, posting 31 points in the last 23 games of the year. | Both weekend games are on FloHockey
Most Points, Last Two Seasons
89 – Taro Hirose, Michigan State
84 – Ryan Kuffner, Princeton
83 – Max Veronneau, Princeton
81 – Dylan McLaughlin, Canisius
78 – Odeen Tufto, Quinnipiac
76 – Mason Jobst, Ohio State
73 – Troy Loggins, Northern Michigan
73 – Marc Michaelis, Minnesota State
Dmowski gives Lowell experience, goals – UMass Lowell is surging at 9-0-1 in its last 10 after the No. 10 River Hawks were 8-8-1 on New Year's Day. Ryan Dmowski (East Lyme, Conn./Des Moines-USHL) leads a group of only five seniors on a team that features 12 freshmen, tied for the most in the nation. Dmowski shares the team lead with 11 goals on the year, including seven in the last eight games – and four of those have been game-winners. The River Hawks face No. 13 Providence in a home-and-home series this weekend. | Saturday's game is on NBC Sports Boston and streaming on TSN
Largest freshman classes:
12 – Connecticut, UMass Lowell, Niagara, Quinnipiac
11 – Denver, Robert Morris
10 – Alaska, Michigan, Michigan Tech, Rensselaer, St. Lawrence
Youth powers Notre Dame – Notre Dame enters a home series with Wisconsin after a win Tuesday in which two players scored their first goals for the Irish: sophomore Pierce Crawford (Park Ridge, Ill./Youngstown-USHL) and freshman Jake Pivonka (Naperville, Ill./U.S. NTDP/NYI). Another freshman, Michael Graham (Eden Prairie, Minn./Muskegon-USHL), added a goal to what has been a tremendous second half. Graham has eight goals in his last seven games and is averaging a point per game since Dec. 1, fifth among the nation's freshmen in scoring in that time. | Both games are on NBCSN and streaming on TSN
Most Points, Freshmen, Since Dec. 1
19 – Joel Farabee, Boston University (PHI)
18 – Ludwig Stenlund, Niagara
17 – Cooper Zech, Ferris State
16 – Angus Crookshank, New Hampshire (OTT)
14 – Michael Graham, Notre Dame
14 – Austin Magera, Sacred Heart
14 – Dennis Cesana, Michigan State
Rookie goalies key in ECAC Hockey – Colgate and Rensselaer are jockeying for ECAC Hockey playoff position, currently tied for ninth in the standings, with both boasting an impressive freshman between the pipes. Mitch Benson (Windsor, Ont./Brooks-AJHL) has started 25 games for Colgate, the most of any rookie nationally, while RPI's Owen Savory (Cambridge, Ont./St. Catharines-GOJHL) leads all rookies with a .933 save percentage despite not making his first start until Nov. 23. The two will face off next weekend, Feb. 23, at Colgate.
Holy Cross on a roll – Holy Cross is enjoying a 3-1-1 run entering a home series with Robert Morris, with 11 different Crusaders finding the back of the net in those five games. Seniors Michael Laffin (Hopewell Junction, N.Y./Jersey Hitmen-USPHL), Peter Crinella (East Longmeadow, Mass./Cathedral HS) and Spencer Trapp (White City, Sask./Notre Dame-SJHL) have led the balanced attack in that time. Laffin has points in six of Holy Cross's seven wins on the year, including three game-winning goals.
---
NHL Note of the Week
Chris Kunitz is scheduled to become the sixth NCAA alumnus to reach the 1,000-career game milestone in the NHL this season on Thursday and the first former Ferris State Bulldog to reach that mark. Ferris State will become the 25th school to produce a 1,000-game NHLer. | NCAA Alumni with 1,000 NHL Games | NHL Matchup Tool
---
Fries at the Bottom of the Bag
Five players have been named finalists for the 2019 Hockey Humanitarian Award … Bemidji State is yet to allow a power-play goal in 2019 (10 GP, 34 opportunities) … Seven Division I men's games went to overtime Friday night; the most OTs in one night this season was eight and happened twice, on consecutive days (Nov. 30 and Dec. 1) … Arizona State plays its final home series of the year this weekend, against Atlantic Hockey-leading American International.