Wednesday, March 6, 2019
Notes: Princeton Eyes Playoff Repeat
A high-scoring pair of longtime teammates leads the Tigers into the postseason.
---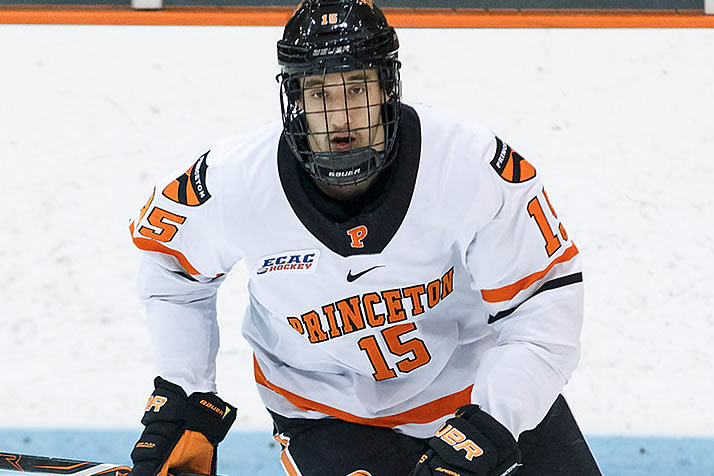 Max Véronneau has six goals and eight points in his last five games (Photo by Shelley Szwast).
By Nate Ewell
Princeton enters the ECAC Hockey tournament on a four-game unbeaten streak (3-0-1) and hoping to duplicate last season's run to the title. The Tigers are fueled by high-scoring seniors Ryan Kuffner (Ottawa, Ont./Gloucester-CCHL) and Max Véronneau (Ottawa, Ont./Gloucester-CCHL), whose combined 291 career points are the most of any two teammates in the nation. This is the sixth season playing together for the duo, dating back to their time with the CCHL's Gloucester Rangers. | This weekend's games are on ESPN+
Most Career Points, Two Teammates
291 – Ryan Kuffner/Max Véronneau, Princeton
273 – Mason Jobst/Tanner Laczynski, Ohio State
250 – Tyler Sheehy/Rem Pitlick, Minnesota
239 – Derek Barach/Joseph Duszak, Mercyhurst
227 – Robby Jackson/Patrick Newell, St. Cloud State
---
Must Read/See/Hear Material

Star Tribune: Gophers' Pitlick took healthy eating into his own hands
FloHockey: Sibling duo leading UMass hockey revolution
Daily Gazette: No matter which mask, Savory excelling for RPI
The Rink Live: California buddies Jackson, Newell leading SCSU
Wisconsin State Journal: Bunz grows to appreciate that the difference he makes is off the ice
Providence Journal: Better goaltending gives surprising Brown a big boost
Daily Collegian: Career full of adversity hasn't stopped PSU senior
Ventura County Star: Newell leads SCSU into postseason
The Athletic: From college to the Capitals
---
Five More Storylines No One Should be Without
BGSU seeks WCHA title – Bowling Green hosts defending WCHA champion Michigan Tech as the Falcons, who sit just outside of the NCAA Tournament picture, pursue their first WCHA title. Junior Alec Rauhauser (Bismarck, N.D./Des Moines-USHL) leads a defense that surrendered just 29 shots in two games last weekend. Offensively Rauhauser has posted his third 20-point season, one of only two active WCHA defensemen to do so (also Minnesota State's Ian Scheid). The Falcons are 11-3-1 when Rauhauser lands on the scoresheet. | Both weekend games are on FloHockey
Marotte mans RMU net – Robert Morris and Holy Cross meet in the Atlantic Hockey tournament for the third year in a row, with RMU hoping for a third straight win. The Colonials will need to win two series to reach the league semifinals for a sixth straight season. Junior Francis Marotte (Longueuil, Que./Nepean-CCHL), who played his 100th career game last weekend, leads the way in goal, seeking his own third playoff series win vs. the Crusaders.
Rookies energize Minnesota – Minnesota hosts Michigan in a Big Ten quarterfinal series having won five out of six to close out the regular season. An all-freshman line has helped fuel the Gophers, with Sammy Walker (Edina, Minn./Edina HS/TB) centering Nathan Burke (Scottsdale, Ariz./Aberdeen-NAHL) and Blake McLaughlin (Grand Rapids, Minn./Chicago-USHL/ANA). While junior Rem Pitlick (Plymouth, Minn./Muskegon-USHL/NSH) and senior Tyler Sheehy (Burnsville, Minn./Youngstown-USHL) are among the nation's top-15 scorers, the freshman trio has added depth and energy for first-year head coach Bob Motzko.
Top teams meet to close regular season – The nation's No. 1 team (St. Cloud State) meets the defending national champions (Minnesota Duluth) for two games as the NCHC closes its regular season. Both teams are in line to earn No. 1 seeds for the NCAA Tournament, so this series could provide a Frozen Four or NCHC championship preview. The two teams split their first two meetings, Jan. 11-12 in Duluth. | Friday's game is on CBSSN; Saturday's is on FSNorth+ and streaming on TSN
BU's backstop – Ten Hockey East teams each have one game remaining, and Boston University's home-ice hopes for the playoffs could come down to the last game on the schedule, Saturday at Maine. The Terriers are unbeaten in five straight (4-0-1) and have allowed only three goals in that time behind the goaltending of junior Jake Oettinger (Lakeville, Minn./U.S. NTDP/DAL). Oettinger has stopped 98% of the shots he has faced in that time, as the first-round NHL pick has climbed to fifth nationally in save percentage (.930). | Saturday's game is on FOX College Sports
National Save Percentage Leaders
.944 – Andrew Shortridge, Quinnipiac
.937 – Tommy Nappier, Ohio State
.932 – Devin Cooley, Denver
.930 – Stefanos Lekkas, Vermont
.930 – Jake Oettinger, Boston University (DAL)
---
NHL Note of the Week
ESPN's Chris Peters named Massachusetts defenseman Cale Makar (Calgary, Alta./Brooks-AJHL/COL) and Michigan defenseman Quinn Hughes (Orlando, Fla./U.S. NTDP/VAN) as the No. 1 and 2 NHL prospects among players who have been drafted. | NHL Matchup Tool
Most NCAA Prospects, by NHL Team
13 – Chicago
10 – Florida, Nashville, Philadelphia
9 – Florida, NY Islanders, Ottawa, San Jose, Tampa Bay
8 – Buffalo, Colorado, Detroit, Edmonton
---
Fries at the Bottom of the Bag
The regular-season champions have been crowned in all six conferences … Here's a rundown of conference tournament formats … Ten teams have playoff byes this weekend – five in Atlantic Hockey, four in ECAC Hockey and Ohio State in the Big Ten … Tuesday Matt Cullen (St. Cloud State) played his 1,500th career NHL game, while Ryan Kesler (Ohio State) became the seventh NCAA alum this season to reach 1,000 NHL games.