Thursday, April 18, 2019
Alumni Prepare for Worlds
U.S. entry in World Championship a showcase for former NCAA stars.
---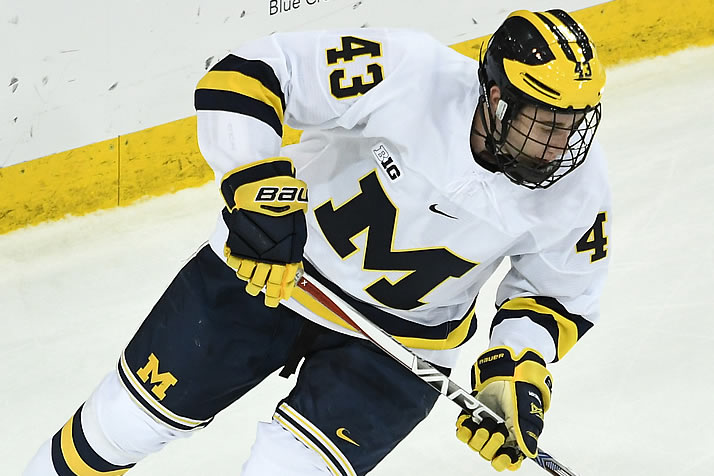 Quinn Hughes returns for his second appearance in the World Championship.
Fifteen NCAA alumni are among the first 17 players named to the United States Men's National Team that will compete at the 2019 IIHF World Championship.
The alums range in age from veteran Ryan Suter, who played at Wisconsin in 2003-04, to Quinn Hughes and Cayden Primeau, All-Americans this season for Michigan and Northeastern, respectively.
In all, the 15 NCAA alumni represent nine schools, led by Boston College (four representatives), Michigan (three) and Boston University (two).
The 2019 World Championship will be held May 10-26 in Kosice and Bratislava, Slovakia. The U.S. has medaled in three of the last six World Championships, including the bronze medal last season.
The U.S. is led by a coaching staff comprised entirely of NCAA alumni: head coach Jeff Blashill (Ferris State) and assistant coaches Dan Bylsma (Bowling Green), John Hynes (Boston University) and Kevin Reiter (Alaska Anchorage). Former Hobey Baker winner Chris Drury (Boston University) is the U.S. general manager.
---
2019 U.S. Men's National Team
No.
Name
Pos.
NCAA Team
1
Cayden Primeau
G
Northeastern
9
Jack Eichel
F
Boston University
12
Alex DeBrincat
F
18
Chris Kreider
F
Boston College
19
Clayton Keller
F
Boston University
20
Ryan Suter
D
Wisconsin
25
James van Riemsdyk
F
New Hampshire
27
Alec Martinez
D
Miami
30
Thatcher Demko
G
Boston College
35
Cory Schneider
G
Boston College
36
Colin White
F
Boston College
41
Luke Glendening
F
Michigan
43
Quinn Hughes
D
Michigan
71
Dylan Larkin
F
Michigan
72
Frank Vatrano
F
Massachusetts
76
Brady Skjei
D
Minnesota
88
Patrick Kane
F