Thursday, April 4, 2019
Defense Fills Hobey Hat Trick
Fox, Makar, Schuldt up for college hockey's highest individual honor.
---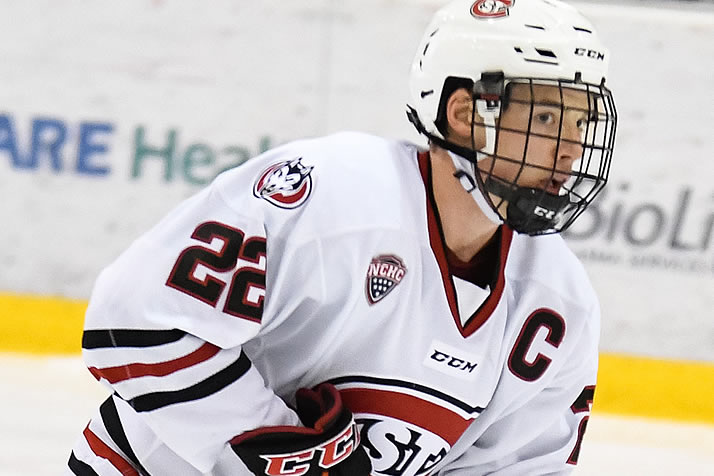 Three-year captain Jimmy Schuldt was named NCHC Player of the Year this season.
In a year filled with spectacular performances from defensemen, it's a trio of blueliners who lead the candidates for the 2019 Hobey Baker Award, given to college hockey's top player.
Harvard's Adam Fox (Jericho, N.Y./U.S. NTDP/CAR), Massachusetts's Cale Makar (Calgary, Alta./Brooks-AJHL/COL) and St. Cloud State's Jimmy Schuldt (Minnetonka, Minn./Omaha-USHL/VGK) make up the Hobey Hat Trick as the top three vote-getters for the award.
The Hobey Baker Award winner will be announced Friday, April 12, at Buffalo's HarborCenter as part of the NCAA Frozen Four festivities.
Fox, Makar and Schuldt were selected from the 10 finalists for the award by the 29-member selection committee. Criteria for the award includes outstanding skills in all phases of the game, strength of character on and off the ice, sportsmanship and scholastic achievements.
Fox, a junior, was the ECAC Hockey Player of the Year and currently stands tied for third nationally with 48 points. He is a favorite to be named first-team All-American for the third consecutive season.
Makar, a sophomore, enters the Frozen Four tied with Fox with 48 points, two shy of the national leaders. The Hockey East Player of the Year has led Massachusetts to its first Frozen Four and the school's first No. 1 national ranking.
Schuldt, a senior, served as captain of the Huskies for the third year and led the team to the No. 1 overall seed in the NCAA Tournament. He is a returning Hobey Baker finalist who was named NCHC Player of the Year and Defensive Defenseman of the Year.
The Hobey Baker Award announcement at HarborCenter is a free event open to the public, beginning at 3:30 p.m. with an autograph signing featuring the two teams in the national championship game and the Hobey Hat Trick finalists. At 5 p.m., the Mike Richter Award honoring the nation's top goalie will be announced, followed by the Hockey Humanitarian Award presentation and the American Hockey Coaches Association announcement of the All-America teams and other national awards.
The Richter Award, Hockey Humanitarian Award and the All American announcements will be streamed at hobeybaker.com. The Hobey Baker Award announcement will begin at 6 p.m. ET and will be aired live on NHL Network and streamed at hobeybaker.com.