Wednesday, May 8, 2019
Top Seeds Meet for NAHL Title
Three dozen recruits contending for 2019 Robertson Cup.
---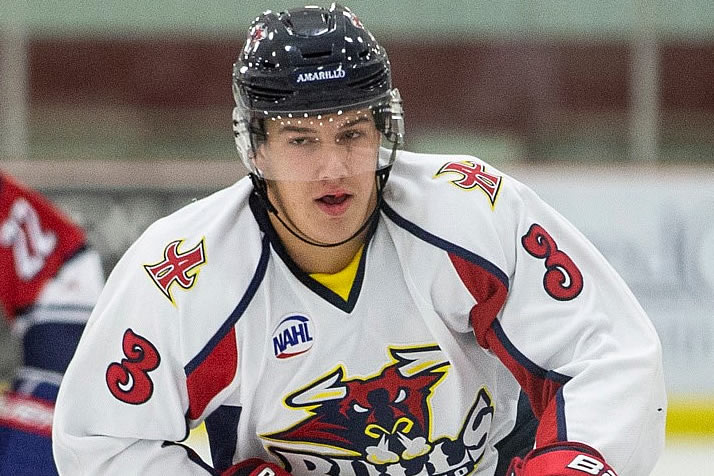 Arizona State commit Logan Jenuwine scored a NAHL record 60 goals and led the league with 104 points in the regular season.
The top four seeds all advanced to compete in the NAHL's 2019 Robertson Cup, which will be played May 10-14 at Fogerty Ice Arena in Blaine, Minn.
The Johnstown Tomahawks, Amarillo Bulls, Aberdeen Wings and Fairbanks Ice Dogs featured a combined 36 commits pledged to attend 21 Division I schools. The four teams are seeded based on regular-season records and will face off in best-of-three series to determine the teams for the championship game, set for Tuesday, May 14.
Robertson Cup Site | Watch on HockeyTV
Arizona State, Army West Point and Ferris State lead all schools with four recruits participating in the Robertson Cup. Arizona State and Ferris State both have a recruit on all four teams.
Amarillo teammates Gabriel Seger (Union) and Alex Peterson (Holy Cross) rank 1-2 in NAHL playoff scoring with 15 and 13 points, respectively. Johnstown's Cameron Hebert (Robert Morris) also has 13 points.
Uncommitted goaltender Mattias Sholl of Fairbanks leads all goaltenders on the four teams with a 6-0-0 record, .958 save percentage and 1.00 goals-against average in the playoffs.
Fairbanks is seeking its fourth Robertson Cup in nine seasons, while Amarillo is in search of its second after winning in 2013. Neither Aberdeen nor Johnstown have won the Robertson Cup before.
Each game in the Robertson Cup will be broadcast on HockeyTV.
Robertson Cup Schedule
Friday, May 10: Johnstown vs. Fairbanks, 4:30 p.m. CT | Amarillo vs. Aberdeen, 7:30 p.m. CT
Saturday, May 11: Johnstown vs. Fairbanks, 4:30 p.m. CT | Amarillo vs. Aberdeen, 7:30 p.m. CT
Sunday, May 12: Johnstown vs. Fairbanks, 3 p.m. CT | Amarillo vs. Aberdeen, 6 p.m. CT
Tuesday, May 14: Robertson Cup National Championship Game, 7 p.m. CT
---
NCAA Commits in Robertson Cup
Aberdeen Wings
Brad Belisle
F
Bemidji State
Jonathan Bendorf
F
Mercyhurst
Pierson Brandon
D
Air Force
Tim Makowski
D
Alaska
Adam Pitters
F
Bowling Green
Stepan Pokorny
F
Ferris State
John Sladic
F
Miami
Joe Strada
F
Arizona State
Matt Vernon
G
Colorado College
Dalton Weigel
D
Air Force

Amarillo Bulls
Brett Abdelnour
F
Army West Point
Nick Anderson
D
Colgate
Jason Brancheau
F
Ferris State
Brenden Datema
D
Michigan Tech
Justin Evenson
G
Army West Point
Jason Grande
G
Bentley
Louis Helsen
D
Rensselaer
Logan Jenuwine
F
Arizona State
Alex Peterson
F
Holy Cross
Gabriel Seger
F
Union

Fairbanks Ice Dogs
Dylan Abbott
D
Minnesota State
Parker Brown
F
Air Force
Luke Ciolli
F
Army West Point
Brenden MacLaren
F
Ferris State
Luke Mobley
F
Clarkson
Jax Murray
F
Arizona State
Jonathan Sorenson
F
Minnesota
John Stampohar
D
Canisius
Noah Wilson
D
Army West Point

Johnstown Tomahawks
Carson Briere
F
Arizona State
Carter Dwyer
D
Bentley
Cameron Hebert
F
Robert Morris
Roman Kraemer
F
Robert Morris
Carter McPhail
G
Ferris State
Samuel Solensky
F
Bemidji State
Hunter Toale
D
Bentley