Tuesday, June 18, 2019
Big NHL Draft Awaits NCAA
Approximately 60 NCAA players and recruits expected to be selected this weekend.
---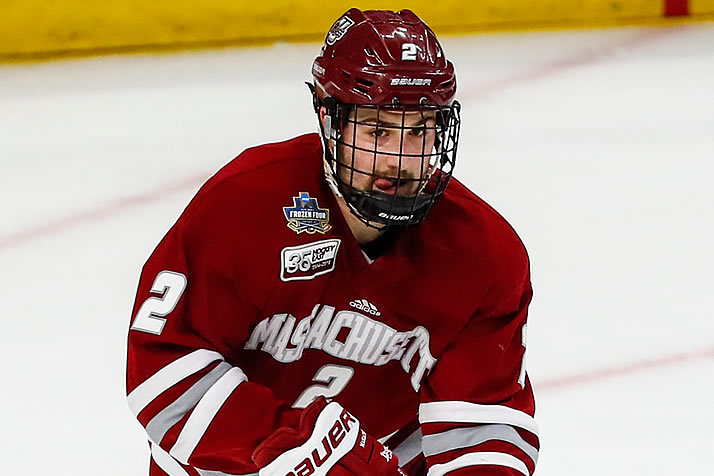 Massachusetts defenseman Marc Del Gaizo is among the rising sophomores expected to be taken in the 2019 NHL Draft (Photo by Matt Dewkett).
A near-record number of NCAA players are projected for the first round in what will be a busy 2019 NHL Draft for current and future NCAA players.
NCAA / NHL Draft Guide (.pdf) | NCAA Players in Central Scouting Rankings
Vancouver's Rogers Arena will host the 2019 NHL Draft, with the first round slated for Friday (8 p.m. ET, NBCSN, SportsNet) and rounds two through seven on Saturday (1 p.m. ET, NHL Network, SportsNet). Experts forecast a high number of NCAA players selected on a number of fronts:
Most mock drafts project between eight and 10 NCAA recruits being taken in the first round, just shy of the record of 11 (2016 and '07).
36 schools had players or recruits listed in the final NHL Central Scouting rankings, including 48 of the top 98 North American skaters.
Boston College boasts three first-round candidates (goaltender Spencer Knight and skaters Matthew Boldy and Alex Newhook), while Wisconsin (Alex Turcotte and Cole Caufield) and Boston University (Trevor Zegras and Alex Vlasic) each have a pair.
Other candidates to go in round one include Cam York (Michigan), Bobby Brink (Denver) and Ryan Johnson (Minnesota). Saturday should be very busy with NCAA selections, including rising sophomores Ben Brinkman (Minnesota), Marc Del Gaizo (Massachusetts), Spencer Meier (St. Cloud State), Alexander Steeves (Notre Dame) and Tyce Thompson (Providence).
---
DRAFT RESEARCH
Close examination of the NHL Draft since 2000 suggests that NCAA players may be undervalued in the draft. Consider:
A study of the 374 first-round draft picks from 2000-12 shows that 76% of those players who developed in the NCAA went on to have a significant NHL career (200+ games played). By contrast, 65% of all other players in that time met the same standard.
NCAA First-Round Draft Picks
Of those 374 first-round picks from 2000-12, 78 (or 21%) were on the NCAA path, fewer than the CHL (207, 55%) or Europe (24%).
College players enjoyed that success despite, on average, being taken later in the first round:
Average Draft Position, 2000-12 First Rounders
CHL 14.7
European 15.0
NCAA 17.5
Current College Players
A small subset of the NCAA players taken in the draft – likely between eight and 15 – will be players who spent 2018-19 playing college hockey.
Recent history suggests that those selections may be the best values in the draft.
College Hockey Inc. conducted a study of the 10 drafts from 2006-15. In that period 87 players were taken after spending their draft season in the NCAA.
Of those players, a remarkable 68% reached the NHL for at least one game and 33% have appeared in more than 100 games. Those figures are 21 and 7 percentage points higher, respectively, than all other players in the draft.
For picks beyond the first round – where roughly 40% of all selections ever make the NHL – 65% of players who spent their draft year in the NCAA reached the NHL for at least a game (33% for 100+ GP).