Saturday, June 22, 2019
Nine Selected in First Round
NCAA players account for record seven of the top 16 picks.
---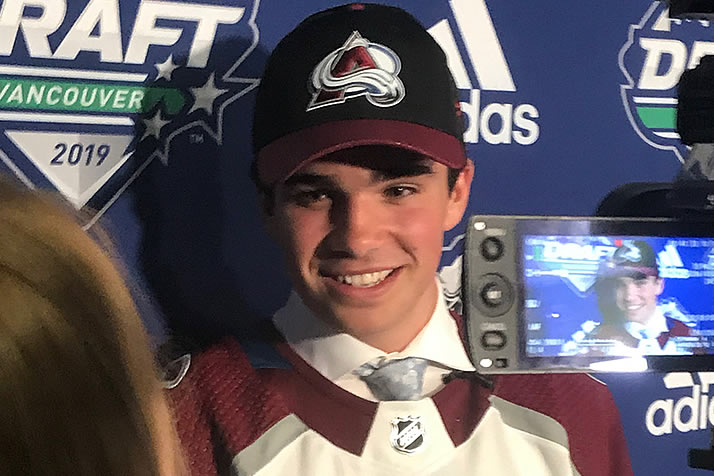 Alex Newhook was the fifth straight NCAA player taken when Colorado selected him at No. 16.
A total of nine NCAA recruits were selected in the first round of the 2019 NHL Draft Friday night at Rogers Arena in Vancouver, just the fourth time that many college players were selected in a first round of a draft. The 2019 draft marked the first time ever that seven NCAA players were among the first 16 selections in the draft.
Boston College led all schools with three selections, while Wisconsin and Michigan each had a pair. Boston University and Minnesota each had a single selection in the first round.
All-Time NCAA First Round Picks
Wisconsin recruit Alex Turcotte led the NCAA parade to the stage, selected fifth overall by Los Angeles. The Kings' California rival, Anaheim, selected the second NCAA player with Boston University commit Trevor Zegras at No. 9.
From there a run of five straight selections at Nos. 12 through 16 gave the NCAA seven of the top 16 picks for the first time. Included in those were the three BC Eagles incoming freshmen: Matthew Boldy, Spencer Knight and Alex Newhook.
NCAA / NHL Draft Guide (.pdf)
Other notes:
The only times that more than nine NCAA players were taken in the first round were when a record 11 college players were selected in 2007 and 2016. The nine NCAA selections are tied for third all-time with the 2003 NHL Draft.
Prior to Friday night, there had never been more than four NCAA players among the first 16 selections in a draft.
Zegras's selection gave Boston University 10 first-round picks in the last five years.
Michigan and Boston College extended their streaks to 24 straight years of having at least one player selected in the NHL Draft.
A total of 173 NCAA players have been selected in the first round all-time.
The 2019 NHL Draft concludes Saturday with rounds two through seven, beginning at 1 p.m. ET. Television coverage will be provided by NHL Network in the U.S. and Sportsnet in Canada.
2019 NHL Draft First-Round Picks
Round
No.
Name
NHL Team
Pos.
NCAA Team
2018-19 Team
1
5
Alex Turcotte
LA
F
Wisconsin
U.S. NTDP
1
9
Trevor Zegras
ANA
F
Boston University
U.S. NTDP
1
12
Matthew Boldy
MIN
F
Boston College
U.S. NTDP
1
13
Spencer Knight
FLA
G
Boston College
U.S. NTDP
1
14
Cam York
PHI
D
Michigan
U.S. NTDP
1
15
Cole Caufield
MTL
F
Wisconsin
U.S. NTDP
1
16
Alex Newhook
COL
F
Boston College
Victoria (BCHL)
1
30
John Beecher
BOS
F
Michigan
U.S. NTDP
1
31
Ryan Johnson
BUF
D
Minnesota
Sioux Falls (USHL)