Friday, September 6, 2019
U.S. Hall Class Announced
Gionta, Thomas among five to be inducted to U.S. Hockey Hall of Fame.
---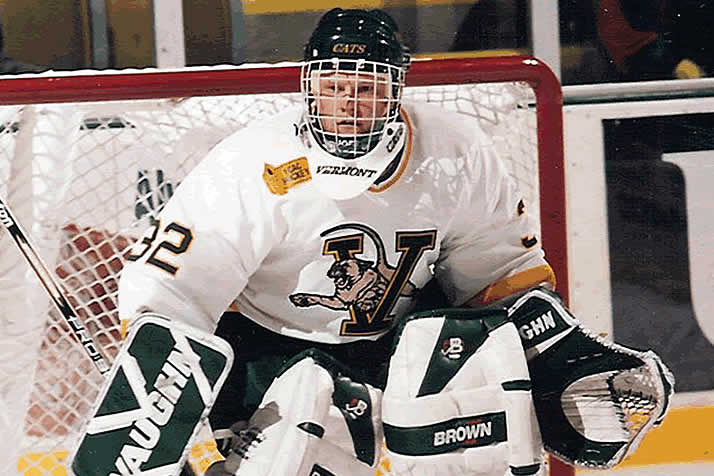 Tim Thomas was a record-setting goaltender at Vermont from 1993-97.
Gary Bettman, Brian Gionta, Neal Henderson, Tim Thomas and Krissy Wendell will be enshrined into the United States Hockey Hall of Fame as the Class of 2019, USA Hockey announced Wednesday.
"It's truly a remarkable class," said Jim Smith, president of USA Hockey. "Each of the five inductees have their own unique and immeasurable contribution to our great game. They're extremely deserving of the highest hockey honor in our country and we look forward to formally enshrining them into the Hall in December."
Gionta and Thomas starred at the Division I men's level before embarking on storied NHL careers.
Gionta, a native of Rochester, N.Y., was a three-time first-team All-American at Boston College, leading the Eagles to the NCAA championship as a senior in 2001. He stands as the school's career leader in goals (123) and is second in points (232) and was named Hockey East Player of the Year (2001) and Rookie of the Year (1998). He led BC to the Frozen Four each of his four years on campus.
Thomas, a native of Flint, Mich., led the nation in save percentage in 1996 (.924) as he guided Vermont to the school's first Frozen Four appearance. The Catamounts' career leader in games played (140), wins (81) and saves (3,950) was a two-time All-America selection.
Joining those former Division I men's stars in the class of 2019 are:
Bettman, the longtime commissioner of the NHL;
Henderson, a pioneer in youth hockey development in Washington, D.C.; and
Wendell, a star for the U.S. National Women's Team and the University of Minnesota.
The 2019 U.S. Hockey Hall of Fame Induction Celebration will be held Dec. 12 at the Marriott Marquis in Washington, D.C. Tickets are available from USA Hockey.