Wednesday, October 16, 2019
Notes: Denver Races to 4-0-0 Start
Finlay, Pioneers host Boston College this weekend.
---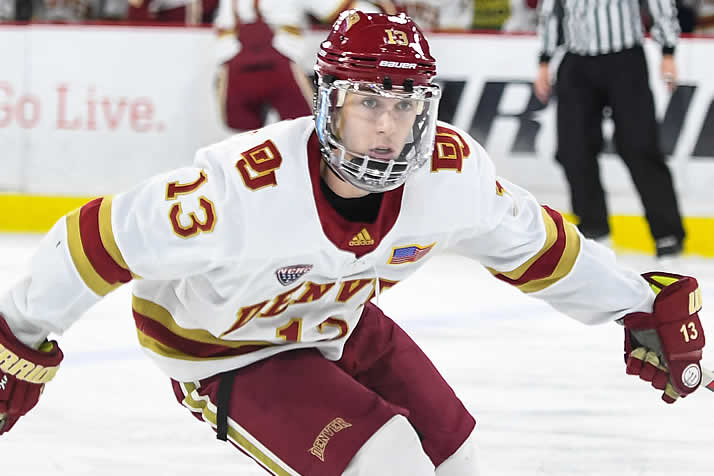 Liam Finlay leads Denver with 75 career points, including five assists through four games.
By Nate Ewell
Denver stands 4-0-0 including three come-from-behind wins. The Pioneers ascended to No. 1 in the polls entering this weekend's home series with No. 6 Boston College. Four players are averaging a point per game for the Pioneers, led by senior Liam Finlay (Kelowna, B.C./Vernon-BCHL) with five assists through four contests. Finlay, who led DU with 36 points last season, is among five of the top six scorers on that team to return to campus in 2019-20. | Saturday's game is on Altitude/NESNplus
---
Must Read/See/Hear Material
The Hockey News: The top 100 players to watch in the NCAA
Daily Collegian: Jones' unorthodox journey over roadblocks, out of Virginia
The Gazette: After shifting roles, Pulver leads Air Force in new one: captain
Makato Free Press: High-scoring Scheid does family name proud
Boston Herald: BC's Cotton just wants to win
Bulldog Insider: Proving doubters wrong with Hunter Shepard
The Rink Live: Michaelis looks for improvement, wins as senior
The Rink Live: Nanne, a third-generation Gopher, leads team on, off ice
Grand Forks Herald: Bast undergoes transformation after summer living with Jost
---
Five More Storylines No One Should Be Without
Wisconsin's goal getter – After posting record-setting goal totals with USA Hockey's National Team Development Program, Cole Caufield (Stevens Point, Wisc./U.S. NTDP/MTL) opened his NCAA career with back-to-back multiple-goal games. He became the first Wisconsin Badger in the modern era (since 1963) to open his career with consecutive multiple-goal games. This weekend Caufield and Wisconsin host the two-time defending NCAA champion Minnesota Duluth Bulldogs. | Both games are on FOX Sports Wisconsin
Northeastern's senior leader – The lone senior surrounded by freshmen and sophomores on Northeastern's defense, Ryan Shea (Milton, Mass./Youngstown-USHL/CHI) plays big minutes and a key leadership role for the Huskies. The captain has led NU to a 3-0-0 start entering Saturday's visit from Holy Cross. Shea has played every game since arriving on campus, and his 118 career games played is equal to the combined total of the other five Husky defensemen who dressed in Tuesday's win over No. 4 UMass. | Saturday's game is on NESNplus
Brothers leading Alaska – Alaska opened its WCHA schedule with a weekend sweep at Michigan Tech, with sophomore defenseman Chris Jandric (Prince George, B.C./Vernon-BCHL) recording the game-winner in each contest. Chris and his brother, junior forward Steven Jandric (Prince George, B.C./Vernon-BCHL), have combined for three of the Nanooks' eight goals through four games this season. Alaska is in the midst of a six-game road stretch, traveling to Penn State this week for a Thursday-Friday series against former UAF head coach Guy Gadowsky.
Well Dunne – Clarkson, after a 1-0-1 start at Michigan, hosts Vermont and Providence this weekend. Sophomore Josh Dunne (O'Fallon, Mo./Green Bay-USHL) had points in each game at Yost Ice Arena and leads the Golden Knights in scoring with three points. Dunne is one of six hockey-playing siblings including older sister Jincy, a senior captain at ninth-ranked Ohio State.
Spellacy spells success for RMU – Robert Morris completed a sweep of Bentley to open its Atlantic Hockey schedule thanks in part to a first career two-goal game from sophomore Aidan Spellacy (Lakewood, Ohio/Lone Star-NAHL). Spellacy – a former NAHL Robertson Cup champion with the Lone Star Brahmas – scored twice on the power play and added an assist in the Colonials' win Saturday, giving them an early lead in the Atlantic Hockey standings after the first two conference games of the year.
---
NHL Note of the Week
2019 Hobey Baker Award winner Cale Makar's five-game point streak is one game shy of the longest by a defenseman to begin his career. | NHL Matchup Tool
---
Fries at the Bottom of the Bag
Brett Berard of USA Hockey's National Team Development Program scored twice, including the late game-winner, Sunday against Holy Cross and his father, Crusader head coach David Berard. Brett is committed to Providence, which Holy Cross beat on Friday … Nine goaltenders – including four freshmen – have posted shutouts this season … Seven games are on national or regional sports networks this weekend.