Wednesday, January 29, 2020
Notes: Huskies Eye Three-peat
Tyler Madden leads Northeastern in its pursuit of a third straight Beanpot.
---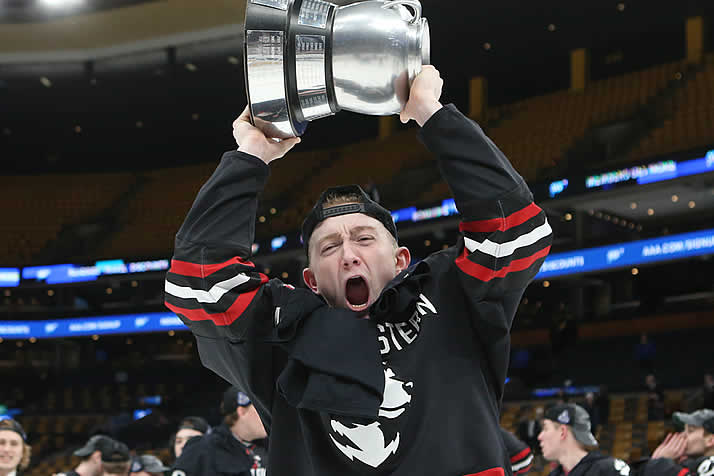 Tyler Madden ranks fourth nationally with 4.27 shots on goal per game.
By Nate Ewell
After a 30-year Beanpot drought, Northeastern enters the annual tournament that starts Monday having won back-to-back titles. One of last year's heroes is leading this year's Huskies in scoring, as sophomore Tyler Madden (Deerfield Beach, Fla./Tri-City-USHL/VAN) has 16 goals (tied for sixth in the nation) and 31 points (tied for fifth). He scored in overtime of the Beanpot semifinals last season. Madden's father, John, holds the NCAA records for shorthanded goals in a season (10) and career (23) while at Michigan; all of Tyler's offense this year has come on the power play (13 points) or at even strength (18). | The Beanpot is on NESN and NHL Network
---
Must Read/See/Hear Material
The Pipeline Show: Sacred Heart's Matt Tugnutt
Mankato Free Press: Old friends Rivera, French take Mavericks reins
Michigan Daily: Michigan hockey and a summer of painting
The Daily Collegian: The Lone Star
Wisconsin State Journal: Junior season a 'roller coaster,' Dhooghe admits
---
Five More Storylines No One Should Be Without
Sillinger hot for BSU – Bemidji State, at 6-1-1 in its last eight and into the national rankings at #18, is on a roll entering a home series with Bowling Green. The top performing Beaver in that time has been sophomore Owen Sillinger (Regina, Sask./Penticton-BCHL), whose 10 points in those eight games give him 20 for the season, surpassing his freshman total. The former captain of the Penticton Vees is the son of Mike Sillinger, who played for an NHL-record 12 teams in his 17-year career.
Best Penalty Kill
.922 – Clarkson
.916 – Bemidji State
.901 – Minnesota State
.900 – Northeastern
.892 – Denver
Ranta sparks Minnesota – Minnesota's 5-1-0 record since Christmas has the Gophers back at .500 entering a rivalry series at Wisconsin this weekend. Sophomore Sampo Ranta (Naantali, Finland/Sioux City-USHL/COL) has followed a solid performance at the World Junior Championship with three goals since then, and is now tied for the team lead with 10 tallies on the season. Ranta (second star) and freshman linemate Ben Meyers (first star; Delano, Minn./Fargo-USHL) were honored with Big Ten weekly awards after last weekend's sweep of Ohio State. | Friday's game is on FOX Sports North; Saturday's is on FOX Sports North+
Cameron & RIT's comeback – A four-goal third period capped a massive comeback Saturday and lifted RIT to a sweep of Canisius. Senior Shawn Cameron (Sherbrooke, Que./Cumberland-CCHL) scored his 13th goal in the midst of the comeback, his sixth goal in the last six games. Cameron has career highs in goals and points (21) to lead the Tigers in both categories.
High-scoring Kawaguchi – Jordan Kawaguchi (Abbotsford, B.C./Chilliwack-BCHL) had his eight-game point streak snapped Saturday, but that run was enough to pull him within five points of the national scoring lead. The junior has led North Dakota to a 19-3-3 record and the No. 2 national ranking, already surpassing last season's win total. Kawaguchi has scored the game-winner in five of those wins, tied for the national lead in that category.
National Points Leaders
42 – Jack Dugan, Providence (VGK)
37 – Jordan Kawaguchi, North Dakota
37 – Tyce Thompson, Providence
33 – Marc Michaelis, Minnesota State
Brown's two-sport athlete – Brown heads on the road to St. Lawrence and Clarkson having snapped a 10-game losing streak in its last outing, Jan. 18 vs. Union. Three of the Bears' top five scorers are defensemen, led by senior Zach Giuttari (Warwick, R.I./Chilliwack-BCHL). A local product and two-sport athlete, Giuttari has also played lacrosse at Brown.
---
Fries at the Bottom of the Bag
Sacred Heart announced plans to build a $60 million on-campus hockey arena … Minnesota Duluth goaltender Hunter Shepard (Cohasset, Minn./Bismarck-NAHL) started his 105th consecutive game on Saturday, passing Cornell alum Ben Scrivens for the NCAA Division I men's record … More than 100,000 fans attended Division I men's games Saturday night (101,133), including six sellout crowds … Winners of the last three national championships (Minnesota Duluth and Denver) meet this weekend in Denver (both games on Altitude2).