Wednesday, March 4, 2020
Notes: Rivalry Renewed
A Michigan-Michigan State series is among the highlights as conference tournaments get started.
---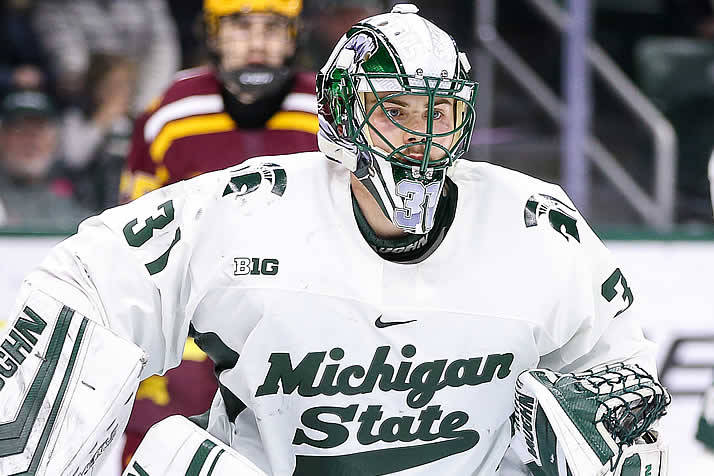 Michigan State's John Lethemon ranks third nationally in save percentage (.937).
By Nate Ewell
Four conferences – Atlantic Hockey, Big Ten, ECAC Hockey and WCHA – begin postseason tournaments this weekend, while Hockey East and NCHC wrap up their regular seasons.
It's often said that playoffs build rivalries in hockey, but the Michigan-Michigan State series this weekend brings a ready-made rivalry to the Big Ten tournament. The two teams split the regular season, 2-2-0, and feature arguably the top two goaltenders in the Big Ten. Michigan State's John Lethemon (Northville, Mich./Chicago-USHL) and Michigan's Strauss Mann (Greenwich, Conn./Fargo-USHL) rank 1-2, in either order, among Big Ten goaltenders in save percentage, goals-against average, shutouts, saves and minutes played.
Top rivalries, by games played
*Michigan vs. Michigan State – 328 games
*Colorado College vs. Denver – 322 games
Minnesota vs. North Dakota – 298 games
Michigan vs. Minnesota – 291 games
Boston College vs. Boston University – 282 games
* Meet this weekend
---
Must Read/See/Hear Material
Must Read/See/Hear Material Duluth News Tribune: Laderoute's gamble pays off for him and Bulldogs
The Rink Live: SCSU's Poehling plays tough guy on rink, nice guy off
The Rink Live: LaFontaine calm amid the storm in Gophers' crease
AHL Report: Penn State: A winning hockey culture
The Athletic: In Maine, Swayman is standing out
NHL.com: Swayman stays busy for Maine
---
Five More Storylines No One Should Be Without
Hold on to your hats – The state of Michigan will witness another rivalry playoff series as Michigan Tech visits Northern Michigan for the third, fourth and potentially fifth straight games between the two teams. They split a pair last weekend, a series that included a hat trick from Michigan Tech sophomore Trenton Bliss (Appleton, Wisc./Green Bay-USHL). The Huskies have four hat tricks on the season, one more than NMU and the most of any team in the nation.
Most Hat Tricks, Teams
4 – Michigan Tech
3 – Connecticut, Massachusetts, Northern Michigan, Sacred Heart

SLU aims for new heights – Two weeks after an upset of Harvard, St. Lawrence travels to Cambridge looking for more in the first round of the ECAC Hockey tournament. Leading the Saints in goals (9) is a towering figure in junior Keenan Suthers (Tecumseh, Ont./Dubuque-USHL). At 6-foot-8, Suthers is the tallest player to play Division I hockey this season (tied with Maine reserve goaltender Stephen Mundinger). Yes, Suthers played some basketball before focusing on hockey – both parents played hoops in college as well – but he now uses his imposing size in front of opposing nets.
Two two-goal games lead Bentley – Bentley hosts Canisius for a best-of-three this weekend after finishing in a three-way tie for sixth in Atlantic Hockey. The Falcons got a pair of two-goal games from junior Brendan Hamblet (Hopkinton, Mass./Rivers School) last weekend to secure home ice. Hamblet, who had just one goal as a freshman, now has back-to-back 11-goal seasons and a career high 22 points this year.
D powers UNH – New Hampshire enters a home-and-home with Boston College chasing the last playoff spot in Hockey East. The Wildcats are led by a talented defense, including the team's leading scorer in junior Max Gildon (Plano, Texas/U.S. NTDP/FLA). Gildon is one of five defensemen nationwide to lead his team in scoring outright. Senior captain Anthony Wyse (Newton, Mass./Lincoln-USHL), an undrafted NHL free agent, is an underrated member of the Wildcat defense corps.
Larkin leads Miami – After consecutive shutouts of Omaha, Miami heads to Western Michigan for the final weekend of the regular season. Goaltender Ryan Larkin (Clarkston, Mich./Cedar Rapids-USHL) leads the RedHawks into his home state having not allowed a goal in 135 minutes, 59 seconds. He is Miami's career record holder for saves (3,150) and ranks fourth among active goaltenders.
Most Career Saves, Active Goalies
3,869 – Stefanos Lekkas, Vermont
3,685 – Peyton Jones, Penn State
3,694 – Frank Marotte, Clarkson
3,150 – Ryan Larkin, Miami
3,082 – Jeremy Swayman, Maine (BOS)
---
NHL Note of the Week
Last week's flurry of trades prior to the NHL trade deadline included the reunion of former Denver teammates Danton Heinen and Troy Terry in Anaheim. | NHL Matchup Tool
---
Fries at the Bottom of the Bag
A new holiday tournament, the Holiday Face-Off, will feature Arizona State, Clarkson, Connecticut and Wisconsin in Milwaukee in December … 12 teams in the top 20 (and nine of the top 14) are seeking their first NCAA Division I championship.