Thursday, January 19, 2017
Notes: Senior Stars Face Off
Top active Atlantic Hockey scorers among big series ahead this weekend.
---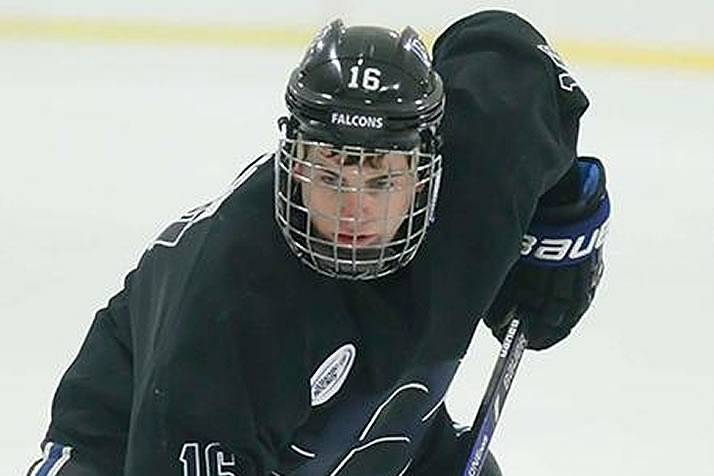 Bentley's Max French is one of 15 candidates for the Senior CLASS Award.
By Nate Ewell
Bentley and Sacred Heart play a home-and-home this weekend featuring the top two career scorers in Atlantic Hockey and two of the top 10 in the nation. The Falcons' Max French (West Kelowna, B.C./West Kelowna-BCHL) has seven multiple-point games this season; opposite him is Justin Danforth (Oshawa, Ont./Cobourg-OJHL), who has goals in three straight games. | Friday's game is on American Sports Network
Top 10 Active Career Scorers
154 points – Mike Vecchione, Union
144 – Tyler Kelleher, UNH
131 – Justin Kloos, Minnesota
126 – Max French, Bentley
125 – Austin Ortega, Omaha
124 – Zach Aston-Reese, Northeastern
118 – Ryan Fitzgerald, Boston College (BOS)
115 – Anthony Louis, Miami (CHI)
114 – Nick Schilkey, Ohio State
111 – Justin Danforth, Sacred Heart
---
Must Read/See/Hear Material
Lansing State Journal: An MSU player, his immigrant father and 'The Mighty Ducks'
New York Times: A hot hand in shootouts creates an American hockey hero
Mankato Free Press: Best performances are on ice, not computer
Niagara Gazette: Cakebread fitting in quickly with Purple Eagles
NESN: Zach Aston-Reese feature
CronkiteSports.com: Croston becoming a prominent face of hockey in Arizona
Wisconsin State Journal: On-the-job training suits Ford
---
Five More Storylines No One Should Be Without
Badger catalyst – Wisconsin enters its border battle with Minnesota at 3-1-0 in Big Ten play, bolstered by the return from injury of freshman Trent Frederic (St. Louis, Mo./U.S. NTDP/BOS). Frederic has five points in those games and the Badgers – who were 2-3-1 in the games he missed – are 8-4-0 when he plays. Frederic and teammate Luke Kunin (Chesterfield, Mo./U.S. NTDP/MIN) were two of the record 11 NCAA players selected in the first round of the 2016 NHL Draft.
RPI's O from the D – Rensselaer's 4-0 upset of Harvard featured the ninth goal of the year from defenseman Jared Wilson (Calgary, Alta./Vernon-BCHL), most of any blueliner in the nation. Wison had the game-winning goal in each of the Engineers' first three wins. A physical defenseman who can clearly contribute with his shot as well, Wilson and RPI face Union Thursday at Albany's Times Union Center in the annual Mayor's Cup game, a chance for a second win against a top-10 opponent in a week for the Engineers.
Alaska moving up – Alaska, after a win and a shootout win at Ferris State last weekend, moves on to face Bowling Green this weekend. Senior Davis Jones (St. Albert, Alta./Nipawin-SJHL) was at his best last weekend, posting a .953 save percentage and moving the Nanooks within a point of fifth place in the WCHA standings. Alaska is 3-2-2 in its last seven conference games after a 3-7-1 start.
Colton powers Vermont – Vermont, picked eighth in Hockey East in the preseason, stands 12th nationally in the USCHO.com poll thanks in large part to the contributions of a talented freshman class. Rookie Ross Colton (Robbinsville, N.J./Cedar Rapids-USHL/TB) leads the team in scoring and his speed and tenacity have been evident for the Catamounts since the start of the season. Colton – whose father, Rob, was a college baseball player – excelled at both hockey and baseball before turning his focus to the ice. | Friday's game vs. UConn is on American Sports Network and NESN | Tampa Bay Lightning: Speed, desire lead Colton to success
Ahcan shines for SCSU – At 5-foot-8, St. Cloud State defenseman Jack Ahcan (Savage, Minn./Cedar Rapids-USHL) can get overlooked – and was, in the last two NHL Drafts. He has followed a USHL Defenseman of the Year season with a terrific freshman year in the NCHC and could get taken in his third year of draft eligibility this year. Ahcan and Husky head coach Bob Motzko recently returned from the World Junior Championship with gold medals and split at No. 4 Minnesota Duluth last weekend (Ahcan had two goals, one assist). The Huskies host No. 2 Denver this weekend. | StateofHockey.com: Magical moments adding up for Ahcan | Pioneer Press: Ahcan returns to SCSU with gold medal
---
NHL Note of the Week
Nearly 100 NCAA players and recruits are featured in the 2017 NHL Draft Midterm Rankings from NHL Central Scouting, a 10% rise from last year's midterm list.
---
Fries at the Bottom of the Bag
The nation's top two offenses meet this weekend as Penn State (No. 1 in the USCHO.com poll for the first time) hosts No. 11 Ohio State … Seven of eight WCHA games last weekend went to overtime … Minnesota – which produces more Division I men's players than any other state or province (203 this year) – celebrates Hockey Day in Minnesota on Saturday … Princeton's Colton Phinney (Chatham, N.J./Islanders-EJHL) set the school record for career saves and became just the third Ivy League goaltender to surpass 3,000 career saves (Harvard's Dov Grumet-Morris, Brown's Chris Harvey).