Thursday, December 6, 2018
USHL Names Prospects Rosters
22 schools will have future players participating in Jan. 8 prospects game.
---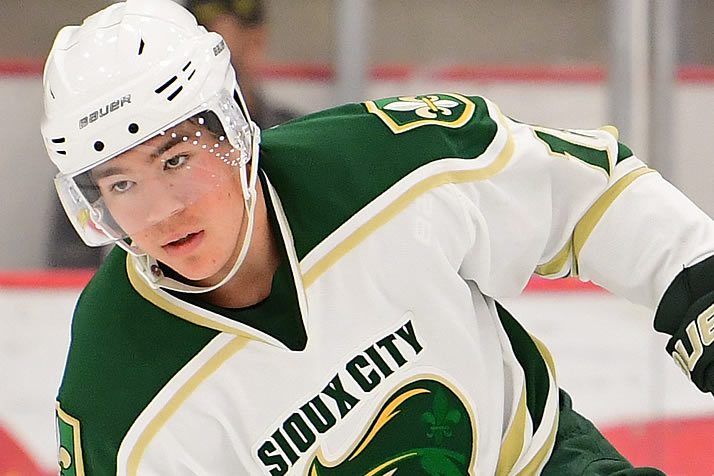 Denver commit Bobby Brink leads the USHL in scoring with 33 points in 19 games (Photo by Hickling Images).
The USHL and NHL Central Scouting announced the rosters for the 2019 USHL/NHL Top Prospects Game Thursday, two teams that will feature 35 NCAA commits. The game, featuring players eligible for the 2019 NHL Draft, will be held Jan. 8 in Lincoln, Neb.
Twenty-two schools – representing more than one-third of all Division I programs – will have a recruit in the USHL/NHL Top Prospects Game. Eleven schools have multiple commits in the game, led by Michigan State and Western Michigan with three each. Minnesota Duluth and North Dakota both have future teammates who will meet on opposing teams in the game.
Nine of the selections were rated as second- or third-round draft candidates in the most recent NHL Central Scouting players to watch list, released last month. The USHL had 67 players on that list, the most of any junior league in the world.
This marks the fifth consecutive year, and seventh time overall, that the USHL will host the USHL/NHL Top Prospects Game.
Team East
No.
Name
Pos.
USHL Team
NCAA Commitment
1
Logan Stein
G
Waterloo
Ferris State
2
Ryan Siedem
D
Central Illinois
Harvard
4
Ethan Frisch
D
Green Bay
North Dakota
5
Michael Feenstra
D
Dubuque
Michigan State
7
Trevor Janicke
F
Central Illinois
Notre Dame
9
Grant Silianoff
F
Cedar Rapids
Notre Dame
10
Matias Maccelli
F
Dubuque
11
Egor Afanasyev
F
Muskegon
Michigan State
12
Vladislav Firstov
F
Waterloo
Connecticut
13
Hunter Skinner
D
Muskegon
Western Michigan
20
Ty Jackson
F
Dubuque
Northeastern
21
Dylan Jackson
F
Dubuque
Northeastern
22
Will Francis
D
Cedar Rapids
Minnesota Duluth
24
Robert Mastrosimone
F
Chicago
Boston University
26
Ryan Drkulec
F
Waterloo
Harvard
27
Lynden Breen
F
Central Illinois
Maine
28
Josh Nodler
F
Fargo
Michigan State
39
Christopher Giroday
D
Green Bay
Western Michigan
98
Matej Blumel
F
Waterloo
Connecticut

Team West
No.
Name
Pos.
USHL Team
NCAA Commitment
2
Kirby Proctor
D
Des Moines
Omaha
3
Luke Johnson
D
Sioux City
Providence
5
Cedric Fiedler
D
Fargo
Western Michigan
7
Ryan Johnson
D
Sioux Falls
Minnesota
10
Matt Brown
F
Des Moines
UMass Lowell
12
Shane Pinto
F
Lincoln
North Dakota
13
Jami Krannila
F
Sioux Falls
St. Cloud State
15
Marcus Kallionkieli
F
Sioux City
16
Anthony Romano
F
Sioux Falls
Clarkson
18
Bobby Brink
F
Sioux City
Denver
19
Tyler Paquette
F
Des Moines
Penn State
25
Austen Swankler
F
Sioux Falls
Michigan
26
Andre Lee
F
Sioux Falls
UMass Lowell
27
Brady Meyer
F
Des Moines
Minnesota Duluth
28
Ethan Phillips
F
Sioux Falls
Boston University
31
Isaiah Saville
G
Tri-City
Omaha
33
Ben Kraws
G
Sioux City
Miami
37
John Prokop
D
Omaha
Miami
38
Zac Jones
D
Tri-City
Massachusetts
39
Kaden Bohlsen
F
Des Moines