Wednesday, January 15, 2020
Notes: Champs Rolling
UMD enters weekend on a six-game unbeaten streak.
---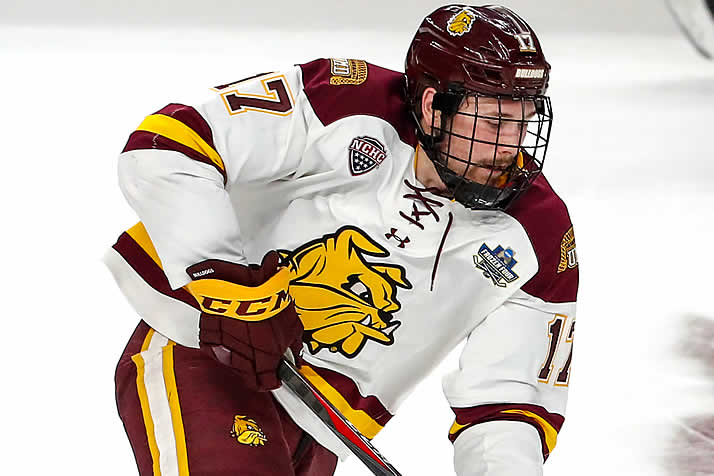 Cole Koepke has at least a point in 13 of his last 14 games (Photo by Matt Dewkett).
By Nate Ewell
Minnesota Duluth visits St. Cloud State this weekend with Saturday's game part of the 2020 Hockey Day Minnesota festivities. The two-time defending national champions are on a six-game unbeaten streak in which the offense has come alive. Cole Koepke (Hermantown, Minn./Sioux City-USHL/TBL) leads the team with 11 points in that time and has 19 on the season. That matches the sophomore's point total from all of last season. | Saturday's game is on FOX Sports North+
---
Must Read/See/Hear Material
Detroit News: Lethemon leads Michigan State's resurgence
Grand Forks Herald: Fritsch hasn't always been an elite skater
Boston Globe: Filipe putting finishing touch on NU career
The Hockey News: 11 under-the-radar prospects lighting up the NCAA
ESPN.com: Midseason NCAA takeaways
---
Five More Storylines No One Should Be Without
Big Red D – Cornell has played the fewest home games in the nation (four), but Lynah Rink will host one of the most compelling matchups of this weekend as No. 17 Northern Michigan visits for a non-conference series. The Big Red has a balanced attack that includes three defensemen in double-digits in points: senior Yanni Kaldis (Montreal, Que./Nanaimo-BCHL), junior Alex Green (Chicago, Ill./Lincoln-USHL/TBL) and freshman Sam Malinski (Lakeville, Minn./Bismarck-NAHL). As a group, Cornell's defense is contributing more offense than any team in the country.
Most Points Per Game, Defensemen
3.07 – Cornell
3.04 – Ferris State
2.95 – North Dakota
2.82 – Massachusetts
2.80 – Harvard
Merrimack's draft class – Merrimack has an NCAA-leading 16 freshmen, three of whom landed in Central Scouting's midterm rankings for the 2020 NHL Draft, released Monday. Defensemen Declan Carlile (Hartland, Mich./Muskegon-USHL) and Zach Uens (Belleville, Ont./Wellington-OJHL) and goaltender Jere Huhtamaa (Helsinki, Finland/Jokerit U20) are all draft prospects, the most current players on one team in the NCAA. Carlile posted two assists and Huhtamaa got the win in the Warriors' most recent outing, a 6-2 win at Connecticut last Tuesday.
Current Players in NHL Central Scouting Midterm Rankings
3 – Merrimack
2 – Connecticut, Wisconsin
1 – UMass Lowell, Michigan State, Ohio State, Providence
Lee leads on D – Senior Mike Lee (Hamden, Conn./Penticton-BCHL) has led Sacred Heart into first place in Atlantic Hockey, one of six defensemen nationwide to lead his team in scoring. Lee's 24 points rank fourth nationally among defensemen and include points in 13 of the last 14 games for the Pioneers. His +23 rating is the best in the nation. Sacred Heart, which has a two-point lead on Army West Point, is in search of its first conference title.
Defensemen Leading Team in Scoring
David Farrance, Boston University (NSH)
Mike Lee, Sacred Heart
Scott Perunovich, Minnesota Duluth (STL)
Alec Rauhauser, Bowling Green
Will Reilly, Rensselaer (PIT)
Jake Willets, Ferris State
Alaska's goaltending tandem – Alaska travels to Ferris State at just one game under .500 (11-12-1) and one win away from its season total from last year. The Nanooks have featured a goaltending tandem, both of whom hail from Europe. Senior Anton Martinsson (Klippan, Sweden/Amarillo-NAHL) has an edge in save percentage (.919), while sophomore Gustav Grigals (Riga, Latvia/Shreveport-NAHL) has posted one more victory (six). Grigals played both games in a win and a tie last weekend at Lake Superior State.
Penn State's puck stopper – Penn State enters the second half of the Big Ten schedule in first place thanks in part to a stellar year from senior goaltender Peyton Jones (Langhorne, Pa./Lincoln-USHL). A career .903 goaltender entering the year, Jones has posted a .926 save percentage to rank 16th nationally. Jones – whose younger brother, Nolan, is a minor leaguer in the Cleveland Indians system – holds virtually all of Penn State's career goaltending records and leads all active goaltenders in career wins with 72.
Most Career Wins, Active Goaltenders
72 – Peyton Jones, Penn State
66 – Hunter Shepard, Minnesota Duluth
65 – Frank Marotte, Clarkson
53 – Cale Morris, Notre Dame
52 – Tyler Wall, UMass Lowell (NYR)
---
NHL Note of the Week
More than half of all schools (34 of 60) had a player or recruit featured in Central Scouting's midterm rankings for the 2020 NHL Draft. | NHL Matchup Tool
---
Fries at the Bottom of the Bag
The Hockey Humanitarian Award announced its 13 nominees for the 2020 award Monday … Nine games are on national or regional sports networks this weekend, including the first game of the year on CBSSN (North Dakota at Miami, Fri.) … Eleven players are within three goals of the national lead, currently held by Northern Michigan's Griffin Loughran (West Seneca, N.Y./Fargo-USHL) and Providence's Tyce Thompson (Milford, Conn./Dubuque-USHL/NJD) with 17.