Wednesday, March 14, 2018
Notes: U.P. Rivals Meet for Title
MTU faces Tolvanen, NMU as conference champions are crowned.
---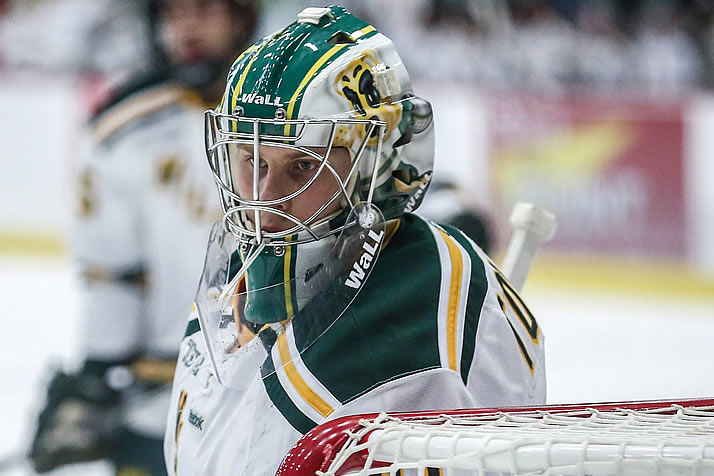 Atte Tolvanen posted an NCAA-record five straight shutouts last season.
By Nate Ewell
Two Upper Peninsula rivals led by first-year head coaches meet Saturday in the WCHA championship game as Northern Michigan hosts Michigan Tech. MTU won last year's title in OT with the benefit on home ice, but will travel the 100 miles to Marquette this weekend. They'll face a Northern team with three 40-point scorers and WCHA Goaltender of the Year Atte Tolvanen (Vihti, Finland/Minot-NAHL). Tolvanen – whose brother, Eeli, was a first-round pick of the Nashville Predators – was 2-1-0 against MTU this year with a 1.35 goals-against average and a .945 save percentage. | Watch on FOX-UP/WCHA.tv

Noteworthy in Marquette: The winner will claim the inaugural Jeff Sauer WCHA Championship Trophy … Both teams won Game 3 in overtime of their WCHA semifinal series.
Upcoming Key Dates
Sat., March 17: Conference championship games (weekly schedule)
Sun., March 18: NCAA Tournament Selection Show (12 p.m. ET, ESPNU/TSN2)
Fri.-Sun., March 23-25: NCAA Regionals
Thurs.-Sat., April 5-7: NCAA Frozen Four (St. Paul, Minn.)
---
Must Read/See/Hear Material
AIC's Bryant Christian: 'I needed one more time' | ESPN's Best Player in the World of the Week
College Hockey Inc.: Top 10 Hobey Finalists Named
Duluth News Tribune: Seniors McCormack, Spurrell always at the ready for UMD
Hartford Courant: Cavanaugh, UConn have developed into a contender together
Bangor Daily News: Maine defenseman successfully balances hockey, electrical engineering
---
Five More Storylines No One Should Be Without
Undrafted Carpenter leads BU – On a Boston University roster filled with first-round NHL Draft talents and 12 draft picks overall, undrafted Bobo Carpenter (N. Reading, Mass./Sioux City-USHL) leads the team in goals and points, including an overtime goal in the quarterfinals to help the Terriers reach TD Garden. Carpenter's father, Bobby, was the NHL's "Can't Miss Kid," as dubbed by Sports Illustrated, and his sister, Alex is a former member of the U.S. Women's National Team. Alex played at rival Boston College, which BU faces in Friday's semifinals. | Watch on NESN/NESNplus

Noteworthy in Boston: Rivals BC and BU meet in the semifinals for the second year in a row and the sixth time all-time … Seven of eight Hockey East games last weekend (and 12 of 15 this playoff season) have been decided by one goal.
Longest Active Unbeaten Streaks
7 – Northeastern (7-0-0)
6 – Boston College (6-0-0), Mercyhurst (6-0-0), Ohio State (5-0-1), Princeton (5-0-1)
5 – Boston University (4-0-1)
Larocque, OSU defense shine – Ohio State will play for the Big Ten title Saturday at Notre Dame thanks in part to an improved team defense – after ranking 31st in the nation defensively in 2016-17, the Buckeyes are fourth this year. Junior defenseman Sasha Larocque (Calgary, Alta./Dubuque-USHL) has been a big part of that turnaround and earned second-team All-Big Ten honors this week. An earth sciences major, Larocque spent part of last summer traveling to Iceland with OSU's environmental studies program. | Watch on BTN

Noteworthy in South Bend: This is Notre Dame's first year in the Big Ten and the first year the conference has held its championship on a campus site … Ohio State has won two conference tournaments in its history, the CCHA in 2004 and 1972.
Best Penalty Killing
89.9% – Ohio State
88.5% – Notre Dame
88.1% – Army West Point
87.4% – New Hampshire
86.5% – Bemidji State
NCHC's young D – Friday's second NCHC semifinal is a 2017 NCAA championship rematch, but two of the most important figures weren't part of that game. Freshmen defenseman Scott Perunovich (Hibbing, Minn./Cedar Rapids-USHL) of UMD and Ian Mitchell (Calahoo, Alta./Spruce Grove-AJHL/CHI) of DU both earned NCHC All-Rookie Team honors, while Perunovich was also named first-team all-conference. Both teams lost last year's top-scoring blueliners to the NHL – Neal Pionk (UMD) is with the New York Rangers and Will Butcher (DU) is with the New Jersey Devils. Rookies Perunovich and Mitchell have filled those roles admirably. | The Athletic: Mitchell has the makings of an elite defenseman | Watch on CBSSN

Noteworthy in St. Paul: This marks the third straight season that he top four seeds advanced to the NCHC's Frozen Faceoff … No team has swept the NCHC regular-season and playoff titles in the same year entering this, the fifth year of the conference.
Top Scoring Defensemen
42 pts. – Philip Beaulieu, NMU
39 – Alec Rauhauser, BGSU
38 – Jimmy Schuldt, SCSU
35 – Daniel Brickley, Minn. State
34 – Scott Perunovich, UMD
34 – Christian Wolanin, UND (OTT)
34 – Zach Frye, Alaska
Veterans lead Air Force surge – Senior Tyler Ledford (Colorado Springs, Colo./Wichita Falls-NAHL) scored the OT goal that lifted Air Force to the Atlantic Hockey semifinals, and he is one of five juniors and seniors leading the team offensively. The Falcons won the tournament last year and six of the past 11 years. Their veteran presence will certainly help entering Friday's semifinal vs. Canisius, as it has in the second half – Air Force is 12-4-2 since it started the season 8-10-3. | Watch on AtlanticHockey.tv

Noteworthy in Rochester: Robert Morris (17-19-3) is the only team under .500 in action this weekend, but the Colonials are 4-1-1 in their last six … Regular-season champion Mercyhurst is seeking its first NCAA Tournament berth since 2005.
Largest Senior Classes
11 – Mercyhurst
9 – Connecticut, Robert Morris
8 – Air Force, Canisius, five other teams
Harvard's sly Fox – Harvard's hopes for a return to the NCAA Tournament hinge on winning the ECAC title, and sophomore defenseman Adam Fox (Jericho, N.Y./U.S. NTDP/CGY) will be key as always. The returning first-team All-American has been at his best lately, with 15 points (6g-9a) in the last eight games. When Fox records a point the Crimson are 10-4-2; if he is held off the scoresheet they are 5-9-2. | Watch on Eleven Sports/BoxCast.com

Noteworthy in Lake Placid: The nation's top two players in goals per game are Harvard's Ryan Donato (0.93) and Princeton's Ryan Kuffner (0.88) … Cornell's Matt Galajda (9) and Clarkson's Jake Kielly (8, tied with UMD's Hunter Shepard) rank 1-2 nationally in shutouts.
Fewest Even-Strength Goals Against per Game
0.81 – Cornell
1.19 – Clarkson
1.38 – Minnesota State
1.39 – Minnesota Duluth
1.47 – Northeastern
1.49 – Air Force
---
Fries at the Bottom of the Bag
The NCAA Tournament Selection Show is slated for 12 p.m. ET on Sunday, March 18 (ESPNU, TSNGO) … Find each conference's all-league teams and awards here … Follow postseason professional signings on our Pro Signings page.