Wednesday, April 10, 2019
Second Year Pays Off for Makar
Returning to school led to dramatic improvement on and off the ice.
---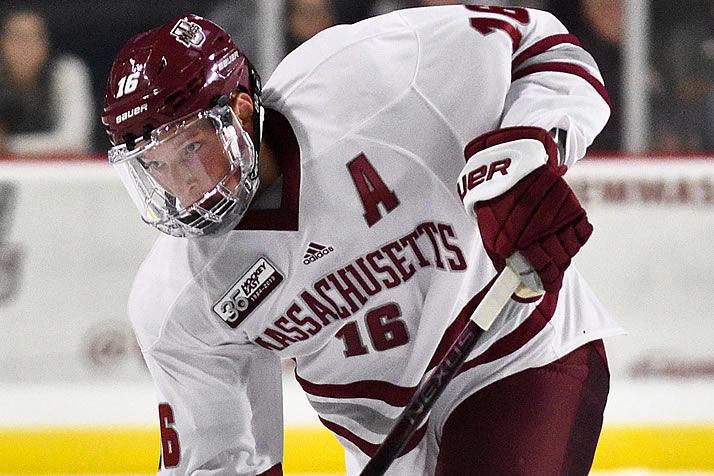 Only one player nationally has improved his point total, year-over-year, more than Cale Makar (+27).
By Nate Ewell
Cale Makar was hardly just another NCAA freshman last year, turning heads as a top-five NHL draft pick.
But as Makar skates toward the 2019 Hobey Baker Award, it's easy to forget that he was just a third-team all-league selection as a rookie. His second year on campus has been a historic one thanks largely to his dramatic development as a player.
Wednesday at the Frozen Four: Greg Printz | Parker Mackay | Jarid Lukosevicius
That, according to Makar and head coach Greg Carvel, was the plan all along.
"From the beginning, my goal was to go play college for two years," Makar said Wednesday. "There are aspects of my game that needed more work. I felt coming back for another year at this level would ultimately tune those up in order for me to play pro. I feel like I'm getting to that level and I'm being more consistent now."
That second year isn't typical for a top-five draft pick; the last one to spend two years in college was James van Riemsdyk 10 years ago. Makar was selected No. 4 overall by the Colorado Avalanche.
Frozen Four Storylines | Media Kit (.pdf)
The result for Makar has been growth on and off the ice.
"He grew up," said Carvel. "Cale needed to grow up physically. He needed to mature.
"Last year, a lot of Saturday nights he turned to us, 'I can't go, I can't go.' That's not a kid ready to go to the NHL. He's matured physically, in the weight room."
College hockey fans can see his growth on the ice every night. But Carvel points out that it goes beyond that.
"The thing I love about his family is they looked at UMass as a complete development stage," Carvel said. "This wasn't just hockey development. They wanted him to learn life lessons, and he has."
As a result, Makar is in position to jump right to the NHL – once he tackles the matter at hand this week in Buffalo.