Thursday, July 27, 2017
Development Camps: The Returnees
Several campers put off pro hockey for another year of NCAA development.
---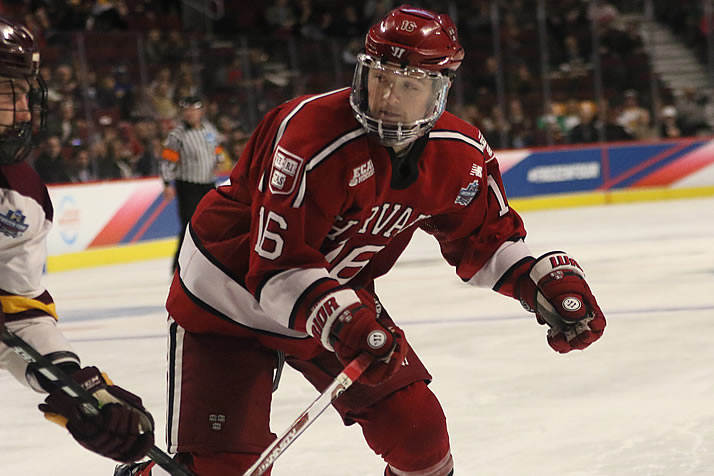 Harvard's Ryan Donato is one of 14 returning 20-goal scorers across the country (Photo by Larry Radloff).
Nearly 500 past, present and future NCAA players participated in NHL Development Camps this summer. With that many participants, it's not surprising that they have many different backgrounds – from first rounders to free agents, and from fresh-faced 18-year-olds to experienced veterans.

As camps conclude, collegehockeyinc.com is looking at several of those groups. Previously: The Sophomores | The Pros | The Newcomers.

Today: The Returnees.
NHL fans must watch some development camp performers with mixed emotions.
They see what the likes of Dylan Sikura or Ryan Donato can do in July scrimmages and picture them on NHL rosters this fall.
Those visions will have to wait, however, as those players and many others went to camp having already confirmed their plans to return to college hockey.
NCAA Players in NHL Development Camps | Player Development
That makes development camps a chance to fine-tune skills for some of college hockey's biggest stars. And while they won't be on the NHL stage until at least March, they know they can continue to develop and pursue championships at the NCAA level.
One of those players, Denver rising sophomore Henrik Borgström, already has an NCAA championship under his belt. The first-rounder raved about his experience on campus.
"If somebody asked me about college, I'd recommend it, for sure," said Borgström. "It was probably the best decision of my life. It's so much fun. You have hockey and you have friends."
While Borgström was a first-round pick, many of these types of players were taken later in the draft, have had time to develop in college, and are looking forward to taking that next step.
---
Make it and Thrive
The goal, then, is not just making an NHL roster, but doing to and thriving.
"Could [Northeastern's Adam Gaudette] have come out this year and competed and done well? Yes," said Ryan Johnson, Vancouver Canucks director of player development. "But his intention is to put on some more weight and get stronger and he doesn't want to come out and just survive or compete, he wants to come out and hit the ground running."
Boston University's Jordan Greenway shared a similar approach at Minnesota's development camp.
"I want to find a way to generate more offense for myself," said Greenway, who had 31 points as a sophomore. "I don't want to just be an average player. I want to be an impact player when I come in here.
"I think I've grown a lot," he added. "My coaching staff at BU has helped me out a ton. I've found ways to perfect my game down low."
---
Supportive Staffs
To their credit, the Canucks and Wild staff expressed support for Gaudette and Greenway's respective plans, with the hopes of getting an even better player in the long run.
"I need to mature a little bit physically and get a little bit faster," Gaudette told the Vancouver Sun. "It's the right move to help me make the jump to the next level, and last year was definitely a huge confidence booster and it's easier to play like that and put up numbers.
"[The Canucks] fully support my decision to go back and develop and I'll be excited to get here eventually. I have to keep playing a 200-foot game and be physical and hard to play against. I definitely need to work on my skating and smooth it out a little more — sometimes it gets a little choppy — and keep it going."
"He wants to go back to school for another year and we respect that," said the Wild's Brad Bombardir of Greenway. "He for sure is one of our top prospects. Certainly he can refine habits in his game. He will get better and when he comes out, he'll be a better player for it."
---
Bruin Legacy
At another Beanpot school, Harvard's Ryan Donato attended his fourth Bruins development camp and showed the steady but impressive progression that makes him one of the franchise's top prospects.
Donato, who plays for his father Ted at Harvard, epitomizes the development benefits NCAA players enjoy.
"I think that's one of the greatest parts of college hockey — not only do you get the hard-nosed play where you're playing against men all the time, but you're also training all the time and you have time to heal your body and you have time to work out," he told CBS Boston. "And eventually you'll get into this level, into the NHL or the AHL, and you'll perform and your body will maintain itself and you'll know the tips and tools and how to work out and eventually you'll have some success in the pros."
Like Gaudette and Greenway, Donato has his sights on making a splash ones he turns pro.
"I think if I can do my best to get myself best prepared for not just hopefully making the NHL but trying to make a career out of it, I don't want to just jump in there when I'm not ready," he said. "I want to make sure I'm 100 percent ready to go."
---
Degree in Sight
Meanwhile, each of these players knows that another year in school will put them closer to a degree.
Gaudette's teammate Dylan Sikura – who absolutely dazzled at Chicago Blackhawks' camp – is returning for his senior year, looking forward to graduating before turning his attention to pro hockey. He cited fellow Blackhawk prospects John Hayden (Yale) and Anthony Louis (Miami), who took similar paths.
In Buffalo, St. Cloud State defenseman Will Borgen had an opportunity to sign this off-season, but will return to the Huskies.
"School is the No. 1 priority for me right now," Borgen told the Buffalo News. "Try to get a degree because you can't play hockey forever. That's my mom's theory."
As they say, mom knows best.