Thursday, February 9, 2012
Developing Story: Nate Schmidt
---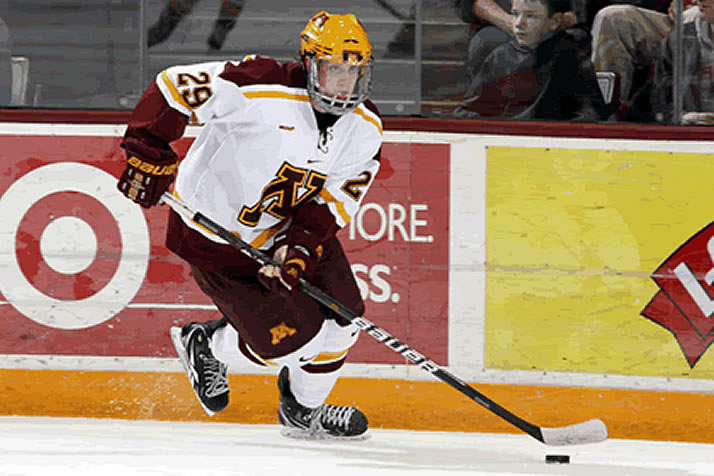 Nate Schmidt had 1 point as a freshman; now he's third nationally in defensemen scoring (Photo: Eric Miller/University of Minnesota)
In Developing Story, a regular feature on collegehockeyinc.com, we highlight current college hockey players who have developed their skills during their careers – either on the ice or off – and in turn made a bigger impact on their team's success.
The University of Minnesota's new football stadium isn't far from Mariucci Arena, just across Oak St. Despite that proximity, the FieldTurf and bleacher stairs of TCF Bank Stadium seem like an unlikely place for a Gopher defenseman to find his game.
That's precisely where Nate Schmidt headed last summer, however, working on customized drills to improve his footspeed and fitness level.
It's paid off handsomely for Schmidt and the Gophers, as he has gone from a seldom-used freshman bouncing between two positions to the nation's third-leading scorer among defensemen. He had one point all of last year, and enters this weekend with 27.
"It was really frustrating," Schmidt said of last year, when he played 13 games at forward and defense. "You have all sorts of ideas and negative thoughts creeping into your head.
"It was tough on me. Coach [Don] Lucia and I talked at the end of the season and it was clear that things would have to change."
With the help of strength and conditioning coach Cal Dietz and motivation from working out with former Gophers and current NHLers like Paul Martin, Alex Goligoski and Keith Ballard, Schmidt set out to not only get into the lineup every night, but to make an impact.
Dietz helped by creating drills that had Schmidt jumping over obstacles, running stairs at high speed and weaving through cones. It was work that helped make him leaner and quicker, two priorities he and Lucia had identified.
"It took the whole summer – really it almost took two years – but I feel better about my weight and my strength," he said. "I knew that work would translate to the ice."
The difference was noticeable from the first practice this fall.
"When we first got on the ice with [Assistant Coach Mike] Guentzel, I felt good," Schmidt said. "I felt confident, I felt like I had my style of game back for the first time since playing in the USHL in Fargo. I had to prove to myself that I could do that again."
Not only did he prove it to himself and his teammates, but Schmidt earned big minutes from the coaches and has put up big numbers. He mans the point on the Gopher power play, setting up high scoring Nick Bjugstad with perfect passes.
Schmidt, the only undrafted player among the Gophers' top 10 scorers, is standing out on a roster filled with future pros, thanks to a little extra work on the school's football field.