In The NHL
---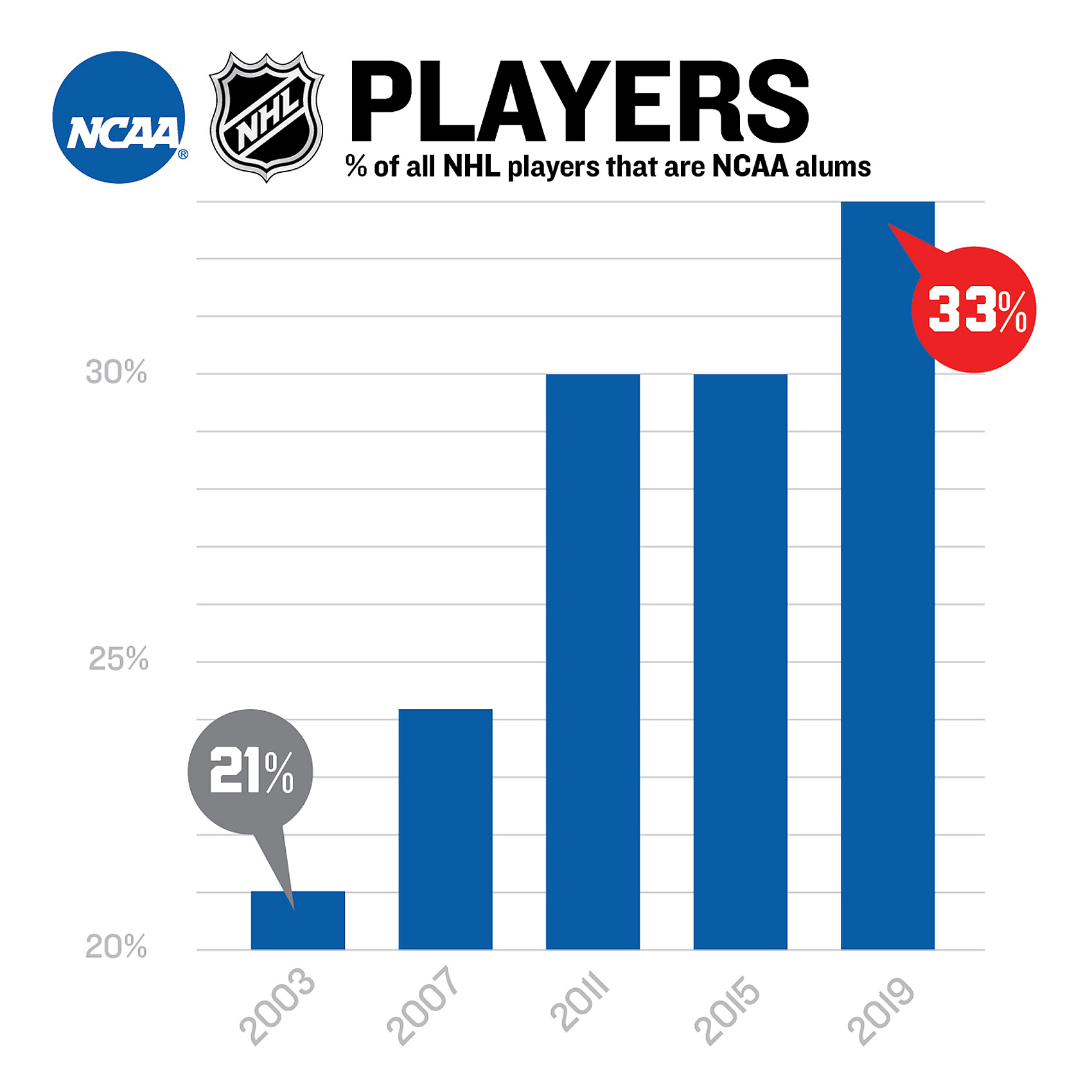 NHL Opportunities
College hockey is making a bigger impact in the National Hockey League than ever before, and it's visible at every turn.
Nightly highlights are filled with dazzling plays from former college players like Johnny Gaudreau and Trevor Zegras. Cover stories in The Hockey News and features on Hockey Night in Canada and ESPN spotlight the efforts of players like Jake Guentzel and Jack Eichel. Talented young stars like Adam Fox, Cale Makar and Jeremy Swayman are making immediate impacts in the league.
A record 349 former college players skated in the NHL in 2021-22, a number that has increased by 65% over the last 19 years.
College hockey, in short, is the fastest growing development path for the NHL.

---
Alums in the NHL This Season | Pro Signings
Drafted NCAA Players | Former Collegians in NHL Front Offices
NHL Matchup Tool
---
Just 20 years ago, only one in five NHLers had a college background. Growth since then has been remarkable, and should continue. In the last three years, 37% of NHL debuts have been by former college hockey players.
NHL front offices are filled with general managers, assistant general managers and scouts who played the college game. Head coaches and assistant coaches in the league have college backgrounds, including several hired straight from college.
NHL Drafts have featured an average of more than 60 current or future college players in the last 15 years, and teams continue to scour the NCAA ranks for free agent signees as well. The 2016 NHL Draft featured a record 11 NCAA players selected in the first round, and the 2019 NHL Draft saw the most NCAA picks in 12 years. In 2021, five of the top 10 picks came from the college ranks for the first time in NHL Entry Draft history.
Once a hidden gem of hockey talent, college hockey has become one of the biggest suppliers of talent to the NHL, surpassing all of Europe.