International Prospects
---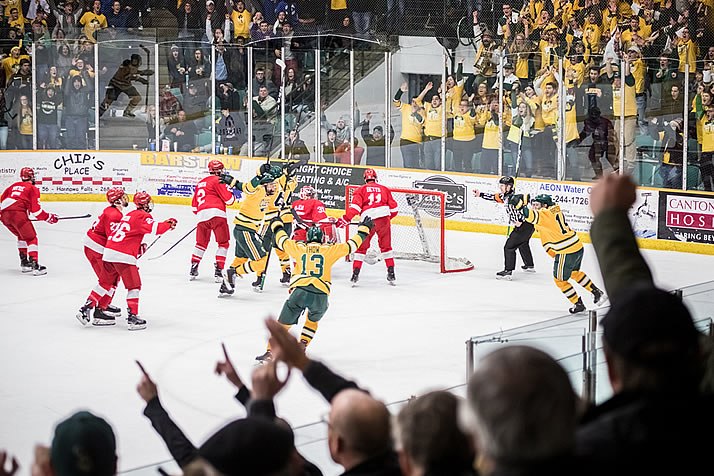 NCAA hockey offers student-athletes the chance to play high-level hockey and at the same time pursue higher education – an opportunity that in many ways is only available in the United States.
That's a big reason that NCAA hockey is more popular among international players than ever before. Approximately 30% of all NCAA Division I men's players are Canadian, while more than 100 – a record number – came from Europe in 2018-19.
NCAA Recruiting | NCAA Eligibility
"If somebody asked me about college, I'd recommend it," said first-round NHL draft pick Henrik Borgstrom of Finland, who played at Denver. "It's probably the best decision of my life."
NCAA hockey has no restrictions on the number of import players, though all international players must meet the same eligibility requirements as American players.
Of particular note:
---
Academics
---
All Division I NCAA student-athletes must meet minimum academic criteria that take into account high school grades as well as scores on standardized tests (the SAT or ACT). Those scores are weighted on a sliding scale to determine initial eligibility.
International students may have specific requirements based on their nationality. For more information:
---
Amateurism
---
NCAA student-athletes are amateurs and cannot have played for a professional sports team prior to enrollment.
For Canadian players, this typically concerns their dealings with teams in the Canadian Hockey League (OHL, QMJHL or WHL). The NCAA considers those leagues professional and players who signed a contract or played a game in those leagues face significant eligibility consequences.
For European players, amateurism concerns can arise if players signed professional contracts or played with professional players in their native countries. Many – but not all – European players will play in North American junior leagues prior to playing NCAA Division I hockey.