NCAA Hockey Recruiting
---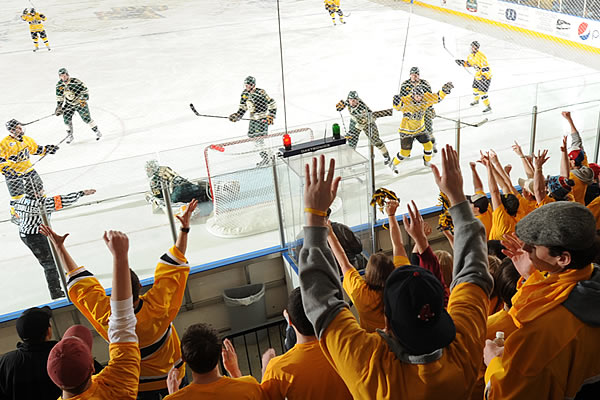 Recruiting is an exciting - but often confusing - process for student-athletes considering a college hockey career. College hockey doesn't have a draft, giving elite prospective players control over where they want to play.
NCAA College Hockey vs. CHL Major Junior
High school students may not have recruiting conversations with college coaches prior to Jan. 1 of their sophomore (grade 10) year. After that point, students may hear from college coaches or reach out to them on their own. Schools may make verbal offers to prospects beginning Aug. 1 prior to their junior (grade 11) year.
Many prospective college hockey players wonder what they can do to get noticed by college recruiters. College hockey coaches spend a tremendous amount of time and energy scouting and recruiting potential student-athletes. If you play for a competitive midget minor, midget major, junior, or high school team, and are an elite player, there is a good a chance that the college coaches know about you.
Top 10 Recruiting Tips | Recruiting Tips on YouTube
We highly recommend that American players try out for the USA Hockey select festivals or district development camps that are held every summer. We also recommend you make a list of the schools you are interested in and visit their respective web sites (find links here). Most college hockey teams have a "recruiting questionnaire" on their team web site and it would be beneficial to fill out a questionnaire for each school that interests you. Create a hockey resume that can help introduce you to coaches.
Click here for more Frequently Asked Questions about the recruiting process.