Tuesday, November 27, 2012
Leading Men
Jerry York's pursuit of a storied record puts the spotlight on college hockey coaches.
---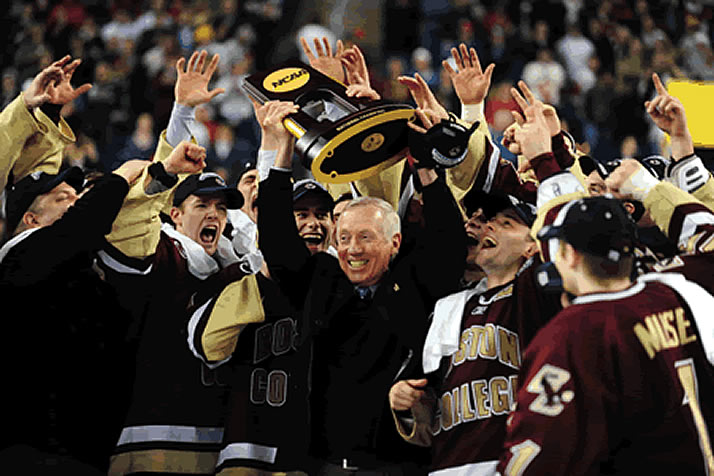 Jerry York hoists one of his five NCAA championship trophies.
By Jim Connelly
Sometime in the 2012-13 season - perhaps as soon as this weekend - legendary Boston College head coach Jerry York should become the all-time winningest head coach in college hockey history.
Now closing in on former Michigan State head coach Ron Mason's career mark of 924 wins, York sits at 923 entering this weekend's home-and-home with archrival Boston University. Both games will be televised on NBC Sports Network.
York, in fact, could be the first college hockey coach to reach the once unthinkable 1,000-win plateau. At age 67, York looks and acts more like a man in his young 50s. To think that he could coach for 10 more years if he so chooses doesn't seem like a stretch.
And while York may seem like an aberration in the game, he actually has some company due in no small part to an extremely faithful, skilled group of college hockey coaches.
After New Hampshire head coach Richard 'Dick' Umile's Wildcats defeated St. Cloud State on October 13, Umile became the 21st college head coach to achieve 500 wins. Of those, 11 are active coaches.
Compare that to the National Hockey League. Scotty Bowman is the only coach to ever cross the 1,000-win plateau and only 17 coaches have ever hit the 500-win mark. On that list, just four coaches are still active, suggesting that long-term coaching stints in the NHL can't compare to college hockey.
Ed Olczyk, NHL legend and the lead hockey analyst for the "NHL on NBC," agrees that part of the reason that college breeds long-term coaches who gain the status of "legend" has to do with the end expectations.
"Every school's definition of success is a little different and you have to look at the level of success that each school has had," said Olczyk, who had two sons playing college hockey, one at UMass and the other at Penn State. "You're not going to win every year, but if you're in the hunt and you're always at the top five in recruiting, you earn that right to stay as long as you want."
Part of the tradition
Great coaches with long-term careers are nothing new to college hockey. Names like Ralph "Cooney" Weiland, John "Snooks" Kelley, John MacInnes and Jack Riley roll off the tongues of many older fans.
York played for Snooks Kelley before beginning his 41-year career at Clarkson, Bowling Green and now BC. Boston University head coach Jack Parker, who is less than 50 wins behind York, played his college hockey for well-known BU head coach Jack Kelly. Now in his 29th season at Michigan, Red Berenson played his college hockey for Al Renfrew, who himself coached 22 years.
All of those three now coach at their alma mater. According to Dave Starman, college hockey analyst for CBS Sports Network and a scout for the Toronto Maple Leafs, the comforts of home often play a big role in maintain coaching stability in a college program.
"You hear people say it all the time that some of the best days of your life were spent in college," said Starman. "So for many of the great coaches, it's about being at the alma mater. They're spending their career where they spent some of the best years of their lives."
Plenty of youth for the future
While college hockey certain has its coaching legends, in recent years an entirely new generation of young coaches have burst onto the spotlight. At just 40 years old, Miami head coach Enrico Blasi, currently in his 14th season, has already recorded 289 wins. Also in his early 40s, Quinnipiac head coach Rand Pecknold has already amassed 340 victories.
A season ago, a number of first-year coaches entered the game with immediate success. UMass Lowell's Norm Bazin led his River Hawks to the NCAA tournament for the first time since 1996. One better, Union's Rick Bennett took over the helm and brought the Dutchmen to the team's first Frozen Four.
The energy and innovations up-and-coming coaches bring to college hockey help maintain the sport's level of success – and push the veterans to continue to excel.
Understanding the "student-athlete"
One major difference between college hockey and other levels is the coach's responsibility to build more than just a player. The mentality that a coach needs to teach these players beyond on-ice skills is something that is often critically important to their overall mission.
"Coaches are teachers, and I don't care what anyone says," said Olczyk. "They [become coaches] with the mentality that 'I want to teach the game.'
"Philosophy has a lot to do with it. To me it's the understanding of who and what you are and looking at the big picture," Olczyk added. "It's looking at the long story and trying to build for that. That's a pretty consistent message throughout college hockey: every day is important but for the most part it's trying to develop these people beyond hockey players. You're going there for the big picture of student-athletes."
Starman agrees that building a young person's future has a major impact on the sense of accomplishment of a college hockey coach.
"It's two different philosophies," said Starman. "At the NHL level, wins and losses translate to dollars and cents. It just seems to me that at the college hockey level, the most important thing is running a good program, making sure your building is full and making sure your kids graduate. There's a sense of accomplishment in developing young athletes and young players and developing the brand for your school."
This article originally appeared in the Nov. 12, 2012, issue of The Hockey News. For a .pdf of the special college hockey section in that issue, click here.