Tuesday, February 5, 2013
Important Answers on Family Advisors
These guidelines can help you identify a family advisor and remain compliant with NCAA rules.
---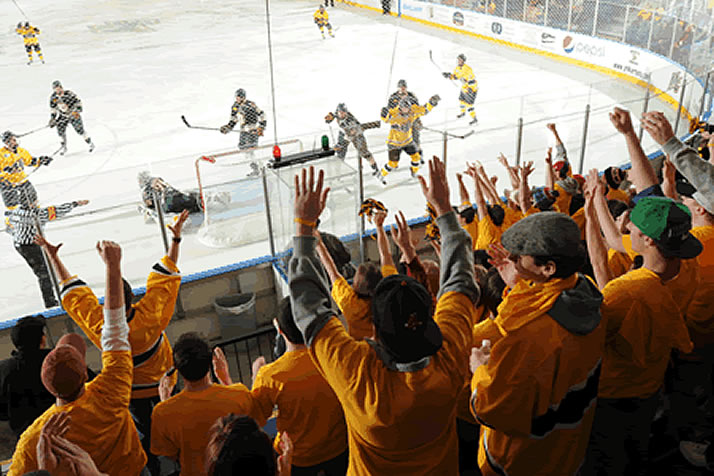 College Hockey Inc. does not have a formal stance regarding whether a prospective college hockey player should or shouldn't have a family advisor. However College Hockey Inc. frequently receives questions about family advisors, including what to consider when deciding whether or not to have one and who to work with.
Family advisors can play an important role for developing hockey players as they navigate the options presented to them both on and off the ice.
Not all players and their parents have advisors, and they are by no means required, but many of those who do find them invaluable. Good advisors can also help prospective players understand and follow NCAA rules that ensure student-athletes maintain their amateur status.
It's important to remember that family advisors are perfectly permissible in the eyes of the NCAA – as long as advisors (and their advisees) follow some straightforward guidelines.
Many advisors are registered NHLPA agents, which can lead to some confusion among families. While the NCAA does not allow student-athletes to have agents, they can have family advisors – even if the same person is also an agent.
Starting the process
Getting the most out of a family advisor relationship begins with identifying a good one. College Hockey, Inc. encourages players and parents to spend as much time as possible speaking with an advisor – and, if possible, more than one – before deciding to work with one.
Families should be sure that the advisor shares their values, goals and expectations for the player, as well as the expectations for what the family advisor will offer.
Utilize your coaches or other trusted resources in identifying family advisors who can help. Ask parents with older sons for their experiences with advisors. Ask advisors you are considering for references among their clients.
It can also help to identify an advisor who is a good geographic fit for your family. Will the advisor be able to see your son play and meet with you in person, at least on occasion?
Be wary of advisors promising the moon. No advisor can guarantee a player a scholarship, for example. If a player is good enough, coaches will find them, regardless of who you work with as a family advisor.
Do's and don't's
Once you've identified an advisor, there are certain guidelines families must follow to ensure that relationship doesn't violate NCAA rules:
Do not accept gifts of any kind from an advisor, including money, meals, travel expenses, equipment, etc.
Do not enter into an agreement – either signed or verbally – to have an advisor represent the player as an agent in the future.
Do not ask the advisor to market your son's abilities to professional teams.
Do plan to compensate the advisor for their services; failure to do so may be considered the player receiving a gift from the advisor, which would be an NCAA violation. This compensation shouldn't be extravagant – do not expect that one advisor is more valuable simply because they charge more. You don't always get what you pay for.
Whether a family feels it needs an advisor is up to each family to decide. In the event your family elects to work with one, follow those guidelines and you can enjoy what can be a very beneficial relationship without jeopardizing NCAA eligibility.