Monday, January 6, 2014
Rivals Unite on U.S. Olympic Team
Twenty former college players will chase gold with Team USA in Sochi.
---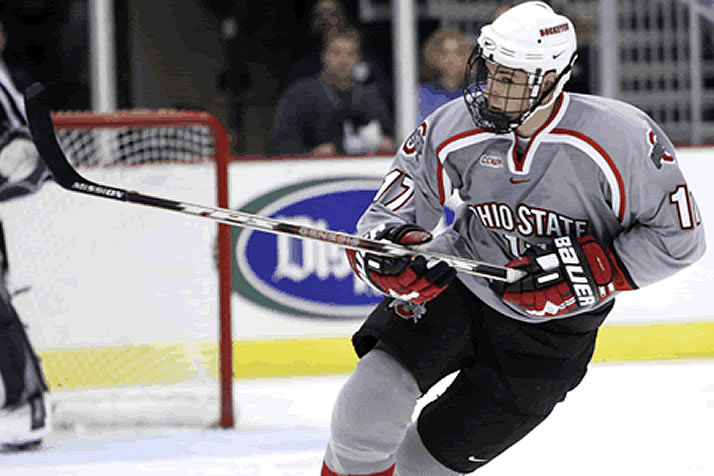 Ryan Kesler was a member of the CCHA All-Rookie Team while at Ohio State.
Fourteen NCAA hockey teams will have former players on the 2014 U.S. Men's Olympic Team, as 20 of the 25 players on Team USA developed in the NCAA ranks.
Among those selected are players who battled with and against each other for conference titles and Frozen Four glory. Twelve of the 20 selections combined for 17 Frozen Four appearances in their NCAA careers, with six of them winning national championships.
Wisconsin leads all NCAA schools with four former players. Minnesota (three) and North Dakota (two) also have multiple alums on the list, while Boston College, Boston University, Denver, Maine, Massachusetts, Michigan, Michigan State, Minnesota Duluth, Minnesota State, New Hampshire and Ohio State have one each.
Ten of the Olympians were All-Americans during their NCAA careers. Goaltender Ryan Miller, who led the Americans to silver in 2010, is the lone Hobey Baker Award winner to make the team.
Former NCAA Players on the U.S. Olympic Team
| | | | |
| --- | --- | --- | --- |
| Player | Pos. | NHL Team | NCAA Team |
| Jimmy Howard | G | Detroit | Maine |
| Ryan Miller | G | Buffalo | Michigan State |
| Jonathan Quick | G | Los Angeles | Massachusetts |
| Justin Faulk | D | Carolina | Minnesota Duluth |
| Paul Martin | D | Pittsburgh | Minnesota |
| Ryan McDonagh | D | NY Rangers | Wisconsin |
| Brooks Orpik | D | Pittsburgh | Boston College |
| Kevin Shattenkirk | D | St. Louis | Boston University |
| Ryan Suter | D | Minnesota | Wisconsin |
| David Backes | F | St. Louis | Minnesota State |
| Ryan Kesler | F | Vancouver | Ohio State |
| Phil Kessel | F | Toronto | Minnesota |
| T.J. Oshie | F | St. Louis | North Dakota |
| Max Pacioretty | F | Montreal | Michigan |
| Zach Parise | F | Minnesota | North Dakota |
| Joe Pavelski | F | San Jose | Wisconsin |
| Paul Stastny | F | Colorado | Denver |
| Derek Stepan | F | NY Rangers | Wisconsin |
| James van Riemsdyk | F | Toronto | New Hampshire |
| Blake Wheeler | F | Winnipeg | Minnesota |