Thursday, February 20, 2014
Alums Set for Olympic Semis
27 former NCAA players on U.S., Canada and Sweden contending for medals.
---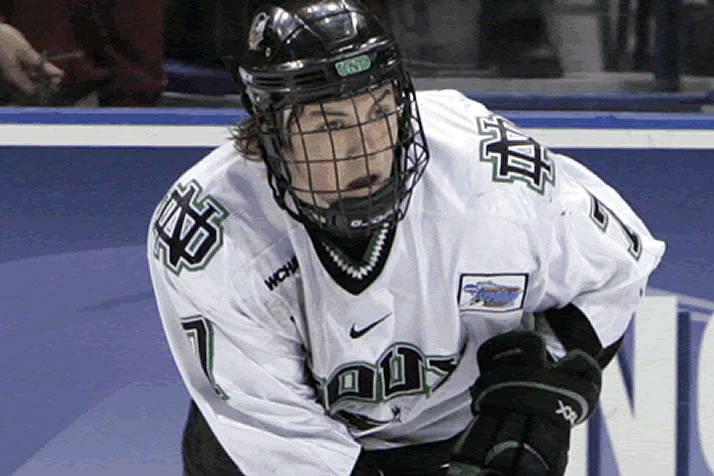 T.J. Oshie scored on four of six shootout attempts against Russia in group play.
Twenty-seven former NCAA players representing 16 schools will be in action Friday as the last four teams in the 2014 Olympic men's hockey tournament face off in the semifinals.
The United States (20), Canada (5) and Sweden (2) each have former college players on their rosters, meaning that at least seven NCAA alums will skate away from Sochi with medals.
Infographic: NCAA Hockey & Men's Olympians | 2014 Olympic Guide (.pdf)
Friday's games pit traditional rivals as Finland faces Sweden (7:30 a.m. ET) and the U.S. meets Canada (Noon ET). Sweden's team includes Carl Hagelin (Michigan) and Gustav Nyquist (Maine), while 25 former players will take part in the second game.
That creates some intriguing storylines, including:
Former North Dakota teammates, classmates and linemates T.J. Oshie (U.S.) and Jonathan Toews (Canada) facing off
Former Michigan State teammates Ryan Miller (U.S.) and Duncan Keith (Canada) meeting
Four schools have multiple players competing for one of the two teams: Vermont (Canadians Patrick Sharp and Martin St. Louis), North Dakota (Oshie and Zach Parise), Minnesota (Phil Kessel, Paul Martin, Blake Wheeler) and Wisconsin (Ryan McDonagh, Joe Pavelski, Derek Stepan, Ryan Suter)
Ferris State alum Chris Kunitz (Canada) faces old CCHA rivals (Ryan Kesler, Ohio State, and Ryan Miller), a player his Bulldog team beat in the 2003 NCAA tournament (Zach Parise, North Dakota) and another whose team beat the Bulldogs en route to the national title (Paul Martin, Minnesota, his teammate in Pittsburgh)
Between Miller and Kunitz the game features the 2001, '02 and '03 CCHA Players of the Year
While Canada eliminated the lone current NCAA player from the tournament in the quarterfinals (Latvia's Ralfs Freibergs, Bowling Green), an alum of his school has a chance to exact some revenge. Former Bowling Green star Dan Bylsma is the head coach of the U.S. team, part of a leadership group of managers and coaches that is comprised completely of former college stars.