Wednesday, March 19, 2014
Notes: Seniors Lead Notre Dame
A mix of favorites and upstarts chase conference championships this weekend.
---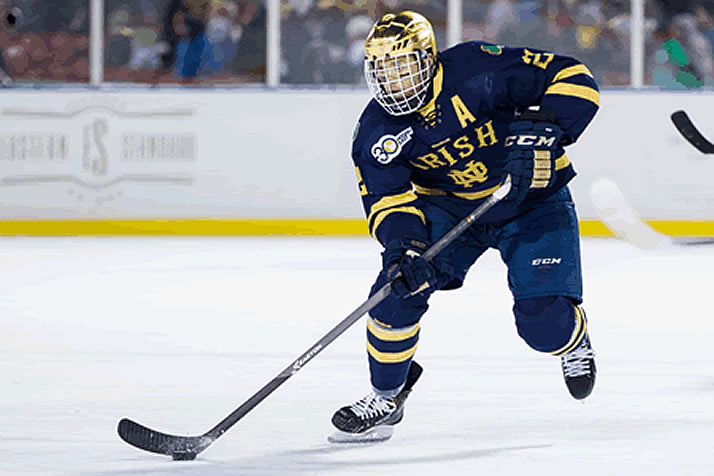 Bryan Rust has 65 points combined in the last two years.
By Nate Ewell
Seniors propelling Irish – Notre Dame knocked off Hockey East regular season champion Boston College last weekend and now, as newcomers to the league, the Irish are two wins from a title. Sunday's game-winner came from senior Bryan Rust (Novi, Mich./U.S. NTDP/PIT), who now has goals in four straight games. Once in the coach's doghouse – he and Jeff Jackson admitted that during his sophomore year they weren't on the same page – Rust has been a consistent leader for the Irish the past two seasons and at his best in the playoffs. He has 6 goals and 7 points in 5 conference quarterfinal games the last two seasons. Rust is part of an impressive 11-member senior class that also features top scorer T.J. Tynan (Orland Park, Ill./Des Moines-USHL/CBJ), goaltender Steven Summerhays (Anchorage, Alaska/Green Bay-USHL) and defenseman Stephen Johns (Wampum, Pa./U.S. NTDP/CHI).
All three Hockey East games are on NBCSN and either NESN or NESN Plus
Must Read/See/Hear Material
Boston Globe: Arnold a star in his own right
ESPNBoston.com: BC freshman goalie emerges as leader
Calgary Flames: Jankowski making steady progress at PC
St. Cloud Times: Relationship with Huskies brings inspiration to 11-year-old facing cancer
College Hockey News: Coleman overcomes injury, sparks Miami
Lansing State Journal: Chelios brothers finish careers at MSU
College Hockey News: Wisconsin's dynamic top line almost never happened
College Hockey Inc.: Tournament Infographic
Key Dates
Thurs., March 20: Hobey Baker 10 finalists announced
Sat., March 22: Conference championship games
Sun., March 23: NCAA Selection Show (ESPNU, noon ET)
March 28-30: NCAA Regionals
April 2: Hobey Hat Trick (3 finalists) announced
April 10-12: NCAA Frozen Four, Philadelphia
Five More Storylines No One Should Be Without
Bailey boosts Penn State's chances – Penn State's first year of conference play, coinciding with the first year of the Big Ten, produced three conference wins – the first two of which came against Michigan. Now the Nittany Lions open the first Big Ten Tournament against the Wolverines, looking to repeat that success. Sophomore Casey Bailey (Anchorage, Alaska/Omaha-USHL), who had three goals in those two wins, was singled out by head coach Guy Gadowsky as a player who has elevated his game in the second half.
CBC: Inside Hockey – David Glen
Big Ten Tournament games are on BTN
Twin faceoff – A faceoff between the two top lines on Colgate and Quinnipiac in Friday's second ECAC Hockey semifinal could result in an extreme case of double vision. Twin brothers Tyson and Tylor Spink (both Williamstown, Ont./Cornwall-CCHL) rank 1-2 on the Raiders in scoring, while Kellen (EDM) and Connor Jones (both Montrose, B.C./Vernon-BCHL) are second and tied for third, respectively, on the Bobcats.
ECAC Hockey tournament games are on FOX College Sports
Gibbons, Griffs aim for NCAA return – After upsetting second-seeded Bentley last weekend, Canisius has the chance to defend its Atlantic Hockey tournament title this weekend in Rochester, N.Y. Senior Kyle Gibbons (Westlake, Ohio/Lincoln-USHL), last year's tournament MVP, leads the Golden Griffins. A Senior CLASS Award candidate, Gibbons ranks fourth in career scoring in Canisius's Division I era; with four more points he would trail only current Buffalo Sabre Cory Conacher. Gibbons had six points in the Atlantic Hockey semifinal and championship last year as he led the Griffins to their first NCAA Tournament appearance.
Atlantic Hockey tournament games are on Time Warner Cable
Kuraly, Miami roll into Minneapolis – While Miami struggled to an eighth-place finish in the NCHC this season, sophomore Sean Kuraly (Dublin, Ohio/Indiana-USHL/SJ) saw his production spike. He has followed a 12-point freshman campaign with 27 points this season, trailing only All-NCHC players Austin Czarnik (Washington, Mich./Green Bay-USHL) and Riley Barber (Livonia, Mich./U.S. NTDP/WSH) on the RedHawks. Last weekend Kuraly's offense – a team-high five points with goals in each game – helped produce team success, and suddenly he and the RedHawks are on a roll headed to the Target Center.
The NCHC "Frozen Faceoff" is on CBS Sports Network
Gervais comes alive for Mavs – Minnesota State shares the nation's longest current unbeaten streak with Union at 11 games (both 10-0-1). Sophomore Bryce Gervais (Battleford, Sask./Penticton-BCHL) leads the team with 9 goals during the run, including his current five-game goal-scoring streak. Close observers may have seen this scoring outburst coming: Gervais had 71 goals in two years in the BCHL and his twitter handle (@gervechkin) is even inspired by the NHL's top goal scorer.
Mankato Free Press: Mavs' Gervais steps up game at right time
Several outlets, including FOX Sports North and FOX Sports Detroit, will carry the WCHA "Final Five"
NHL Note of the Week
39 former NCAA players have made their NHL debuts this season, representing 26 schools. Tuesday Kevin Czuczman became the first player to play in both the NCAA (LSSU) and NHL (NYI) this season.
Most NHL Debuts in 2013-14, by Alma Mater
6 – Boston College
4 – Lake Superior State
3 – Michigan
2 – Boston University, Minnesota, Minnesota State, North Dakota
1 – 19 schools
Fries at the Bottom of the Bag
Union is seeking its third straight ECAC Hockey title, the only two-time defending champs in the country; Union's seniors are 100-37-20 in their career … Friday's first Hockey East semifinal features two defending conference tournament champions: UMass Lowell won Hockey East last season, while Notre Dame won the final CCHA tournament … Five players have signed NHL contracts since their seasons ended (with many more to come).