Thursday, April 10, 2014
Minnesota, Union to Meet for Title
Two classic semifinals set up Saturday's NCAA championship game at Wells Fargo Center.
---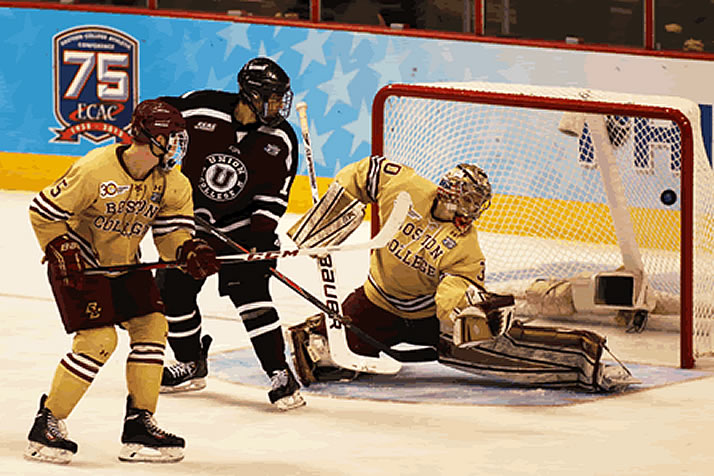 Union's Daniel Ciampini deflected in one of his three goals against BC (Photo by Larry Radloff).
Minnesota and Union won a pair of classic semifinal games Thursday night at Philadelphia's Wells Fargo Center, setting up their meeting for the NCAA championship on Saturday night.
Saturday: Minnesota vs. Union, 7:30 p.m. ET (ESPN/TSN2)
Union beat Boston College in Thursday's first game, 5-4, as Daniel Ciampini's (Concord, Ont./St. Michael's-OJHL) hat trick helped the Dutchmen overcome a three-point effort from Johnny Gaudreau (Carneys Point, N.J./Dubuque-USHL/CGY). The teams combined for 79 shots on goal in the game and traded three goals in the final 2:45 in a hectic finish as Union advances to its first national championship game.
Minnesota will play for its sixth NCAA championship after Justin Holl (Tonka Bay, Minn./Minnetonka HS/CHI) scored a buzzer-beating goal with just 0.6 seconds on the clock. That goal - Holl's first of the year, and coming shorthanded - lifted the Golden Gophers to a dramatic 2-1 win.
The championship game features the top two teams in the national polls entering the Frozen Four - each was ranked No. 1 in one poll. Union has won 11 in a row and is unbeaten in its last 15 games.