Wednesday, April 9, 2014
TSN2 to Carry Frozen Four
Games will be available across Canada for first time in years.
---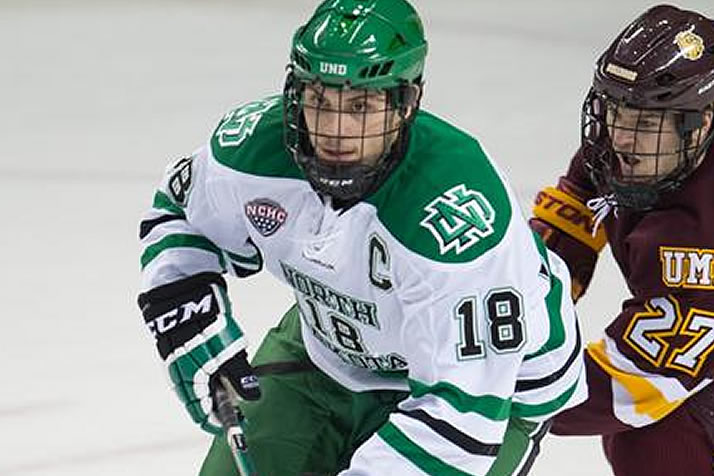 Senior defenseman Dillon Simpson, an Edmonton native and Oiler draft pick, captains North Dakota.
TSN2 will carry the Frozen Four this week in Canada, including airing two of the three games live, the network announced today. All of the games will be streamed live on TSN.ca and the TSN GO app.
The first semifinal (Boston College-Union, Thursday, 5 p.m. ET) and the national championship game (Saturday, 7:30 p.m.) will both air live on TSN2. The second semifinal, Minnesota vs. North Dakota, will be shown on a tape-delayed basis on Friday, April 11, at 2 p.m.
In the United States, ESPN2 will broadcast both semifinals live, while ESPN carries the championship game. All games are available on Watch ESPN as well.
The marks the first time in several years that the NCAA national championship will be televised live in Canada.
"Having these games shown in Canada is tremendous for our sport," said College Hockey Inc. Executive Director Mike Snee. "Canada remains an important source of players for our programs, and it's great that their fans and families have the chance to see them play at the NCAA's highest level. What's more, these broadcasts will expose the rest of Canada to just how good U.S. college hockey is."
The broadcast on TSN2 will feature ESPN commentators John Buccigross, Barry Melrose and Quint Kessenich.