Monday, May 19, 2014
10 Alums Meet in Western Conf. Final
Chicago, LA leaders include two former college players who have won Conn Smythe Trophies.
---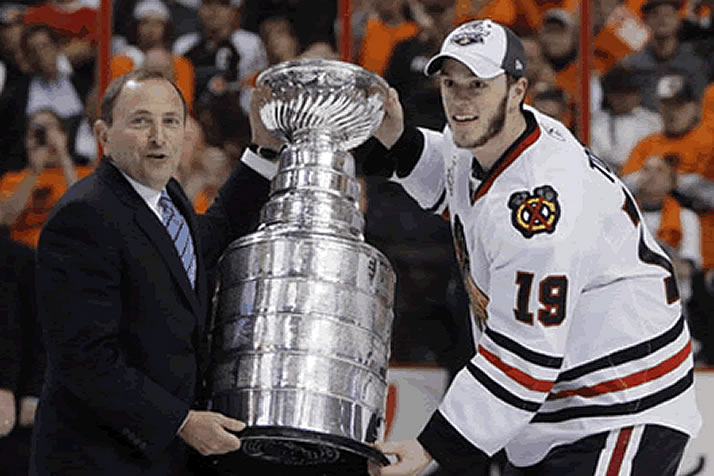 Jonathan Toews is hoping to win his third Stanley Cup.
As two recent Stanley Cup winners square off in the NHL's Western Conference Final, at least 10 former NCAA players will take the ice, including former Conn Smythe Trophy winners Jonathan Toews (Chicago/North Dakota) and Jonathan Quick (Los Angeles/Massachusetts).
Former NCAA stars representing nine schools are on the two teams' rosters. North Dakota is assured of an alumnus in the Stanley Cup Final, with Chicago captain Toews and Kings alternate captain Matt Greene both representing UND.
Four players involved were All-Americans in college: Toews, Quick, Alec Martinez (Miami) and Willie Mitchell (Clarkson). While all 10 players have won a Stanley Cup, only one - Ben Smith (Boston College) - also won an NCAA title. He won two, in 2008 and '10.
Below is a look at the alums on each roster courtesy of College Hockey Inc.'s NHL Matchup Tool:
CHICAGO BLACKHAWKS


Former Collegians

2 – Duncan Keith – Michigan State (2001-03)

He and Jonathan Toews are the first former NCAA players to win two Olympic gold medals
Teammates included John-Michael Liles, Ryan Miller, Adam Hall, Jim Slater, David Booth

8 – Nick Leddy – Minnesota (2009-10)

Teammates included Cade Fairchild, Jordan Schroeder

10 – Patrick Sharp – Vermont (2000-02)

Team MVP in 2002, when he led the team in goals (13) and points (26)
ECAC All-Rookie Team selection in 2001

19 – Jonathan Toews – North Dakota (2005-07)

First-team All-American in 2007
He and Duncan Keith are the first former NCAA players to win two Olympic gold medals
Teammates included T.J. Oshie, Drew Stafford, Travis Zajac, Chris Porter, Matt Smaby, Brian Lee, Joe Finley

28 – Ben Smith – Boston College (2006-10)

Won the 2010 NCAA championship at Ford Field in his final college game and the 2008 NCAA championship at Denver's Pepsi Center
Named the Most Outstanding Player in the 2010 NCAA Tournament
Won Hockey East's Len Ceglarski Sportsmanship Award in 2010
Teammates included Jimmy Hayes, Cory Schneider, Brian Boyle, Nathan Gerbe, Benn Ferriero, Cam Atkinson, Carl Sneep

52 – Brandon Bollig – St. Lawrence (2008-10)

LOS ANGELES KINGS


Former Collegians

2 – Matt Greene – North Dakota (2002-05)

Team captain as a junior
Ranks fourth in career PIM at North Dakota (347)
Teammates included Zach Parise, Travis Zajac, Drew Stafford, Chris Porter

27 – Alec Martinez – Miami (2005-08)

The CCHA's Best Defensive Defenseman in 2008
Second-team All-American and first-team All-CCHA in 2008
Teammates included Ryan Jones, Andy Greene, Andy Miele, Tommy Wingels

32 – Jonathan Quick – Massachusetts (2005-07)

Second-team All-American and second-team All-Hockey East in 2007
Led UMass to its first NCAA Tournament victory while shattering the program's single-season goaltending records
Teammates included Justin Braun

33 – Willie Mitchell – Clarkson (1997-99)

Shared the 1997-98 ECAC Rookie of the Year Award with teammate Erik Cole
Second-team All-America selection in 1999
The Most Outstanding Player in the 1999 ECAC Tournament
Teammates included Erik Cole, Kent Huskins (all three have now won the Cup)

Front Office

Asst. General Manager Norm MacIver – Minnesota Duluth (1982-86)

Director, Amateur Scouting Mark Kelley – Colby (1976-80)

Director, Pro Scouting Ryan Stewart – Canisius (1994-98)

Director, Player Development Barry Smith – Ithaca (1968-72)

Director, Player Recruitment Ron Anderson – Boston University (1970-72)

Player Recruitment Rick Comley – Lake Superior State (1967-71)

Player Development Coach Keith Carney – Maine (1988-91)

Pro Scout Alex Brooks – Wisconsin (1997-2001)

Amateur Scout Mike Doneghey – Merrimack (1989-93)

Amateur Scout Jad Ramsay – Buffalo State (1998-2002)

Hockey Analytics/Video Analyst Adam Gill – St. Mary's (2004-08)

Skating and Skills Development Coach Kevin Delaney – Lake Forest (1988-92)

Video Coach Matt Meacham – SUNY Cortland (2004-08)

Developmental Goaltending Coach Andrew Allen – Vermont (1997-2001)

AHL Head Coach Ted Dent – St. Lawrence (1988-92)

AHL Assistant Coach Mark Osiecki – Wisconsin (1987-90)

Front Office

President/General Manager Dean Lombardi – New Haven
Assistant General Manager Rob Blake – Bowling Green (1987-90)
Special Assistant to the GM Jack Ferreira – Boston University (1963-66)
Player Development Nelson Emerson – Bowling Green (1986-90)
Director, Amateur Scouting Mark Yannetti – Brown/Williams
Assistant Coach Davis Payne – Michigan Tech (1988-92)
Collegiate Scout Mark Mullen – Boston University (2000-04)
Collegiate Scout Mike Donnelly – Michigan State (1982-86)
Amateur Scout Tony Gasparini – Minnesota Duluth (1995-99)
Amateur Scout Bob Crocker – Boston University (1954-55)
AHL Dir. of Hockey Operations Hubie McDonough – St. Anselm's (1983-86)
AHL Head Coach Mark Morris – Colgate (1977-81)
AHL Assistant Coach Freddy Meyer – Boston University (1999-2003)

In the System

Terry Broadhurst – Nebraska-Omaha (2009-12)

25 – Matt Carey – St. Lawrence (2013-14)

ECAC Hockey All-Rookie Team selection
Shared the team lead in goals (18) with his brother, Greg (PHX)

Adam Clendening – Boston University (2010-12)

First-team All-Hockey East selection as a sophomore

Brian Connelly – Colorado College (2006-09)

14 – Drew LeBlanc – St. Cloud State (2008-13)

Hobey Baker Award winner in 2013
First-team All-American, first-team All-WCHA, WCHA Player of the Year and WCHA Scholar Athlete of the Year as a senior
Granted a fifth year of eligibility after missing most of the 2011-12 season with a compound fracture in his leg

51– Brad Mills – Yale (2000-04)

Led the Bulldogs in scoring as a sophomore

Joe Gleason – North Dakota (2009-13)

Trevor van Riemsdyk – New Hampshire (2011-14)

Missed the last third of his junior season due to injury
Was first-team All-American and first-team All-Hockey East as a sophomore

In the System

Nic Dowd – St. Cloud State (2010-14)

First-team All-American and first-team All-NCHC selection this year
A Hobey Baker Award finalist
NCHC Defensive Forward of the Year and its Scholar-Athlete of the Year
Team co-captain

Derek Forbort – North Dakota (2010-13)

Kevin Gravel – St. Cloud State (2010-14)

Vincent LoVerde – Miami (2007-11)

Teammates included Alec Martinez, Ryan Jones, Tommy Wingels, Reilly Smith, Andy Miele

Michael Mersch – Wisconsin (2010-14)

Second-team All-American and first-team All-Big Ten as a senior

Brian O'Neill – Yale (2008-12)

Led Yale in scoring three straight seasons
Two-time first-team All-ECAC Hockey
Ivy League Player of the Year as a senior

Steve Quailer – Northeastern (2009-12)

Nick Shore – Denver (2010-13)

College Draft Picks

Chris Calnan – Fr., F, Boston College – 3rd (79), 2012

Kirill Gotovets – Sr., D, Cornell – 7th (183), 2009

John Hayden – Fr., F, Yale – 3rd (74), 2013

Kevin Hayes – Sr., F, Boston College – 1st (24), 2010

First-team All-American and first-team All-Hockey East selection
Nation's No. 2 scorer
Won the 2012 NCAA championship

Vince Hinostroza – Fr., F, Notre Dame – 6th (169), 2012

Hockey East All-Rookie Team selection

Justin Holl – Sr., D, Minnesota – 2nd (54), 2010

Sam Jardine – So., D, Ohio State – 6th (169), 2011

Stephen Johns – Sr., D, Notre Dame – 2nd (60), 2010

Second-team All-Hockey East as a senior
CCHA All-Tournament Team selection in 2013

Luke Johnson – Fr., F, North Dakota – 5th (134), 2013

Anthony Louis – Fr., F, Miami – 6th (181), 2013

Nick Mattson – Jr., D, North Dakota – 6th (180), 2010

Tyler Motte – Fr., F, Michigan – 4th (121), 2013

Michael Paliotta – Jr., D, Vermont – 3rd (69), 2011

Honorable mention All-Hockey East honoree this season

College Draft Picks

Jonny Brodzinski – So., F, St. Cloud State – 5th (148), 2013

Paul LaDue – Fr., D, North Dakota – 6th (181), 2012

Joel Lowry – Jr., F, Cornell – 5th (140), 2011

NCHC Player of the Month for January 2014
NCHC All-Rookie Team selection