Tuesday, May 6, 2014
Commits Highlight USHL Draft
Future UMD star Riley Tufte taken first overall; Phase 2 set for Tuesday.
---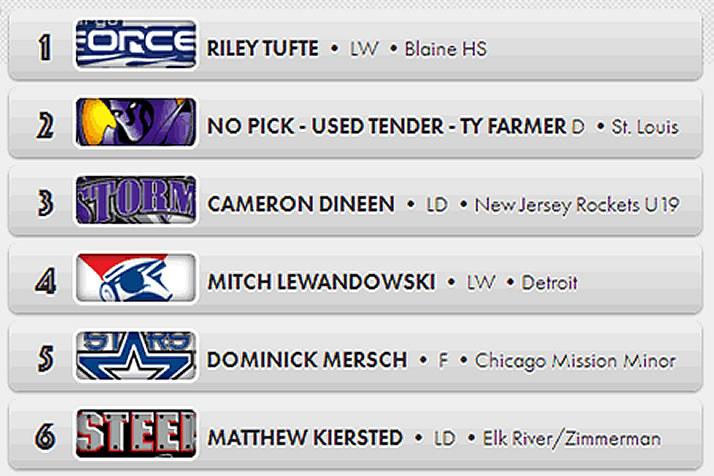 The top selections in Phase 1 of the 2014 USHL Draft.
Phase 1 of the 2014 USHL Draft saw dozens of 1998-born future college stars selected by USHL clubs, led by Minnesota Duluth recruit Riley Tufte, who was taken No. 1 overall by the Fargo Force.
About the Draft | Phase I Results | Follow Phase II Tuesday
In all, 22 of the 124 selections made Monday have already committed to schools, which is well more than half of all 1998-born commitments nationwide. Sixteen schools had recruits selected in Phase 1 of the draft, led by Maine and Michigan State with three each.
USHL teams also had the ability to sign up to two 1998s to tenders, with those who did so forfeiting picks in Phase 1 of the draft.
Phase 2 of the draft takes place Tuesday. In this phase, USHL teams will select players from multiple birth years as they look to fill their protected lists with players who will compete for roster spots for the 2014-15 season. Phase 2 continues until all USHL teams have secured 45 players on their Initial Protected List. That list includes affiliate players from the 2013-14 season, players selected in Phase 1, and players signed to a tender.
Commits Selected in Phase 1
| | | | | |
| --- | --- | --- | --- | --- |
| Rd. | No. | Name | USHL Team | College |
| 1 | 1 | Riley Tufte | Fargo | Minnesota Duluth |
| 1 | 4 | Mitchell Lewandowski | Des Moines | Michigan State |
| 1 | 5 | Dominick Mersch | Lincoln | Wisconsin |
| 1 | 6 | Matthew Kiersted | Chicago | North Dakota |
| 1 | 8 | Simon Butala | Madison | Maine |
| 1 | 9 | Mitchell Mattson | Bloomington | North Dakota |
| 1 | 14 | Jake Ryczek | Sioux City | New Hampshire |
| 1 | 15 | Dante Palecco | Muskegon | Yale |
| 2 | 19 | Sam Sternschein | Tri-City | Cornell |
| 2 | 20 | Nicholas McKeeby | Des Moines | Western Michigan |
| 3 | 36 | Noah Lalonde | Des Moines | Michigan State |
| 3 | 37 | Ryan Bederka | Fargo | Michigan State |
| 3 | 45 | Ryan Edquist | Madison | Minnesota |
| 4 | 54 | John Leonard | Green Bay | Massachusetts |
| 4 | 56 | Konstantin Chernyuk | Bloomington | Maine |
| 4 | 59 | John Deroche | Cedar Rapids | Quinnipiac |
| 4 | 60 | A.J. Drobot | Sioux Falls | Maine |
| 4 | 63 | Liam Murphy | Waterloo | Connecticut |
| 5 | 64 | David Melaragni | Fargo | Northeastern |
| 5 | 75 | Shaune Bily | Cedar Rapids | Northeastern |
| 6 | 81 | Michael Fahie | Brown | Youngstown |
| 8 | 114 | Tyler Nother | Sioux Falls | Miami |