Wednesday, June 25, 2014
Alums Capture NHL Honors
Keith, Krug, Moore and Pavelski honored among NHL's best.
---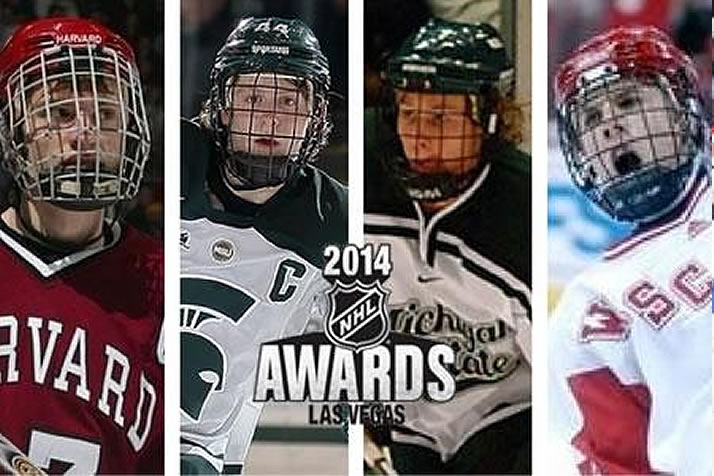 College hockey alums were among the honorees as the National Hockey League celebrated its 2013-14 season at the NHL Awards show Tuesday night in Las Vegas.
Former Michigan State defensemen Duncan Keith and Torey Krug, former Harvard captain Dominic Moore and former Wisconsin star Joe Pavelski were all honored for their efforts during this past season.
Keith took home the Norris Trophy as the league's top defenseman for the second time in five years, becoming the only active defenseman to have won the award multiple times. The former Spartan from 2001-03 was also named a first-team NHL All-Star.
Keith is the only former NCAA defenseman to win the Norris since three straight captured the award in the 1990s: Chris Chelios (Wisconsin, 1996), Brian Leetch (Boston College, 1997) and Rob Blake (Bowling Green, 1998).
Krug, who patrolled the Munn Ice Arena blue lines for three years, beginning six years after Keith left, was named to the league's All-Rookie Team. The undrafted free agent led all rookie defensemen with 14 goals, 26 assists and 40 points in 79 games. He also finished fourth in voting for the Calder Trophy as the league's rookie of the year. Fellow NCAA alums Jacob Trouba (6th, Michigan) and Chris Kreider (10th, Boston College) were also among the top-10 vote-getters for the Calder.
Moore, a four-year star at Harvard (1999-2003), was honored with the Bill Masterton Trophy as the player who "best exemplifies the qualities of perseverance, sportsmanship, and dedication to hockey." Moore returned to the NHL this season after taking a leave of absence to care for his wife, fellow Harvard alum Katie Moore, who passed away from cancer in January 2013. He helped lead the Rangers to the Stanley Cup Final, scoring the clinching goal in the Eastern Conference Finals.
Pavelski, who finished third in the league with 41 goals with the San Jose Sharks, was named as the left wing on the NHL Second All-Star Team. An NCAA champion at Wisconsin in 2006, the eighth-year NHLer enjoyed his best season in 2013-14.
Pavelski also finished seventh in the voting for the Hart Trophy as the league's most valuable player. Jonathan Toews (9th, North Dakota) and Ben Bishop (10th, Maine) joined him in the top 10, while Keith (15th), Gustav Nyquist (16th, Maine), Patrick Sharp (20th, Vermont) and Ryan Suter (23rd, Wisconsin) also received votes.