Saturday, June 14, 2014
Martinez Clinches Kings' Second Cup
Former Miami star headlines group of NCAA alums who led Los Angeles to the Stanley Cup.
---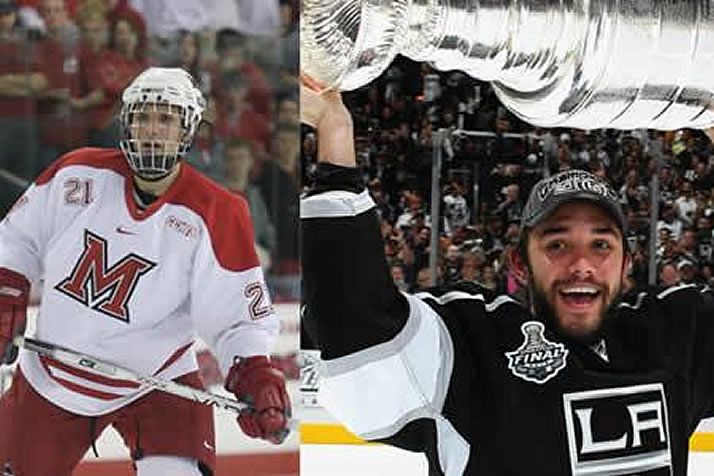 Alec Martinez was an All-American at Miami in 2007-08 and has won two Stanley Cups since.
Former Miami star Alec Martinez scored in the second overtime Friday night - after midnight in Oxford, Ohio - to lift the Los Angeles Kings to their second Stanley Cup championship in three years.
It marks the second Cup for Martinez and three other former NCAA players who were leaders on the Kings' defense and in goal: alternate captain Matt Greene (North Dakota), Willie Mitchell (Clarkson) and goaltender Jonathan Quick (Massachusetts).
Former college players have now won the Stanley Cup as players more than 200 times; those four are among 39 players who have won multiple Cups.
NCAA Players to Win the Stanley Cup
Martinez's heroics came on the heels of his Game 7-winning goal in the Western Conference Final that sent the Kings to the Cup Final. He had a knack for overtime goals as a RedHawk as well - the defenseman scored two OT winners during the CCHA playoffs, including the winner in the final game at the old Goggin Ice Arena.
Joining the players on the ice to celebrate Martinez's goal were many others with NCAA hockey ties. The Kings' front office, led by University of New Haven grad Dean Lombardi, features a number of former college players:
President/General Manager Dean Lombardi

–

New Haven

Assistant General Manager Rob Blake

–

Bowling Green (1987-90)

Special Assistant to the GM Jack Ferreira

–

Boston University (1963-66)

Player Development Nelson Emerson

–

Bowling Green (1986-90)

Director, Amateur Scouting Mark Yannetti

–

Brown/Williams

Assistant Coach Davis Payne

–

Michigan Tech (1988-92)

Collegiate Scout Mark Mullen

–

Boston University (2000-04)

Collegiate Scout Mike Donnelly

–

Michigan State (1982-86)

Amateur Scout Tony Gasparini

–

Minnesota Duluth (1995-99)

Amateur Scout Bob Crocker

–

Boston University (1954-55)

AHL Dir. of Hockey Operations Hubie McDonough

–

St. Anselm's (1983-86)
The Kings held off a New York Ranger team that featured eight NCAA alums. Both Ranger goal scorers in Friday night's decisive Game 5 were Boston College graduates: Chris Kreider and Brian Boyle. When Kreider scored his power-play goal, four of the five Rangers on the ice had played college hockey, including three who were part of the 2010 NCAA championship game (Kreider, Ryan McDonagh, Derek Stepan).
Quick, who won the Conn Smythe Trophy as playoff MVP two years ago, was impressive again, holding the Rangers to 10 goals in the 5 games (4 of them in a Game 2 win). He made 28 saves Friday night, 15 of them during the overtimes to keep the Kings alive and set the stage for Martinez.
With the Kings' win, former NCAA goaltenders have now backstopped three of the last four Cup champions (Tim Thomas, then Quick twice).