Monday, October 13, 2014
ISS Hockey Rates Top Freshmen
2015 NHL Draft prospects Eichel, Hanifin top scouting service's list of top 30 NCAA rookies.
---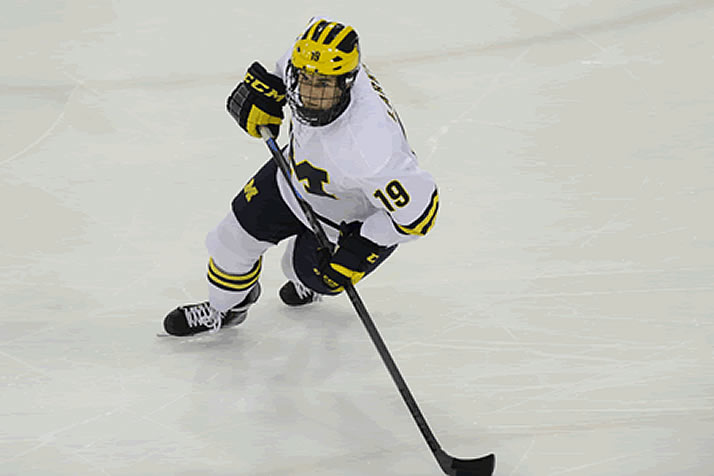 Dylan Larkin, ranked third among freshmen by ISS Hockey, was the first NCAA player taken in the 2014 NHL Draft.
ISS Hockey, the world's leading independent scouting and information provider on hockey prospects, has named its top 30 freshmen in NCAA hockey, a list topped by 2015 NHL Draft prospects Jack Eichel (Boston University) and Noah Hanifin (Boston College).
ISS Hockey, a division of HockeyTech, featured 16 schools in its top-30 ranking, led by Boston University (five players).
"It looks like very exciting season ahead for college hockey fans," ISS director of scouting Dennis MacInnis said. "This is very strong group of freshmen, led by Eichel and Hanifin who are currently ranked No. 2 and 3 overall here at ISS for the 2015 NHL Draft.
"You also have solid depth with the likes of:
Dylan Larkin - University of Michigan, one of the most complete two-way players in his age group.
Nick Schmaltz - University of North Dakota, a sniper with speed and offensive instincts.
Alex Tuch - Boston College, a big strong power forward who can chip in with offense."
ISS Hockey Ranking of Top 30 NCAA Freshmen
| | | |
| --- | --- | --- |
| No. | Player | School |
| 1. | Jack Eichel | Boston University |
| 2. | Noah Hanifin | Boston College |
| 3. | Dylan Larkin | Michigan |
| 4. | Nick Schmaltz | North Dakota |
| 5. | Alex Tuch | Boston College |
| 6. | Connor Hurley | Notre Dame |
| 7. | Zack Werenski | Michigan |
| 8 | Jack Dougherty | Wisconsin |
| 9. | Zach Sanford | Boston College |
| 10. | Louis Belpedio | Miami |
| 11. | Jack Glover | Minnesota |
| 12. | Josh Jacobs | Michigan State |
| 13. | Luc Snuggerud | Nebraska Omaha |
| 14. | Brian Pinho | Providence |
| 15. | Anders Bjork | Notre Dame |
| 16. | Kelly Summers | Clarkson |
| 17. | Jake Walman | Providence |
| 18. | Brandon Fortunato | Boston University |
| 19. | Leon Bristedt | Minnesota |
| 20. | Brandon Hickey | Boston University |
| 21. | Jonathan MacLeod | Boston University |
| 22. | Ryan Collins | Minnesota |
| 23. | Ryan Hitchcock | Yale |
| 24. | Robin Hoglund | Minnesota |
| 25. | Cal Petersen | Notre Dame |
| 26. | Nolan Vesey | Maine |
| 27. | J.J. Piccinich | Boston University |
| 28. | Chase Perry | Colorado College |
| 29. | Jared Fiegl | Cornell |
| 30. | Karson Kuhlman | Minnesota Duluth |